Young Man Blames Sex Addiction
July 23, 2013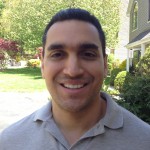 (left, EP, who is of Portuguese/Nicaraguan descent.)
If you're wondering how someone like me ended up a basement dweller at the age of thirty-one, read on.

EP's Story of Sin and Redemption


by EP
(henrymakow.com)
My father just told me that I'm fooling myself if I think I'll be able to provide for a family working as a personal trainer and that I'll most likely come running to him for financial support in the event I even get married.
He tends to say hurtful things to me when I confront him on his MSNBC-watching or liberalism. On the one hand, I appreciate his candor. He's more firm with me than my mother, who tends to baby me too much, but I know from the way he's saying it that he also wants to hurt me.
Why do I subject myself to this? Because I live in my parent's basement and I can't afford to move out. Most people think there's something wrong with me. They think I'm a former drug addict, or that I'm not that intelligent, but the truth is I was a very good student. I got a scholarship to the University of Rochester and earned a degree in English Literature. Later, I got two masters degrees, one in Secondary English Education and one in College Administration. Lack of intelligence was never my problem.
If you're wondering how someone like me ended up a basement dweller at the age of thirty-one, read on.

LUST

My problem was the sin of lust. Ever since my father handed me a stack of Playboys at age 13, and told me it was okay to masturbate, I became obsessed with sex. It's all I would think about for at least eighteen years until the Lord Jesus supernaturally delivered me and gave my life purpose (more on that later).
Just to give you an idea of how far gone I was, in high school, I would masturbate and fantasize about Cindy Crawford, Kathy Ireland or some Victoria Secret model every single day. This was in the nineties just before internet porn became more prevalent. Girls in school, who I also fantasized about, avoided me because they could smell the desperation all over me.
In college, I discovered internet porn and my habit got even worse. Eventually, I did physical damage to myself by maturbating to the point of sexual exhaustion, but this didn't get me to stop either. I joined a fraternity in the hopes of having casual sex with hot sorority girls, but this never happened because I still had no idea how to relate to women, so I started to read books by all the popular pick-up-artists like Mystery, Style, and RooshV.
My attention and focus, which should have been on a career to support a wife and family, was on sex. If I had known God back then and pursued him, I would have been earning a good living, married already and living a normal life. Who knows? Was it the life I could have had, or was everything I was experiencing God's will?
POLITICAL OUTCAST AS WELL

At the same time, I found that my views and perspectives conflicted a lot with what I was learning in graduate school. My largely conservative views were not welcome.

I disliked the way teachers made excuses for poor and minority students, feeding into this whole institutional racism paradigm or self-fulfilling victim mentality. The more teachers and administrators treated minorities like they needed extra help, the more they did, but no one seemed to think this except me.
Eventually, I stopped teaching and left education because my soul couldn't take it anymore. The whole system was so corrupt that I had to get out. This is the pivotal choice I made that banished me to my parent's basement for years, but that gave me much needed peace of mind again.
I thought I could work as an administrator on the college level, so I started working on another degree, but although I finished the degree, I barely worked in the field because the same liberal personalities were even more ensonced at the college level. Why do all the 'stable' jobs require you to sell out? I was blacklisted because of some trumped up charge.
SUPERNATURAL EXPERIENCES

After working little odd jobs here at the here, I decided to become a personal trainer at New York Sports Club. During this time, I had a number of supernatural experiences that woke me up to the reality of God, Jesus Christ and the spiritual reality we live in. There is a battle going on in the heavenlies between good and evil for the very souls of mankind.
Now I know that what's wrong is the sin and demonic influence almost everyone, including the church, financial institutions, politicians and governments are under. There is such a thing as evil.
It all happened one night when I was having a nightmare that was so in intense I left my physical body. I remember looking at my motionless body in bed and heard this voice say, 'Go back inside your body' so I did. Now I know that this was the voice of the Holy Spirit.
Once I was back inside, I took a backseat to something evil that had taken control. I couldn't move or speak. I immediately started saying the Lord's Prayer in my head. A I felt a violent shaking inside my spirit. Whatever was inside me did not like this prayer. By the third time I said the prayer, I felt 'it' --whatever it was --leave me. It actually flew out of my stomach and into the atmosphere.
After that, I knew that demons were real and the Lord started preparing me for how to battle them using spiritual warfare.

WAITING FOR GOD'S PLAN FOR ME


The Lord even put me in a position to do a radio show at a local station to get the word out about what I've experienced and allow others to share their testimonies as well.
So while I still live in my parent's basement, I can say that I'm doing God's will and that in time, he will help me prosper. He's brought me a long way already. I no longer look at porn or lust after women. I can have normal conversations with women again and I have a much deeper and personal relationship with God than ever before.
--------
----
First Comment from Dan:
"Rob's article is the most refreshing thing I've read in weeks. He's not alone - tens of thousands of people have been winning the fight within by simply recognizing that sin is an enslaving force and rejecting it. Such catharsis brings with it the unexpected awareness of real demonic force being cast out when something full of good rushes in. Later you realize that's what all the saints and prophets were talking about, the Holy Spirit.
The apparent absence of awareness of what's 'holy' and sacred is simply what happens when worship is given to genitalia. It's not that the Holy Spirit doesn't exist or nothing is sacred; for the mind and soul consumed in lust can't see or feel anything else.
The New Testament never made any sense to me before I broke that spell myself. Now it makes sense to read that "For the mystery of iniquity is already at work. And for this cause God shall send them strong delusion, that they should believe a lie" .
It's real simple: making oneself horny first thing in the morning and nursing it all day till that old derangement is chronic causes spiritual blindness, same as the smoke of a forest fire blots out the sun and blue sky.
Those who now control this culture want everybody to stay at this level of consciousness all the time so that they can rule you. They can only rule people that have no awareness of God, the Creator of this place. Because if you're aware of God and the Holy Spirit lights you up, you don't need them. The 'strong delusion' of their greatness and beauty dissolves and you see them as they really are, "Hypocrites -- like whitewashed tombs--beautiful on the outside but filled on the inside with dead bodies and rot."
It's no dishonor to be financially impoverished due to courage of conviction. Krishnamurti said,
"It's no measure of health to be well adjusted to a profoundly sick society."