Should Children Shoot Guns?
August 27, 2014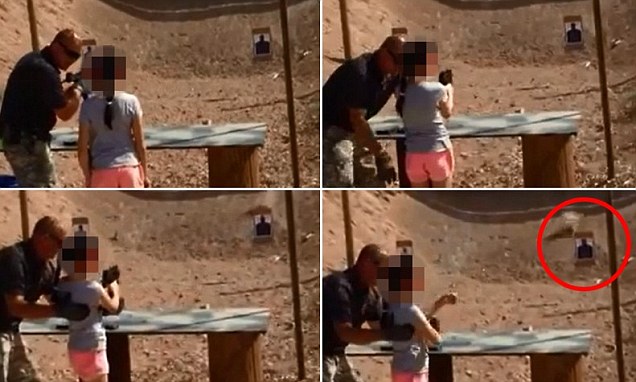 (left, Charles Vacca,39, before he was accidentally killed Monday by nine-year-old girl
he was teaching to use a Uzi)
Over a million American children are enrolled in IRA
gun training programs. I oppose gun control but I don't think children
should be armed. They're not responsible.
A reader, B.J. Armstrong, takes exception.

Video argues this accident was a hoax aimed at gun control
-- Gun was an air gun
by B.J. Armstrong
(henrymakow.com) Wednesday, I came across a tweet
from Mr. Makow about the 9-year-old girl in Arizona that killed her instructor when she lost control of the Uzi she was shooting. This is a very sad and unfortunate incident. Also a completely unnecessary circumstance as NO child should be shooting this type of gun because of its short barrel length, and not to mention it being a fully automatic.
Mr. Makow tweeted that "Teaching children to use guns is ridiculous". As an avid target shooter I took offense to his comment and sent him the following email:
I have read your website for almost 4 years now and this is the first time I adamantly disagree with you. I am from West Virginia but currently reside in North Carolina. I am a 34 year old male and I was taught to shoot when I was about 7 years old. My father taught me well and I took his instruction about firearm safety very seriously. I have shot guns for 27 years without a single accident. Let's not jump the gun and follow the media bandwagon. Better yet let's not lead the media bandwagon either.
Makow replied: "Do you think they should drive cars too?"
I replied:
That's an extreme analogy. That smart ass reply is making me lose some respect for you Mr. Makow. I come from a hunting culture and gun training at a young age is the norm. In the 7th grade our middle school even had a "Hunter's Safety" course during school hours. I was 13 then.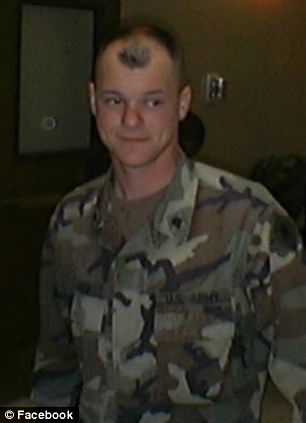 (
left, Charles Vacca, who died prematurely.)

Makow invited me to expand:
I am from rural West Virginia where hunting and target shooting are traditional and therefore a way of life. When a child is mature enough and has the appropriate training some fathers take their children squirrel or deer hunting. I even remember having a 'Hunter's Safety' course while in middle school. This took place during school hours in the gym. It was no big deal because most boys at that age went hunting with their fathers.

My father taught me to shoot beginning at around 7 years old. He taught me well and I took his instruction very seriously. As a result, I have shot guns for 27 years now without a single accident.

I don't think we should allow the media to dictate the national discussion when it comes to firearms. Everyone familiar with this website should know who the media work for anyway! They consistently pump up these news stories to make it sound like these incidents are happening everywhere and all the time. The whole gun hysteria is initiated by the media to crush the 2nd Amendment. The Founding Fathers of America included the 2nd Amendment because they knew firsthand how important it is.

I don't expect someone from New York City or Chicago to know what it is like to have this RIGHT and tradition passed down to them. I just hope people can use reason and include someone else's perspective on this very important issue.

Teaching children to use guns is NOT ridiculous. What happened in Arizona with the 9 year old girl is very sad and unfortunate, but let's not let a few isolated incidents ruin it for the whole.
--------
Daily Mail story about the accident and a video of the moments preceding it

Makow comment:
I invite readers to weigh in on this issue. All the comments
can be found at the archived address.

First Comment from Richard S:
I read your site daily and I appreciate that you cover aspects of the illuminati/NWO agenda that I don't see anywhere else.
For those of us that understand how the NWO works, certain social programming is seen again and again: feminism, the break-up of families, pornography, moral decay, "political-correctness", and so on.
One of the most consistent and fervent memes the NWO and their media lackeys push is that GUNS ARE BAD! Indeed, an astute observer can see how the media will take every opportunity to demonize gun ownership and gun culture. Why do you suppose that is? It is because they *know* the only chance humanity has to resist their total subjugation is if they have the means to fight back.
Gun control is not about crime, it is not "for the children" - it is about CONTROL!
What happened with the 9-year old shooting her instructor is a terrible tragedy, but only the instructor is to blame. He was an idiot. I am sorry, there is no polite way to say it. Just check through Youtube searching on "Girls with gun fail" or "Girls with Magnum" and you will see an unfortunate multitude of videos where idiot boyfriends or husbands thought it would be really funny to have their 100 lb. woman shoot a 12 gauge shotgun or a magnum pistol and fall on their ass.
Not only is it dangerous to have a person shoot a gun that is too much for them to handle safely, it *also* serves to turn the wife or girlfriend away from the shooting sports. This is a kind of "win" for the New World Order as the death of American Gun Culture will allow them to marginalize shooters and gun owners much as anti-smoking campaigns demonized smoking and made it socially unacceptable.
Personally, I have been a life-long shooter and 2nd Amendment defender. There is no jewel so sacred to our liberty and none so targeted for destruction by the NWO than our right to keep and bear arms. This right was enshrined in the Bill of Rights NOT to go duck hunting, but to defend ourselves against tyrants!
And for those who question whether a population armed with simple semi-auto rifles and pistols has any chance against drones, tanks, and modern armies.....I would suggest they study the outcomes of conflicts in places such as Vietnam and Afghanistan. Sure, a lot of folks might die in a revolution, but if the price of "victory" is high, and the occupation unsustainable, the people DO have a chance to keep their sovereignty.
Without firearms, there is NO CHANCE.
So please Henry, defend the right to keep and bear arms every chance you can. Do not let one incredibly stupid act frame the discussion. Recognize that the illuminati/NWO gang want us completely dis-armed and are working continually and incrementally towards that goal.


Anthony Migchels writes:


I favor the second amendment. I'm convinced it's a key part of the NWO's troubles. I also believe it's a man's duty to take full responsibility for his own security. Guns are a part of that.
But in America it's just a fetish. Only a jerk, in my mind, puts an Uzi in the hands of a little girl. The kind of garbage that comes out of the NRA ('we need more, not less guns at school') confirms all rationality concerning the issue has long been thrown out of the window.
America is dealing with shootings everywhere. Nowhere else in the still somewhat 'civilized' world is there even a somewhat comparable level of people being murdered. Gun proliferation is most obviously a part of that. Americans are also blind to the fact that the police state and associated murderspree by the pigs (for lack of a more appropriate word admissible in polite society) is to a large extent because the cops are sweating from the arm pits every time they approach someone.
Guns are not toys. They are dangerous, high powered tools. They must be wielded responsibly by responsible adults. The deceased did no such thing.
I see absolutely no reason why children, girls in particular, should be wielding guns, although I can understand a man in the country wanting to take his son hunting, for instance. In general I'd say there is more scope for guns outside of cities.
I think guns should be controlled like cars: every adult should be able to have one......after they have shown they can use it appropriately.