Trade War Could Lead to Dollar Demise
June 29, 2018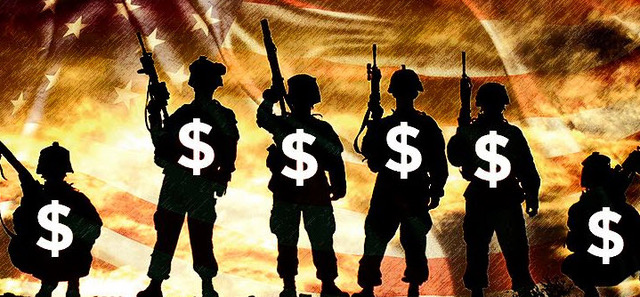 Shayan Zarrin wrote Wednesday, "the BRIC
nations are challenging the U.S. dollar. The alternative media is cheering this, but people do not understand the ramifications. The Bric nations' proposed gold standard could cause the dollar to lose its value, which in turn, will cause the western economies to crash. Once the western world goes down, the world will be ripe for the New World Order led from Jerusalem."
Andrew, a retired attorney from Texas, expands on this idea.
by Andrew
(henrymakow.com)
Both Pakistan and India recently joined
Shanghai Cooperation Organization (SCO.) The SCO's planned GOLD BACKED WORLD RESERVE CURRENCY will soon compete with US Dollar, Euro & Pound as world reserve currencies.
SCO is the main economic alliance of geographically contiguous nations across Eurasia. While it does NOT yet include EU, it could in 5 or 10 years. Besides its obvious invincibility militarily, it will soon issue a GOLD BACKED CURRENCY which would end the US Dollar AS THE WORLD RESERVE CURRENCY.
In a single stroke, the Federal Reserve's US Dollar, the EURO and WTO would become obsolete. Trump's Economic Sanctions and Tariffs would also become meaningless. While the SCO was formed in 2001, it was weaponized in 2011 when Russia and China decided to succeed where Libya's Muammar Gaddafi failed.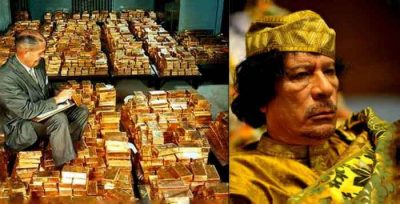 BACK IN 2009, GADDAFI, AT THE TIME PRESIDENT OF THE AFRICAN UNION, HAD PROPOSED THAT THE ECONOMICALLY DEPRESSED CONTINENT (Africa) ADOPT THE GOLD DINAR, INDEPENDENT OF THE INCREASINGLY INFLATED US PAPER DOLLAR.
In 1960, when OPEC was formed initially by the governments of Iran, Iraq, Kuwait, Saudi Arabia and Venezuela, the value of the dollar was 1/35th of one ounce of gold. The dollar in 2009 was now worth about 1/1375th of one-ounce of American Eagle coin. It was clear to the oil nations that they were being forced to sell their oil reserves for a vanishing fiat paper currency over whose value they had no control.
In a nutshell, the Fed, EU & UK bankers couldn't allow a gold backed competing world reserve currency. They didn't have to, because the Dollar, Euro and Pound are supported by NATO and the US military. To Obama's Administration who believed MIGHT MAKES RIGHT, it was easy to tell the American people that Gaddafi was ANOTHER EVIL DICTATOR harming his own people and proceed to completely destroy Libya, murder Gaddafi and plans for competing Gold Dinar backed by a huge African gold reserve. The CIA just stole Libya's gold. In 2011, when all this happened, Russia and China could not have intervened militarily, however, they took note. They decided to succeed where Gaddafi, Libya and the African Union failed.
"For several years both the Russian Federation and the Peoples' Republic of China have been buying huge volumes of gold, largely to add to their central bank currency reserves which otherwise are typically in dollars or euro currencies. Until recently it was not clear quite why.
For several years it's been known in gold markets that the largest buyers of physical gold were the central banks of China and of Russia. What was not so clear was how deep a strategy they had beyond simply creating trust in the currencies amid increasing economic sanctions and bellicose words of trade war out of Washington.
Now it's clear why.
China and Russia, joined most likely by their major trading partner countries in the BRICS (Brazil, Russia, India, China, South Africa), as well as by their Eurasian partner countries of the Shanghai Cooperation Organization (SCO) are about to complete the working architecture of a new monetary alternative to a dollar world.
Currently, in addition to founding members China and Russia, the SCO full members include Kazakhstan, Kyrgyzstan, Tajikistan, Uzbekistan, and most recently India and Pakistan. This is a population of well over 3 billion people, some 42% of the entire world population, coming together in a coherent, planned, peaceful economic and political cooperation.
If we add to the SCO member countries the official Observer States--Afghanistan, Belarus, Iran and Mongolia, states with expressed wish to formally join as full members, a glance at the world map will show the impressive potentials of the emerging SCO. Turkey is a formal Dialogue Partner exploring possible SCO membership application, as are Sri Lanka, Armenia, Azerbaijan, Cambodia and Nepal. This, simply said, is enormous."
-----------------------
Related
-
Clean economic statement of what
Andrew
and
Shayan said this week.



Both China and Russia have been developing strategic plans to unseat the US dollar as the globally dominant currency. The thinking behind this dates back to March 2009, when China and Russia called for a new global currency. They want the world to create a reserve currency "that is disconnected from individual nations and is able to remain stable in the long run, thus removing the inherent deficiencies caused by using credit-based national currencies." Both countries are concerned that the trillions they both hold in dollars would be worth less should dollar inflation sets in.
First Comment from W
Could not agree with you more that a trade war could lead to the demise of the dollar! Brandon Smith in his June 28 post entitled
"A Trade War Provides Perfect Cover For The Elitist Engineered Global Reset"
goes even a step further and asks the question "Is Trump really upsetting the old world order and battling the globalists, or, is he simply helping them to stage the foundation of their "new world order"? This is a must read!