October 21, 2020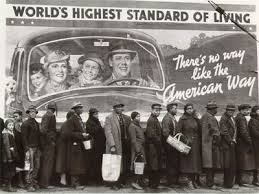 The Great Depression was used to "break the classical American character." COVID19 is another example of how the Illuminati bankers use economic crises to advance their political agenda which is a world police state dedicated to Lucifer.
In his 1938, NKVD Interrogation, Illuminati insider Rakovsky refers to the 1929 Crash and Great Depression as an "American revolution." It was deliberately precipitated by the Illuminati for profit, to break the "classical American" character and to take political power.
"The man through whom they made use of such power was Franklin Roosevelt. Have you understood? ...In that year 1929, the first year of the American Revolution, in February, Trotsky leaves Russia; the crash takes place in October...The financing of Hitler is agreed in July 1929. Do you think that all this was by chance? The four years of the rule of Hoover were used for the preparation for the seizure of power in the United States and the USSR: there by means of a financial revolution, and here [Russia] with the help of war [Hitler, World War Two] and the defeat which was to follow. Could some novel with great imagination be more obvious to you?" (273)
Rakovsky proposes that Stalin cooperate with the Illuminati, (which he subsequently did.) The first condition is that he stops executing Trotskyites. Then "several zones of influence" will be established dividing "the formal Communism from the real one." There will be "mutual concessions for mutual help for a time while the plan lasts...There will appear influential persons at all levels of society, even very high ones, who will help the Stalinist formal Communism..." (276)
Rakovsky outlines the Illuminati plan to blend Communism and Capitalism. In each case, the Illuminati will control all wealth and power.
"In Moscow, there is Communism: in New York capitalism. It is all the same as thesis and antithesis. Analyze both. Moscow is subjective Communism but [objectively] State capitalism. New York: Capitalism subjective, but Communism objective. A personal synthesis, truth: the Financial International, the Capitalist Communist one. And above all, 'They.' " (276)
In the case of Communism, the State owns the corporations, and the bankers own the State. In the case of Capitalism, the bankers control the corporations, and the corporations control the State. In each case, you have monopoly capitalism with increasing political and cultural monopoly in the West resembling that of Soviet Russia.