Donald Drumpf - Illuminati Jew (Dec 29, 2015)
January 23, 2021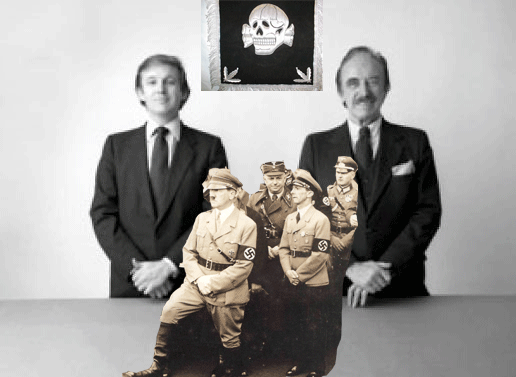 Left, Donald and his father Fred with Masonic/Brotherhood of Death hand-over-hand Skull and Bones ("X") Signal. The sign, or letter X, has a long history of use in the Ancient Mystery Religions, in apostate Judaism, in Freemasonry, and in the Occult. The ILLUMINATI elite use it to this day to symbolize key phenomena and mark significant events.

People who should know better, like Kevin MacDonald, think Donald Trump is some kind of saviour. The article below reveals Donald Trump is a longstanding member of the satanic Masonic Jewish conspiracy: "Donald Trump is nothing less than a sideshow and a counterfeit medieval medicine man offering cheap miracle and ILLUSIONARY fixes for America's problems here and abroad."
Illuminati credo:
"A Jew was not created as a means for some other purpose; he himself IS the purpose, since the substance of all divine emanations was created ONLY to serve the Jews."
Chabad Lubavitch leader, "The Great Rebbe" Rabbi Menachem Mendel Schneerson
Donald Drumpf:
"The only [candidate] that's going to give real support to Israel is me," said Donald Drumpf. "The rest of them are all talk, no action. They're politicians. I've been loyal to Israel from the day I was born. My father, Fred Trump, was loyal to Israel before me."[51]

from Mind Controlled Assassins
(Excerpts by henrymakow.com)
Donald's father Fred moved in the circle of a corrupt powerful New York political fixer and power broker attorney, Abraham (Bunny) Lindenbaum. Or Bunny moved in Fred C. Drumpf's circles. They were more than just client and attorney. The two were joined at the hip. Bunny's first retainer came from Fred C.[27]
Fred and Bunny were political insiders of [Masonic] Tammany Hall through Brooklyn's Madison Club.[28] Tammany Hall, also known as the Society of St. Tammany, the Sons of St. Tammany, or the Columbian Order, was a New York City Democratic political machine entangled and mired in racketeering, corruption, graft and patronage.[29]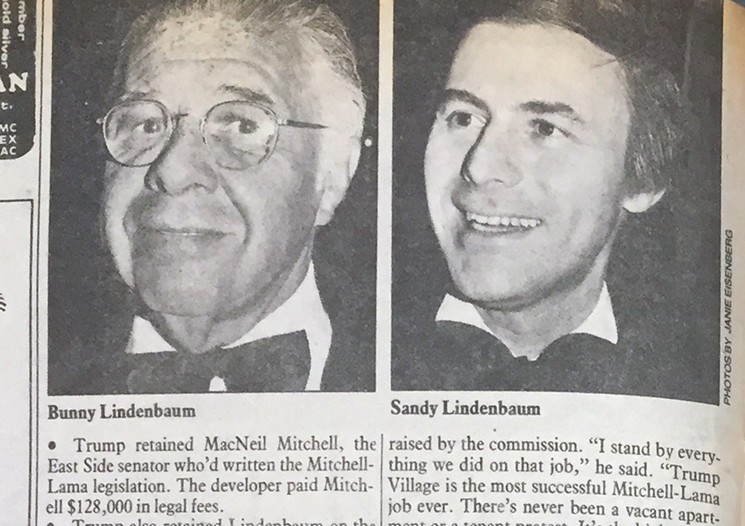 (Illuminati i.e. satanist, Jewish power brokers,
Bunny Lindenbaum & son Sandy)
Don didn't go into how or why his father had been so loyal to Israel since the day he was born (1946), but his close personal association with Bunny Lindenbaum may provide some answers. Bunny Lindenbaum was an orthodox and fanatical Zionist Jew. He was president of the Brooklyn Jewish Community Council, and the Brooklyn Jewish Center (BJC). The BJC is connected directly to United Synagogue of America, the World Zionist Congress, United Jewish Appeal, National Jewish Welfare Board, and the MOSSAD.[52]
Bunny Lindenbaum, and his son, Sandy Lindenbaum were high priests of the secret ultra orthodox Lubavitch Movement and the Educational Institute Oholei Torah, the Flagship school of Chabad - Lubavitch, it owns the BJC edifice.[53] Basically, the Chabad Lubavitch Movement is connected with the Ancient Babylonian Talmudic Pharisaic Universal Noahide Laws of Nimrodic God Baal. The Babylonian Talmudic High Priests of the Order of the Pharisaic sun god worshippers of Baal are known as the Mystical Hassidic Chabad Lubavitch.[54]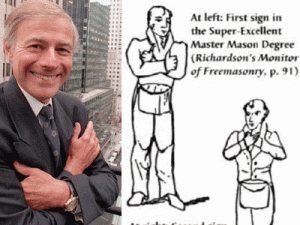 (left, Trump's lawyer, Sandy Lindenbaum)
Rabbi Louis Finkelstein, the head of the Jewish Theological Seminary of America in 1943, writing in the Universal Jewish Encyclopedia, "Pharisaism became Talmudism ...the spirit of the ancient Pharisee survives unaltered. When the Jew studies the Talmud, he is actually repeating arguments used in the Palestinian academies." [55] In other words, the Talmudic Lubavitchers are reborn Pharisees. Many Pharisees belonged to the Jewish occult group, the Satanic "Cabal".[56]
According to the Chabad Lubavitch radical theology, the non Jew "infidels" must be exterminated, adding "may the name of the wicked rot." Among them was Jesus of Nazareth.
They claim that while the Jews are the "Chosen People" created in God's image, the Gentiles do not have this status and are effectively considered subhuman." [57] The Chabad are allowed to exist as a powerful international force because they serve Israel in two ways: working with Mossad in intelligence and criminal activities, and a source of extremist ideology to fuel Zionist crimes. It was also a scheme to permanently alienate, divide and polarize the races.[58]
Bunny Lindenbaum BJC's United Jewish Appeal assisted Jewish refugees arriving in the United States.[59] His BJC's World Zionist Congress collaborated with the Nazis to allow a limited number of Jews to emigrate to other countries.[60]
TRUMP-LINDENBAUM FAMILIES TIED TO CIVIC CORRUPTION AND SCANDALS
Bunny Lindenbaum presided over New York Major Robert Ferdinand Wagner, Jr.'s city planning commission.[44] Mayor Wagner's mayoral administrations from 1954 to 1965 had been for the most part of the Tammany Hall rackets.[45],[46] In 1954, Scandalous Fred C. was the subject of a Senate Banking, Housing and Urban Affairs Committee investigation for being involved in widespread corruption in the federal Housing and Urban Development Department (HUD),....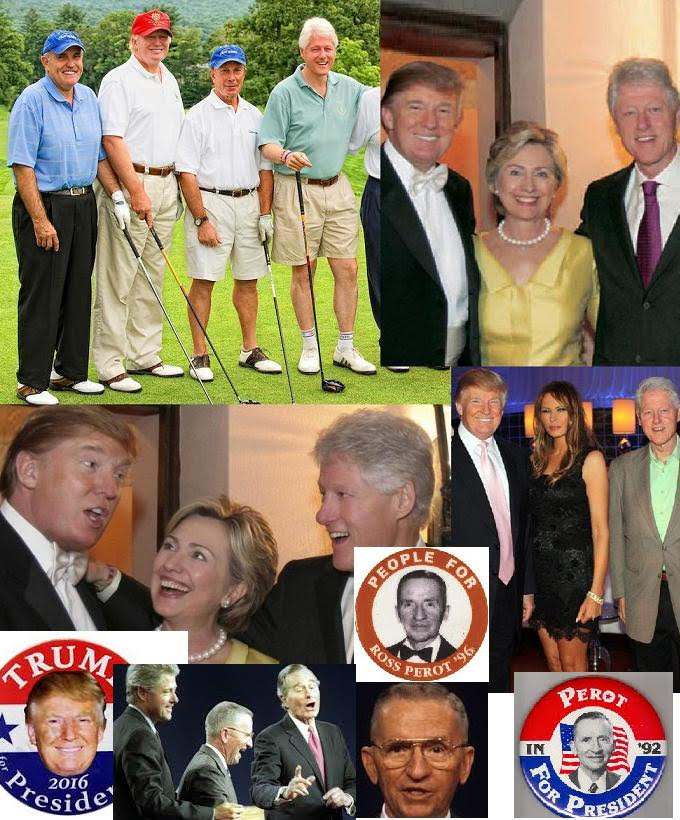 (Trump-Clintons longtime partners in crime. Perot got Bill elected.)
Lindenbaum and Scandalous Fred C. [Trump] were clandestinely using HUD and state funds to build a haven and Jewish power base in Brooklyn for eastern European Mystical Hassidic Chabad Lubavitch Jews at enormous and substantial profits at the taxpayers' expense.
Today, Chabad is among the world's largest Hasidic groups, and it is the largest Jewish religious organization. The vast network of Chabad institutions have placed the movement at the forefront of Jewish communal life today.[65] A spokesman for the Chabad-Lubavitch Chassidic movement says the sect is ZIONIST in its support for Israel.[66] Fred and Bunny were secretly working with SS Baron Otto Albrecht Alfred von Bolschwing, Israeli Defense Force (IDF), MOSSAD and the newly formed CIA.....
However, Bunny Lindenbaum and his father ran the largest and most costly corporate welfare fraud-embezzlement system in this nation's history. Primo Don is a product of that corporate welfare bread line straight out of state and federal treasuries. His shit don't stink. Any notion that Primo Donna Donald is a self made billionaire is a fallacy and grand ILLUSION.
DONALD TRUMP'S JEWISH BACKGROUND
Donald's great-grandparents, Christian Johannes Drumpf and Katherina Kober, had sons, Christian Drumpf and Christ Christ.[16] Christian was Sleazy Freddy's father. By his name, Christ Christ, may have converted to Judaism. Nevertheless, Donald's great-grandmother, Kathernia Kober, may have been Jewish.[17]
What we know is that the surname Kober is German and Jewish (Ashkenazic): from a derivative of the personal name Jakob or Yakov. German and Jewish (Ashkenazic): from German Kober "basket", Middle High German Kober, hence a metonymic occupational name for a basket maker or perhaps a nickname for someone who carried a basket on his back.[18] The Kallstadt, Pfalz - Rhineland-Palatinate area where they lived in Germany comprised the Jewish communities of Mainz, Speyer and Worms became the center of Jewish life during Medieval times.[19]
-------------------------------
The Trump family, like the Heinz family (also Jewish), is from Kallstadt Germany, which is a small village located within walking distance of the Speyer/Worms/Mainz Rhineland metroplex. This area of the Rhineland (i.e., Speyer/Worms/Mainz) has basically been the "homeland" of Ashkenazi Jews for more than 1,000+ years -- indeed, even Frankfurt and the Rothschild clan are likewise just up the river, again within walking distance of Mainz. If you're a billionaire and you're from the Rhineland, it stands to reason that you're probably a Jew. I suspect his first wife Ivana was also Jewish.
That said, for a country that was founded (literally) by Zionist Pilgrims at Plymouth Rock and constituted 150 years later by Zionist Freemasons in Philadelphia, what would you expect? Rather than complaining about "Zionist" America -- which is something that has been in America's DNA since Day One -- I've found it more constructive to focus on my own heritage and ancestors, and pay as little head to the Beast as possible. Wise as serpents, harmless as doves so to speak.
Glen
- "Donald Trump is nothing less than a sideshow and a counterfeit medieval medicine man offering cheap miracle and ILLUSIONARY fixes for America's problems here and abroad."
I've been shouting this shite from the roof tops for months now. Anybody(and by God there are plenty)who cannot see through this "phony bologna, plastic banana good time rock and roller" is a sucker and a fool. Does anyone think this clown made his millions by being a square shooter and playing by the rules? Give me a freakin' break !