Canada's United Church is a Laughing Stock
May 26, 2011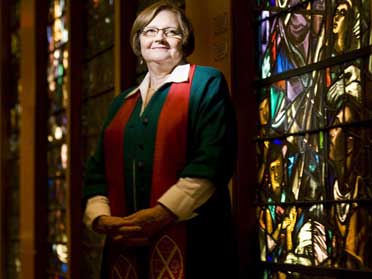 GOD WAS HERE

Mardi Tindal, left, the Moderator of the United Church, is not an ordained minister. But she drives an eco- friendly smart car. Obviously attendance is falling because of the lack of Christian spirit.
So what do they do? They dilute it further.

by Charles Lewis
from The National Post, May 14
(abridged by henrymakow.com)
The United Church of Canada, which was formed 86-years-ago with the grand vision to bring Protestants together "in one glorious national church," is undergoing one of the most precipitous slides in modern religious history.
In the midst of a breathtaking erosion in its membership, the church [is doubling its engagement] with the secular world; whether it be through advocating for the environment, fighting for the rights of homosexuals to marry or taking on the cause of the Palestinians, the church has attempted to blur the boundaries between religion and the broader society.
Supporters believe this strategy will eventually right the ship because they are following the word of God to engage in the world. [?]
To others, though, the United Church is engaged in a self-destructive act, aiming to be so many things to so many people that it will morph into just another social advocacy group disconnected from 2,000 years of Christian tradition. Critics say there is a severe lack of orthodoxy, lax demands on belief and even too much latitude for ministers who can question the existence of God and the divinity of Christ.
Connie denBok, a United Church minister in Toronto, is among those who despair that the church has become so much of the world, so focused on popular issues, that it is evolving away from the core of Christianity.
"In the 1960s and '70s we became embarrassed about Jesus. And so we distanced ourselves from Jesus, and the point is without Jesus there's no point in having a church. iTunes has better music and the NDP [the socialist party] has better policies; everything else we do now somebody else does way better. The only thing we can do is this Jesus thing," she said.
"I would say that the United Church no longer has many unifying factors."
In 1926, Congregationalists, Methodists and Presbyterians joined to create a church with 600,000 members -- which rose to a peak of 1.1 million by 1964. Today, estimates put membership at around 500,000 and falling...
"Just because people take a progressive stand doesn't mean they don't have a deep theological rational for that," said Mardi Tindal, the Moderator of the United Church. Ms. Tindal has a generous laugh and loves the fact that her church is so diverse in worship and thought.
Ms. Tindal, who is not an ordained minister, came to the job in 2009 with a passion and a mission to "help heal creation" by reducing humankind's "carbon footprint." She is proud of the fact that she drives a Smart Car because it emits less carbon dioxide. She says the United Church is fighting for "climate justice."
Indeed, Ms. Tindal just returned from a leg of her Spirit Express, a series of town hall meeting across Canada to talk about environmental issues.
That mission, she said, is both Christ- and Bible-centric because it is taking the Gospel message to protect God's creation.
"There's no question that this springs from our faith," she said.
When asked about what is the minimum a member of the United Church should believe before entering the faith, she pauses for a long while. She is reluctant to come up with a specific doctrinal answer, in the way a Catholic or even many Protestants denominations would.
She personally believes in the Trinity, the Bible and the living, resurrected, Jesus, but she is less inclined to assert a firm doctrine for others.
"I'm trying my best to answer the questioning, but these matters of faith, as you can appreciate, are difficult to pin down with prose, aren't they? They are words of poetry, words of heart and words of soul," she said.
"I'm of a faith tradition that would say we are humble in knowing we carry partial truths. Truth is always God's truth. It's always being revealed to us more fully. And as we live in this life it seems to me there are enough religious voices that would say I have all the truth and in my experience that does not open us to greater understanding."
It is that reluctance to define doctrinal belief, while at the same time putting an emphasis on social causes, that is making the United Church indistinguishable from many activist secular groups, said Kevin Flatt, a Protestant historian who has studied the United Church for years.
"The main question is, What are the characteristics a religious group needs to have in order to hold on to members and maintain its relevance in our society?" said Prof. Flatt, who teaches at Redeemer University in Ancaster, Ont. "There have been lots of studies that show a religious group has to have a very clear and shared identity and there are boundaries around the group that makes them distinct from the general culture. In the United Church, those lines have blurred.
"What is this organization bringing to the table that doesn't already exist from a secular perspective? There are many people concerned about the environment who have no belief in God. If you are essentially not bringing anything that's different, there's a risk you will be perceived as redundant and groups who are redundant lose members."
---
Response from Wes Penre of www.illuminati-news.com to a related article

"The United Church of Canada is most probably controlled by the OTO,[Ordo Templi Orientis] Crowley's old Magick Order. Please check the two pics I attached. The 'golden' one is the logo of the church of course,and the black one the logo of the OTO. Same old Sex Magick and Human Sacrifice...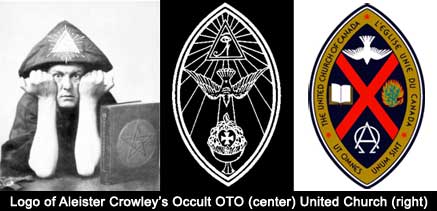 -






Oh, a little side note, by the way. I know a person who has been an A.'.A.'. member (offspring from the OTO) most of his adult life and he also knows the OTO inside out. He explained to me some years ago what the OTO logo represents: The symbol in itself is the female vagina, the bird (dove) is the male semen moving towards the Holy Grail, which is the female egg. That's Sex Magick in pure symbolism."