Men Prefer Career Women, says Homemaker
December 25, 2014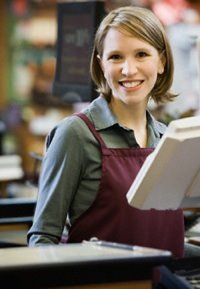 (left, not S. ------- S wrote to thank me for my reply to a man who went to the Philippines for a wife. I suggested he consider local women who are not career minded - tellers, cashiers, waitresses, secretaries etc. )
"
Feminism has really been the Men's Liberation Movement. It told men they didn't need to take as much responsibility (for families) and many seem just fine with that."

"Of course- I know that we are all under financial and psychological attack--and realize both sexes have been led astray. It's just really frustrating when you find your nature under attack over and over."
from Oct 30, 2011
by S
(henrymakow.com)
S, is a 34 year-old woman who currently lives in Utah, USA.


Many of the men
I encounter in the singles scene seem to want career women. They want someone who will help pay the bills and do everything else too--all while looking great.
It is not uncommon to have a guy ask you on the first date what you do for work and what your career plans are, and not ask you out again if you are not making very much or don't seem ambitious.
Shockingly, I have found this scenario in my church congregation more commonly than with non-church going men. My experience is that some men "want it all" and as Pat Allen said, feminism has really been the Men's Liberation Movement. It told men they didn't need to take responsibility (for family) and many seem just fine with that.
Of course- I know that we are all under financial and psychological attack--and realize both sexes have been led astray. It's just really frustrating when you find your nature under attack over and over. (I know this is true for both sexes).
I'm an INFJ personality type-- which means I'm quite spiritual and insightful, which is why I read your website. Its been hard for me to find men that appreciate a girl that thinks and feels deeply.
My most serious relationship was with a musician. He ended up moving to NYC to pursue music and I didn't think I could keep up with his lifestyle or the city. He also drank quite a bit. I have tended to attract addicted men -- something I have had to watch out for. I attend Alanon (for family of alcoholics.)
I have medium-length dark hair, I'm 5'1 tall, and a curvy body type. I have a youthful appearance.
Maybe if I were more career oriented and competitive in society I would be okay. I was raised in a feminist family where I was told that I could be anything (in the work world) and to put relationships and marriage to the side.
Looking back, I see I was raised by women who were unhealthy and out of touch with themselves. Despite my family's expectations for me, the jobs I have been able to do are cashier, customer service and working in health food stores.
My talents seem to lie in being easygoing and kind--values that aren't really valued or paid well in the workforce. I've also had learning disabilities and emotional problems to deal with--from being raised in an abusive environment.
Bottom-line: I am a vulnerable woman, unfortunately more vulnerable than most. The women friends I have are also vulnerable women. Some of us have a disability that makes doing things like math and hard reasoning difficult, or they are more naturally feminine and less aggressive.
I have come to learn that feminism shames women for being vulnerable. I am currently not working because of nervous burnout and I can't believe the guilt that's been thrown at me, for trying to stop and take care of myself.
I am under a lot of pressure and criticism from others. For instance, when I go to a singles event and a guy is talking to me and finds out I don't have a job right now, and then walks away or looks at me weird. In that case--I may know that he's looking for someone to take care of him.
I am under incredible pressure-- and just pray that God will help lead me to where I need to be and to a good relationship. I do desire to be married and in a Partnership with a man. To build a nice life together with a man, that is my desire.
I am a spiritual person and hope to find a man who is spiritual, masculine, and protective man. I want someone who enjoys being a man, and loves that I am a women. In the meantime, I work on myself to try and be a better person.
I'm learning to accept my vulnerability as a woman, and to look for men who want to be protective and nurturing. I am learning to watch how a man responds to me and other women who are vulnerable and am finding myself attracted to generous, nurturing and protective males.
I am considering much older men for partners--because I know I need a man who wants to give, protect and cherish. I am looking for a man whom I can respect and give him back love, respect and attention.
So, Henry, thanks for suggesting men look at less competitive and feminine women in their own communities. I fall under that umbrella. Many of us less competitive women think there is something wrong with us and stack up our lack of financial success as another reason we should feel bad about ourselves--given the big media
"Sex and the City"
ideal that is set out before us.
But really the women I know are still looking for a man we can look up to and respect--and be a hero in our eyes,( that's FEMININE women who are looking for a MASCULINE men ). Like in that song "I need a hero" by Bonnie Tyler.
I can offer a man love, loyalty, virtue, desire for growth and respect and a comfortable home life. I like to cook, clean and keep a house. I'd like to have kids. I'm also quite creative and would like to contribute that talent towards any endeavors he may have going on
As Dr. Pat Allen says: Man's greatest psychic desire is to be respected for his thinking. And woman's greatest psychic desire is to be cherished for her feelings. When a man is respected, he feels cherished and that cherishing overflows over onto the women who is respecting him. And I believe that is a recipe for love.
I also learned a lot from watching
christy0misty's you tube videos
on "Feminism".
--------------------------------------------
Related -
Men Aren't Refusing to Man Up; They're Dropping Out


First Comment by C:One of the reasons
some men are genuinely attracted to competitive career women (as opposed to the prospect of not having to pay all the bills) is that they themselves are physically and emotionally feminised, and are unconsciously seeking someone who will supplement their own lack of masculinity, ie. a "strong" ambitious, decisive woman.
This isn't to say that all such men are overtly feminine in a stereotypical limp wristed, camp fashion. Often the reverse is paradoxically true and such men - having the passive feminine instinct to conform to social convention - will seek to be overtly masculine in a very simplistic culturally conditioned fashion - by, for example, taking an exaggerated in fast cars, heavy metal music, sports, sexual promiscuity, etc.
And of course the same feminine intellectual passivity in their nature also tends to make them very accepting of the social and sexual mores of their time - very much including the notion that strong ambitious women are sexier and more attractive. In fact the reverse is the case on a biological level - as high achieving, competitive women tend to develop male characteristics, both physical and psychological.
But then again feminine men are consciously or unconsciously attracted to physically masculine women. I once read an interview with Boy George in which he said he had often been sexually attracted to women, but only ever of the butch, ball breaking variety.