Feminism's One-Sided View of "Equality"
September 23, 2007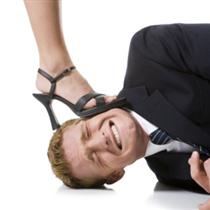 By Henry Makow Ph.D.

In 1971 when males represented 2/3 of college students, feminist organizations started to lobby for "equality."

Today, the position of males and females is reversed, but we don't hear a peep about equality from feminist groups.

Clearly the demand was just a ploy to supplant men in the workplace and as protectors and providers in the home. Women now have fewer children and less incentive to marry or stay married. The central bankers don't care about "women's rights." Their agenda is to divide the sexes and dissolve the traditional family. Feminist activists are their shills.

Last week Statistics Canada released a report entitled "Why Are Most University Students Women?" According to the National Post:
"The report notes that a dramatic reversal has taken place on Canadian campuses in the past 30 years. It's an international trend that experts widely described as the "feminization of education."
Among 19-year-olds in 2003, 39% of girls attended university, compared with only 26% of boys, said Statistics Canada.
Also, there has been a decline in male teachers in high schools. According to census data, the proportion of male high school teachers dropped to 46% in 2001 from 58% in 1981.
John Martin, who teaches criminology at the University College of the Fraser Valley, in Abbotsford, B.C., bemoans the fact that "post-secondary education is definitely where the boys aren't."
He says that in his first-year classes this year, less than a quarter of his students are male. In his fourth-year classes, girls outnumber boys 10 to one. [This has a social dimension as there is less opportunity for these girls to meet young males.]
Mr. Martin blames the trend on the public schools, which he said switched gears through the 1970s to appeal to the learning style of girls because they weren't doing as well as boys.
"Boys are getting shafted," said Mr. Martin, starting in the early elementary school grades where there is "zero tolerance on horsing around" and boys are treated as learning-disabled and put on medication if they misbehave."
The Statistics Canada data comes from a massive international study of 15-year-olds as well as surveys of students and their parents. The data seems to reflect a general socialization of girls for academic success.
"In standardized reading tests, only 20% of boys scored in the top 25%, compared with 30% of girls. Boys were also more likely than girls to score in the bottom quarter.
In school marks, almost half of girls, 46%, were honour-role students with averages of 80 or higher, compared with 32% of boys.
This feminist "War Against Boys" is analysed in a 2001 book by that name by Christina Hoff Sommers, one of the earliest mainstream critics of feminism:

"A lopsided education system in which boys are on the outside looking in is inherently unjust and socially divisive. The public has given no one a mandate to pursue a policy of privileging girls." (206)


CONCLUSION

The feminist cry for equality in schools was a classic power play typical of central banker-backed Communist organizations. I have no problem with women having careers. I just hate to see them tricked out of having families. Left high and dry, these career women become foot soldiers for the bankers and their New World Order.

Another example of divide-and-conquer was the Civil Rights movement which according to Alan Stang's "It's Very Simple: The True Story of Civil Rights" (1965) was designed to divide and divert the United States. (See also my "Red Rosa Parks: Fabricating an American Icon" )

So great is the concentration of wealth in the hands of central bankers, they believe they have a right to dictatorial rule. Everything they have done in the last 150 years has been to weaken the US and the world for that day which is quickly approaching.

We should not fall for their divide-and-conquer tactics. It's just us vs. them- them being the central bankers and their lackeys: Zionists, neo cons, feminist and gay activists, multi national corporations, the mass media, intelligence agencies, government and most politicians.

The whole world is in the grip of a cabal of Satan-loving bankers based in the City of London. Sounds outrageous but there is no better explanation for the politics and culture practised on this planet.