RC Church Couldn't Help this Homosexual
September 14, 2012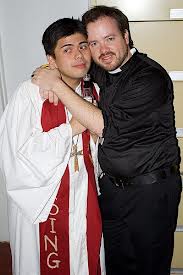 (left, priest and altar boy get chummy)
John Blair Linn discovered that despite Christian doctrine, the RC Church
has tacitly embraced homosexuality and can't help gays struggling to
return to heterosexuality. The church conversion class was a meat market.

by John Blair Linn
(henrymakow,com)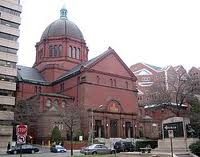 I am a 48 year old homosexual man
who lives in Washington, DC. In March, I became depressed over my homosexuality and contacted
St. Matthews Cathedral. (left)
The Rector was a quiet and saintly man around age 70, tranquil blue eyes, wore wire glasses, and kept his index finger pointed to his lower lip the whole time we talked. He said the church had a support group for struggling Catholic youth, and that I would be welcome. I had hoped to meet men my own age who had sought help from the Church.
I decided to contact a priest at St. Matthew's to try to get some help.
I wrote a long letter to a priest that I selected at random from the Church website. I must admit that I had fears about seeking out the Catholic Church because in the past I had encountered homosexual priests while attending Mass.

He was a young man whose inexperience shown in his eyes, he was a former rock musician, and had studied architecture, and was very good at passing down the church's rules which he repeated by rote. When I met him I was relieved to find out he was straight.

He told me the church did not have a support group for adults because the Vatican would not allow it. The Rector had to stand up to the Church in order just to get a support group formed for struggling young adults.
I started to attend Mass again and I noticed a large number of homosexual men that I had known over the years who were still practicing homosexuals.
This bothered me because I thought it was unethical for a practicing homosexual to attend Mass in violation of the Church's teachings. When I read that over 50% of Catholics in America supported gay marriage, I become disillusioned because almost all homosexual men in relationships continue to have sex outside their so-called marriage.
I tried calling back the priest with whom I met but he did not return phone calls or emails. However the priest kept his word and I was contacted by a sponsor who was struggling homosexual . We connected and had dinner.
He too told me that the Vatican did not want support groups for homosexuals meeting at the Church. When I spoke of my desire to marry a woman he told me that the Church probably would not allow that. I was very upset but decided to check out the RC conversion course which was comprehensive and lasted over a year.
CONVERSION
At the first session of the course I sat next to a much younger African-American man who turned out to have a Ph.D. He looked at me a lot and smiled. That evening I received an email from him through a gay personal site which I thought that I had deactivated. He wanted to date me.
I was shocked that he was converting to Roman Catholicism. I did have dinner with him following the second class and told him I felt homosexuality was a sin and wanted to live a celibate life.
That didn't go over too well with him. I was also bothered by two of the young men who had large tattoos on their arms. I knew that this was a sin.
I informed the priest that I was giving up on the Catholic Church because there were too many practicing homosexual attending Mass, wanting to convert to Roman Catholicism. Also, I did not support the teaching that sex was for purely procreative reasons.
The Catholic Church gave me nothing but the runaround, and in my opinion did not feel comfortable ministering to struggling homosexuals because of the number of practicing homosexuals in the priesthood and attending Mass who gave large financial contributions to the Church.
I have a message for the struggling homosexual: avoid the Roman Catholic Church because it has a huge subculture of practicing homosexual men that the Church actually supports. The Church is very disorganized in this area, with priests talking at cross purposes, sending out conflicting information, and acting contrary to official Church teachings.
--First Comment by Dan:
Just a short note to say believe Linn's story. It's not a 'Catholic bashing' screed.
The way the Vatican and ` archdioceses handles homosexuality is really as convoluted as he describes. There's clearly a "don't ask don't tell" thing operating in plain sight in my own archdiocese.
Approving of sexual lust in any form is in disobedience to the catechism. Sexual lusts can be defeated through consecration of self to the chaste, celibate life. Priests, bishops, nuns, and lay people that espouse that sexual pleasure for it's own sake is a 'human right' are at cross-purposes with this doctrine.
Sorry to say that I can't recommend Catholic church as a support group for those with homosexual urges. I have never heard a priest in this archdiocese refer to homosexuality as a problem.
Lastly, it must be understood that traditional Roman Catholicism was replaced with a counterfeit fraud with Vatican II and the 1960's. To paraphrase Jesus, Rev 2:9: "I know the blasphemy of those who say they are Catholic and are not, but are a synagogue of Satan."
A great old-school priest passed away August 21st,
Fr Hugh Thwaites. One of his best quotes was "Most priests go to hell". A perfect example of what this means is people deceived by the culture to embrace lust as a 'right' in ignorance are more liable to receive mercy than someone than priests and bishops who know it's against nature and the will of God, yet willfully rebels anyway - and encourage others to do so too. They are Luciferian.
adding a Youtube link
http://www.youtube.com/watch?v=byiTb4uZmM8
Here is a clip of a Catholic priest warning about the homosexual infiltration in the Church. This was made in the late 1980's. This priest was reprimanded by his archdiocese, forced to take a mental exam, and defrocked.
Homosexual Infiltration Of The Catholic Clergy
http://www.youtube.com/watch?v=byiTb4uZmM8
Here is a famous story that happened this year. A devout Catholic Priest rightfully refused to give the Blessed Sacrament to a Lesbian at her mother's funeral.
But the lesbian was not a Catholic, and she brought her partner and flaunted her lesbianism deliberately.
The priest was condemned by his archdiocese and stripped of his priestly faculties.
http://www.womenofgrace.com/blog/?p=15301
This book explains what happened.
Goodbye, Good Men: How Liberals Brought Corruption into the Catholic Church
http://www.amazon.com/Goodbye-Good-Men-Liberals-Corruption/dp/0895261448