I Married a Feminist. Now What?
December 6, 2014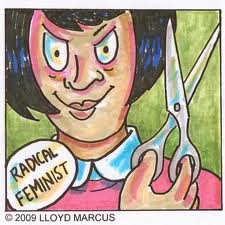 Women were not the only ones brainwashed by feminism.
Men were actually conditioned to admire and desire these women.
But after 20 years of an "egalitarian" marriage, Kieran Dunn had enough.
His "roommate" relationship saps his masculine pride.
Should Kieran get a divorce or tough it out? We revisit his original post
November 19, 2011, and your comments. Afterward, we learn what he did.








from November 19, 2011

by Kieran Dunn
(henrymakow.com) I should have known
I was in trouble 20 years ago when we went over the wedding vows and my wife-to-be told me "obey" will not be included. As a college educated and "enlightened" male, I laughed and replied "I understand."
The title of Jerry Reed's song says it all,
"She Got the Goldmine, I Got The Shaft."
My bride to be and I were college educated; she had a background in linguistics and I in humanities and public school administration. We both had prior marriages. I had baggage and unresolved issues.
I had also been indoctrinated. I believed that males at times have repressed women, and I was out to change the course of male/female relationships, at least between us.
I worked hard to be the enlightened husband and nurtured her in understanding (female) subjective reality and how it colors all relationships. Feelings, whether they are based on reality or fantasy, are real to the individual. So we worked hard at understanding each other.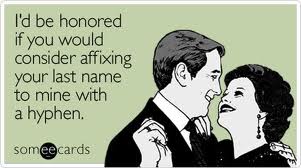 But the relationship was doomed to fail from the start as far as "becoming one." She was a feminist, not the Gloria Steinem, bra-burning type, but a quasi-feminist.
She had caught my attention in a college class when the professor asked her what her feelings were on men. Her reply was they were "bastards."
I had not given her much thought to that point, but she had thrown down the gauntlet. She was attractive, smart, and gave no quarter to the weak. My kind of woman.
How did I know this? I had swallowed the programming by feminists and disingenuous liberals who controlled higher education.
Being the malleable student wanting to be fed from the fountain of knowledge, I embraced that we men had been too hard on women, Indians, Coloreds, Martians, and other assorted creators belonging to the animal world.
I was ready to leave the unwashed masses and join the thousand points of light that would change the cultural dynamics of male/female relationships.
DOUBTS
The watershed was ten years ago when I should have acted.
We always talked about going into a ministry and working together. But when the offer came, they only wanted her. My approval was all they needed from me.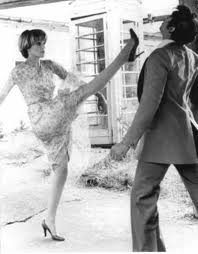 (left, stepping out)
I could have iced her career and reinforced her assessment of men. She cared little that this move would end our plan to work together. There would be no "oneness" in our marriage What was I to do?
I swallowed and said, "It's OK with me." At the time I felt this was right but ten years later I realize it was not. Her desire to launch out without me was her feminist brainwashing coming through.
Everything she has accomplished has been because of my contacts. I have reminded her of this more than once to illustrate all men aren't bastards (we are just dullards due to conditioning).
She was not mean spirited nor has she ever been. When we have had heated discussions over this, she accuses me of wanting her to be subservient, which is not true.
I counter with "not one time have you ever asked me, can we work together?" You have never asked me, "what would my role be?" Then I just get a blank stare and "Well, you are right." But that is where it ends and has stayed for 10 years.
DIVORCE?
I called my brother recently and the conversation got around to how different he has felt since his divorce from a quasi-feminist.
At that precise moment, his ton of bricks fell on me. I had to admit that for the last 10 years, I have endured psychic/emotional grief. But I have just turned 55 and I do not know what to do at my age.
My wife is a quasi-feminist and that is who I married. I realize I cannot change her and what she feels is her mission in life. On my side of the coin I cannot envision living into my twilight years feeling like I do. This is beyond a dilemma; it is a Gordian knot.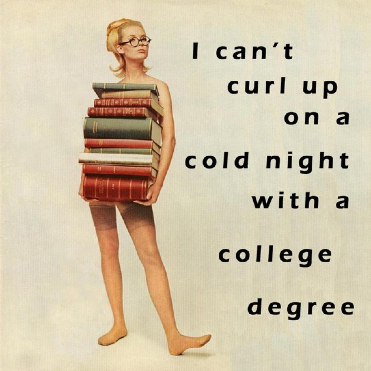 The dilemma is this. She is content and happy with things going the way they are (except she wants more snuggle time in her bed). She knows I am unhappy but not the extent of my frustration.
I blame myself. I chose to marry a toned-down feminist believing that through mutual trust, understanding, and commitment we could make a life together.
Her feminism is stealth. If I would say a feminist is a women with an "incipient penis," she would probably reply "that may be true-but I have yours too."
It can't work. I cannot surrender my masculinity. I am supposed to provide and lead my family but am not allowed to. I am not berated in public or at home. We respect each other.
But feminism is the reason for us to live on two different emotional, intellectual planes, and floors of our home-that is contrary to how I believe the Creator meant for us to live. And NO amount of re-education can change this genetic/spiritual predisposition.
--
From Kieran Dunn
(Recently) : "I have accepted we are roommates with benefits."
The 2011 commenter
who remarked "sell all and flee to Singapore" was my favorite. I wish I could have followed his advice.
I am on the glide slope to retirement and starting economically over again is not feasible or a rational choice.
I will have four revenue streams for retirement which only one is unprotected, and it has the most liquidity. But this is not the reason I am still married to "her."
In many different ways as we age we mature [and usually] realize how complex life and relationships are. That cannot be changed.
Trying to abide in Christ as a disciple makes the realization of bad marital choices excruciating.
The church has taught over the centuries that marriage is a covenant that with a few exceptions is permanent.
No amount of mental gymnastics or word plays can negate scripture.
Yes I had ethic classes in ministry preparation and know the concept of "which is the lesser/grater evil."
I can only speak for myself but my choices are/were my choices.
I am not in an abusive relationship but one of my own choosing.
I have thought, prayed, and meditated long over my situation and have accepted it as it is.
But the cause and reason for not leaving, though tempting, is because of my calling to minister to others.
This is not to mean I am a martyr, far from it. But to walk away and divorce would injure too many people, and far beyond my own family.
My wife had a serious health issue and I refused to be a Newt Gingrich! My intention was to get her through the surgery, recovery, then set sail for calmer waters. But events changed swiftly and her surgeon became concerned she was in danger of dying.
That changes one's perspective.
She brags to others how helpful and knightly I was/am. I tell her gently "no-I did what was expected of me!"
For my part, I have cleared the air with my wife and told her of what my expectations were/are and the many years of frustration I have had.
I have accepted we are roommates with benefits.
Don't anyone feel sorry for me. Both of us are professionals and have revenue streams (retirement) that are unexposed to the other. As I mentioned, she nor I can clean the other out. We are not spring chickens anymore, but neither of us needs the other for health reasons.
I can hear some responders say "I am foolish, allowed myself to be trapped, living in a fool's paradise, or some similar opinion that I have sold myself out."
I suspect the liberated and cosmopolitan will suggest I am weak, sold out, or unable to break away.
The word "myself" is the operative word here. So why stay? That's the thing to do, for "me!" I don't feel pressured or guilt ridden to stay. I can only say [again] for me, it's the thing to do.
As you write [and are right] the essence of life and God is love. The love of God will break the hold Satanism has upon the mind and heart of men. Sometimes that means to put oneself second and others first. As the scripture reminds the faithful that "God demonstrated his love for us that while we were yet sinners, Christ died for the ungodly."
I close with "and that's the way it is."
I pray no one feels I have let the cause down, because I have not.
------------
First Comment from Pat:
My guess is that Kieran is mistaken. His wife's "Feminism" is NOT the real problem. She is simply SELFISH. That is a much more serious problem.
Feminism is only an intellectual construct - a product of the "brain-mind". But REAL choices cannot be made by the brain-mind. Just as they cannot be made by a computer. Choices are made by the REAL-mind or subconscious or the heart. Call it what you like, but it is not the physical intellect.
After his wife chose to be selfish, she had to put an intellectual justification to it. Otherwise she would have had to admit to herself that she was bad. None of us like to admit that. So she uses some of the arguments of feminism. But if she lived in an era when feminism had not been invented, she would have found another rationalisation.
Kieran does not say if they have children. Raising a family is one of the ways that tends to defeat the temptation to be selfish. It ought to teach us to love and to serve. But if one is determinedly selfish, then even that will not correct us.
There is no point in looking for help in Psychology. If a psychologist is good, his theories will be rejected by the elite. Only bad psychologists are given recognition and have their theories promoted. That applies as far back as William James whose ideas were both clever and evil.
It has become a popular notion that selfishness creates - ranging from the ideas of Dawkins to Business Theories. But it is always a lie. It never creates. It only appears to do so - by stealing what is good (including ideas) from those who are good and unselfish and serving God.
Perhaps it is time for Kieran to start praying for his wife. Because if she arrives at the next life with her heart still hard, then she is in serious trouble.