Inspiration for a Dark Age from Italian Mystic
February 21, 2011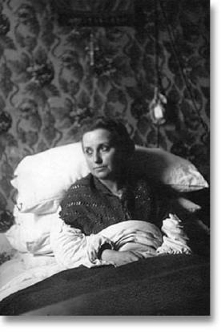 "Have no fear, have faith, ask for the good things believing one hundred percent that you will receive them." In order for a miracle to take place, we must first believe in one.

by C.B.
(for Henrymakow.com)

A few years ago,
when I realized that the conspiratorial view of history is true, a deep sense of helplessness came over me.
I felt far away from God. A book written by an Italian mystic, Maria Valtorta, provided me with wisdom and peace, and revealed strategies for surviving in the darkness.
A mystic is a person who has a direct experience of God. The most well-known mystics are approved by the Vatican: St John of the Cross, St Theresa of Avilla and Saint Catherine of Sienna. However, many are not approved, yet are well known within the clergy circles and by the visionary aficionados.
Maria Valtorta, born in 1897 in Caserta, Italy, is one of these. At the age of 23, she was walking along a street accompanied by her mother when she was attacked by a young hooligan wielding an iron bar. As a result, she lived her life as an invalid, dying at the age of 65 in 1961.
A talented writer, she wrote
"The Poem of The Man God"
in five volumes, approximately 4,200 pages. The book was translated from Italian into English, Spanish, French and German.
Maria Valtorta is a visionary who in modern terms "channeled" information directly from Jesus, Mary and other biblical characters by visualizing a "3D film" of the life of Jesus. Although her writings are prophetic revelation, there is no deviation from the mainstream Christian tradition. It is a "gospel" which neither substitutes nor changes the Gospel, but rather narrates it, integrating and illuminating it, with the declared purpose of reviving in men's hearts the love for Christ.
Realizing the important life lessons and advice found in
"The Poem of The Man God,"
I took notes in order to further my spiritual formation and understanding of God, life and human nature. Maria Valtorta's writings slowly led me back to Christianity.
If the dark forces want to create an atmosphere of fear and hopelessness, why not counter by dwelling on "whatever is true, whatever is noble, whatever is right, whatever is pure, whatever is lovely, whatever is admirable -if anything is excellent or praiseworthy-think about these things." Phil 4:8
The following are quotes taken from
"The Poem of The Man God"
with my commentary:
"Contemplate God in the beauty of creation and you will honor Him with a moved spirit. Know that the stars sing to God with their voices and motion. The breeze of the trees praise God, the waves of the sea, the wind, the water and the birds in their morning song."
"Impurity of thought kills faith and intellect, therefore keep watch over your five senses and your thought process." The Bible tells us to carefully shield our senses and this also means controlling our negative thoughts, shielding our eyes from violent television programs as many films, music videos etc. dehumanize people and decrease our sensitivity.
"God is present where there is honesty in life. He is not present where there is no love, justice and charity," therefore cultivate the positive virtues which attract blessings. The fruits of the spirit are: love, joy, peace, patience, kindness, goodness, faithfulness, gentleness and self-control. These are mind attitudes and we have a choice in cultivating them and asking for God's help as well.
"Jesus is the Word of God, the wisdom of the Father"- Study the Scriptures in order to know Him better. In order to love someone, we must know that person well and one way to learn about God is to study his love letter to us, the Bible, and to practice mind renewal by replacing all the negative thinking patterns with what God says.
"The true spiritual man is superior because he is not a slave to the senses. Your senses, organs, intellects must serve and not reign, rule the spirit, they must protect the spirit." By mastering ourselves, we can control our thoughts, our actions and raise above our senses.
"Let your thought be a good friend to your spirit so that together they can reach perfection."
"People practice the cult of pride in order to impose themselves on other people and man is always impressed by what is heavy and strikes the senses." Learn to see past appearances; look at the character of the person.
"Forgive, love God and people as these are part of the commandments. Therefore the greatest wisdom is loving". The commandment
love others as you love yourself
implies that you also have to love yourself, not in a hedonistic, self-centered way, but realize that you are a wonderful creation of God, endowed with free will to love Him.
"Forgiveness is peace." When you forgive someone you will not be spiritually bound anymore to the person who wronged you. God created us with love and for love.
"There is sadness wherever there is no true life in God", therefore use your God-given free will to welcome Him in your life. He does not come uninvited.
"There is a spiritual closeness of thoughts and hearts." Join a church or a community and find fellowship with good people in this age of technological and psychological alienation. Try not to live only in a virtual reality world.
"Give human life the importance it deserves, a means to conquer true life, not an aim. Life is a holy gift; life is a means serving eternity." Look around you and you might just find your friends for eternity.
"Christian life is a perpetual heroism because it is a perpetual struggle against the world, the demons and the flesh." God leaves us free to choose, either with Him or the evil one, yet the battle for a soul lasts until the last breath. The prince of this world is Satan and he is real. Therefore learn about spiritual warfare in order to protect yourself -"
My people perish for a lack of knowledge."
Hosea 4:6
"The sadness of the spirit, the fear of tomorrow and worries are always weapons that man places in the hands of the enemy. Ghosts rise from the fogs of Satan: doubt, regrets, memories, concern, disappointment and hatred." Therefore react against discouragement because God is the God of achieving the impossible.
"Have hope, you are not alone, over you there is God."
Although it is easy to lose hope, it is important to remember that above all the evil planners of the world, God still reigns and will have the last word.
"Do not fret because of evildoers."
Prov 24:19
"Do not be overcome by evil, but overcome evil with good."
Romans 12:19
I think it is safe to trust a God who loved us enough to die for us.
------
Quotes taken from www.valtorta.org and from all five volumes of The Poem of The Man God by Maria Valtorta
Besides studying the Bible, two comprehensive materials on the subject of spiritual warfare are: Rev John H. Hampsch's Spiritual Warfare and Neil T. Anderson's The Bondage Breaker.