Patriot Elder: "Militias Will Not Be Allowed"
March 22, 2010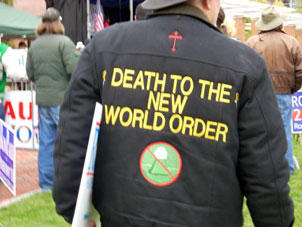 NEW CONTENT IN BOLD
"Sacrifice is not a part of the American mind set."
by Tony Blizzard
(for henrymakow.com)
For 60 some years
now, I have been hearing - and was often in the thick of - "getting everybody organized." It ain't gonna happen.
In the 1960s, there were thousands more people directly involved in getting everyone educated and organized. We consistently lost practically every battle we engaged in. We played by the rules because we weren't criminals; the other side has no rules except winning power.
There was an active, growing, organized and dedicated militia centered in California but known and influential nationwide until its leader, Robert DePugh was framed and jailed for bank robbery. The militia was called the Minutemen. It was a real group organized in cells.
When DePugh was released early, he started up another organization to "educate everyone" but it soon became clear he was only released because he agreed to separate patriots from their money and list them for the feds. He disappeared after a few years of begging funding.
Militias, real militias, simply will not be allowed. Small very secret cells, Communist style, would work a hell of a lot better. Anyone who thinks he can easily spot any infiltrator needs an education on the real facts of life. Remember, Christ said following him would not be easy. It would pit "sons against fathers, brothers against brothers," etc.
The schools and colleges have, in the mentioned time span, continually dumbed down the kids, each generation more zombie like than the last, each more trusting of government, each with fewer morals and more apt to take whatever it can get "for nothing," each leaning more on government itself for everything imaginable.
I'm 77 years old and I'm the only person I know over 63 who does not take so-called social security. Moreover EVERYONE advises me to apply for it RIGHT NOW and get what's coming to me. No one has a clue or cares that it is a scheme to make everyone dependent on government. Sacrifice is not a part of the American mind set. Except to sacrifice everything and more for the sake of ersatz Israel. Mass insanity? Absolutely. But it's what we are dealing with.
THE HUNGARIAN UPRISING
The Hungarians actually won their revolt against the Soviets. Budapest was theirs and that meant the rest of the nation too. It happened when there was a massive anti Soviet rally in the square of Budapest and some Volpo (Hungarian Communist police) on a roof fired into the crowd.
When a woman held up her murdered baby, the Russian commander in the lead tank ordered his men to machine gun the Volpo machine gun nests on the roofs. Then he and the rest of the Russians got out of their tanks and turned them over to the Hungarians.
The Russians refused to murder the Hungarians. The nation was free for as long as it took for the Soviets to bring in Mongolian troops, who would kill anyone or anything. This did not happen until Eisenhower, then U.S. president and traitor supreme, assured the Soviets that the U.S. would not allow anyone in the world to fly supplies into Hungary to aid the freedom fighters even while those freedom fighters were begging the U.S. government to give them basic aid.
I'm not convinced that non violence is Godly, even Christian, at all. Toleration of evil is itself evil. This is what "hate crime laws" are all about, tolerating evil, thus allowing it to flourish.
Take some time to read Solzhenitsyn. Some of his final writings asked the question: Suppose the Russian people would have just killed the murdering thugs who came in the night and dragged innocent people away to be tortured, murdered, or worked to death in prison camps. Those thugs murdered between 60 million and 100 million people in the last century (no one on earth is certain of the count), most of them Christians. Their legacy to the world has been the plummeting of world wide morals and culture to the depths of depravity from what had been largely a Christian civilization. Are we all better off, are we more godly, more edified, because the good Russian people took a nonviolent stance - which is really no stance at all? Do today's generations have a better chance to be godly because of that non stance?
Again, Hungarians won over the evil which had enslaved their nation. What they didn't know was that the lying west, i.e., the U.S., was (and is) the greater evil because it was (and is) a hypocritical liar on top of being just as criminally anti-mankind as the Soviets.
Tony Blizzard's email address is <[email protected]>
----
Robert DePugh and The Minutemen (Profile by the ADL)

Robert DePugh, 72, came into prominence in the early 1960s as founder of the Minutemen - a secretive, extreme right-wing group that perceived an impending Communist takeover of the U.S. and organized violent "counteraction" to prevent the alleged takeover. Organized into secret cells of five to 15 members, the Minutemen stockpiled weapons and trained together to defend the country against what they deemed "subversives." In scattered incidents throughout the U.S. during the 1960s, armed Minutemen clashed with law enforcement authorities and private citizens.
Minutemen carrying out DePugh's orders and objectives placed armed caches in various locations around the country. They attracted notoriety when this military equipment was discovered by law enforcement. In October 1966, for example, 19 New York Minutemen were arrested in raids and accused of planning to bomb and burn three summer camps in the New York metropolitan area, which the Minutemen claimed were being used by "Communist, left-wing, and liberal" individuals. Huge supplies of weapons and explosives - including rifles, pipe bombs, mortars, machine guns, grenade launchers and a bazooka - were uncovered. Because of faulty search warrants, however, the charges against the Minutemen were dropped in 1971, after lengthy court proceedings.
In addition, the Minutemen used threats against their perceived enemies. In one incident, DePugh's monthly publication, On Target, listed the names of 20 Congressmen who had criticized the then-active House Committee on Un-American Activities, warning: "Traitors beware! Even now the cross hairs are on the back of your necks."
In February 1968, DePugh went underground after a Federal grand jury in Seattle indicted him and seven other Minutemen on charges of conspiring to rob a bank. Federal agents captured DePugh and an associate 17 months later as they were leaving a hideout in Truth-or-Consequences, New Mexico. In July 1969, DePugh was sentenced to an 11-year prison term for firearms violations, bond jumping, and breaking Federal fugitive gun control laws.
DePugh's incarceration signalled the end of the Minutemen as a significant presence among the radical right in America. Following his release from prison in May 1973, DePugh attempted to revive his stature in the hate movement, first by affiliating himself briefly with Liberty Lobby, the leading anti-Semitic propaganda organization in the country, and then by collaborating with United Klans of America leader Robert Shelton on an unsuccessful project called "the Committee of Ten Million."
In June 1992, John Grady, leader of the American Pistol and Rifle Association (APRA) - a far-right alternative to the National Rifle Association - appealed to "Selected Patriots" to initiate a letter-writing campaign to overturn DePugh's conviction on other weapons violations. According to press accounts, DePugh had been convicted on two counts of weapons possession by a felon and one count of possessing an unregistered machine gun following a September 1991 Iowa arrest on charges of sexual exploitation of a 13-year-old girl and misdemeanor possession of of child pornography. No further details on these charges have been reported since. (Anti-Defamation League, 15-16)