Peanuts Creator Fought for Christmas Message
December 23, 2013
In 1965 Peanuts Creator Charles Schulz
fought to keep the Christ in Christmas.
"There will always be an audience for innocence in this country." --Charles Schulz
Linus says he knows the meaning of Christmas. He recites from the Gospel of Luke, chapter 2 verses 8 through 14 from the Authorized King James Version:
"And there were in the same country shepherds abiding in the field, keeping watch over their flock by night. And, lo, the angel of the Lord came upon them, and the glory of the Lord shone round about them: and they were sore afraid. And the angel said unto them, Fear not: for, behold, I bring you good tidings of great joy, which shall be to all people. For unto you is born this day in the city of David a Saviour, which is Christ the Lord. And this shall be a sign unto you; Ye shall find the babe wrapped in swaddling clothes, lying in a manger. And suddenly there was with the angel a multitude of the heavenly host praising God, and saying, Glory to God in the highest, and on earth peace, good will toward men."
"...That's what Christmas is all about, Charlie Brown."
by V
(from Dec 24, 2011)
(henrymakow.com)
I saw an interesting news item
in the
newspaper
today, "Top 10: What you didn't know about your favorite Christmas movies".
What caught my attention was the beloved animation 'A Charlie Brown Christmas' story and the argument Charles Schulz had with the producers.
From the article: "A Charlie Brown Christmas: Linus' iconic speech about the true meaning of Christmas was almost cut when the animated movie's producers and creator Charles Schulz clashed over the inclusion of religion.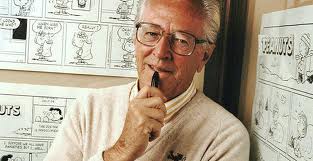 Schulz (left) wanted the one-minute-long speech left in, but the producers thought it would limit its audience and drive away advertisers."
But Schulz stood his ground.
CBS reluctantly put it on the air,
hoping no one would watch it. B
ut it was an instant hit with viewers and reviewers alike.
On Thursday, December 9, 1965, A Charlie Brown Christmas was seen in more than 15 million homes, capturing nearly half of the possible audience. That week it was number two in the ratings, after Bonanza. It won critical acclaim as well as an Emmy Award for Outstanding Children's Program and a Peabody Award for excellence in programming.
ANTI-CHRISTIAN FEELING HAS DEEP ROOTS
What's interesting is that a 'Charlie Brown Christmas' first aired in 1965 on American CBS before there was the 'political correct' liberal b.s. we have now.
Certain groups (actors and agents) have tried to take the "Christ" away from CHRISTmas for a long time now.
In the grade schools there is the familiar "Happy Holidays" these days and every holidays is celebrated the same from Hanukkah to Diwali to the recent Kwanzaa.
When I was a kid in grade school everyone said "Merry Christmas" to each other. That is now a relic of the past. Muslims, Hindu's I know are not offended when I tell them "Merry Christmas" but it is the university educated white liberal elite and their Talmudic, Zionist cronies who are offended and sadly these two groups have the most power in education, law, banking and politics.
Merry CHRISTmas everyone.
V
Related -
The War on Christmas Continues Charlie Brown

First Comment from Dan:

I was ten years old in 1965 and still remember the episode. I found it reassuring then, the sense that "God is in his heaven" and goodness prevails. The Satanist influence has a lot less ground to work off of 40 years go. They had to masquerade, and they hated "not being themselves". People born later would never guess, but in 1965 Hollywood and television had to put up the appearance of reverencing Christmas. This they did by creating counterfeit Christmas themes focusing on Satan Claus, and the impression that Christmas is about the fulfillment of desire, in the form of getting a Christmas wish for something though the agency of a supernatural Elf.