Dilma's Re-Election in Brazil Looks Rigged
October 31, 2014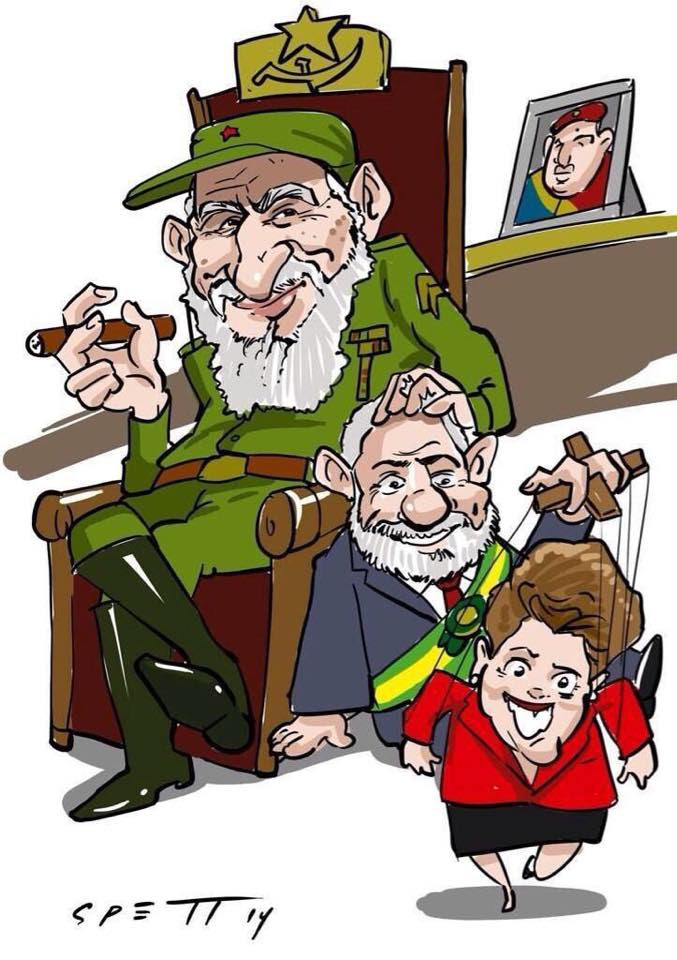 Marcos describes how Brazil's Marxist Party
may have stolen the recent Presidential Elections,
with the help of the Cuban Secret Service.
The scary part is that the same outfit
counts votes in the United States.


by Marcos
(henrymakow.com)
You'd think that a presidential candidate
who bankrupted a country, brought growth to a standstill and inflation to 6.5% would be summarily defeated in the coming elections. That was the situation of the Marxist President of Brazil, the former terrorist Dilma Rousseff of the Workers' Party, the woman booed by 60,000 fans in the last World Cup games.
Add to that,
a scandal broke out just a week ahead of the voting
. Alberto Youseff, a party paymaster, told police that Dilma's Party was extorting a 3% kickback on every purchase by Petrobras, the largest Brazilian company (half owned and totally controlled by the government.) Part of the money went to funding campaigns, part to Party members and the rest to bribe Congressmen from other parties to vote for whatever Dilma wanted, a retainer of US$ 60K a month each. The whole scheme amounted to US$ 10 Billion, and almost broke the company.
A pathetic performance on television debates and a good looking and popular opponent didn't help either. Some voting polls showed her losing the mandate by 9,2% of votes. [1]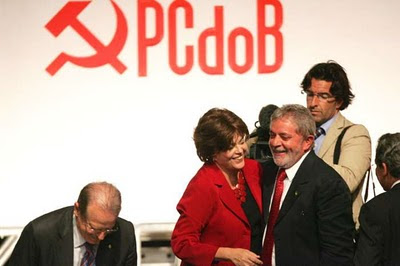 (Dilma & Lula
)
However, she won. How can that be? The leader of the Party, former president Lula, said they would do "the devil's work" in order to win. The truth may be the greatest example of a perfect crime.
THE POSSIBLE COUP
This carefully orchestrated coup to the Brazilian democracy was probably done in steps:
1) Dias Toffoli, a mediocre and obscure lawyer and Workers' Party hack, is appointed to the Supreme Court; and in May 2014[2] assumes the presidency of the Supreme Voting Court, which coordinates and judges all matters regarding the elections. Yes, a former party lawyer is the chief of the elections.
2) The
Smartmatic
company is chosen in order to take care of all electronic systems and voting machines in the country[3].
Smartmatic
started as a small software company in Venezuela, and received funds from the dictator Chavez. It is, as we shall see, accused of fraud.
3) On the evening of the elections, October 26, the whole country waits in expectation. Most of the country finishes voting at 5:00 PM, but voting continues in the state of Acre until 8:00 PM. Therefore, a decision is made for the first time in recent history not to release partial results, but only the final numbers. The easy solution of advancing the election in one hour in Acre was not considered. It was like the US had to wait for Hawaii to vote to know what was happening.
4) The main election poll company,
Ibope,
which receives millions in contracts with the government and is known to favor the Party in every poll they make, decides not to conduct exit polls.
Rumors on the internet point to a intranet structure that was developed to intercept voting subtotals before they reached the terminals of the analysts. An anonymous insider claims that Dilma was losing by much, until right at the end, when the numbers were adjusted. We'll never know what really happened because the addition of the subtotals will be shown to be legit.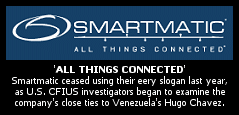 SMARTMATIC COMES TO AMERICA
The
Smartmatic
company did not even work with voting systems when it was chosen by Dictator Chavez of Venezuela in 2004 to take care of the referendum that kept him in power forever (or until his death by cancer). Chavez then paid the company US$ 120 MM, and subsequently, they were able to acquire in 2005 the American firm
Sequoia Voting Systems
, which had contracts in 17 US states.[4]
Venezuelan General Julio Peñaloza[5] has accused Cuba and
Smartmatic
of participating in fraud in all subsequent elections in his country. According to him, Cuba's G2 secret service has a campaign named PROCER (Revolutionary Voting Control Plan), to control the elections in the countries dominated by the Marxist organization Forum of Sao Paulo, which aims to impose a South American Marxist Union in the region.
The idea is to intercept voting subtotals transmissions from districts before they reach the central, so they can change results. An engineer who worked in the elections called Christopher Bello Ruiz fled to America and confirmed the story, he says. That's why Henrique Capriles, a wildly popular candidate, was beaten by a mediocre agent of Fidel Castro trained in Cuba, Nicolas Maduro, by a narrow margin of 1.4% votes in April 2013 in Venezuela.
THE THREAT TO AMERICA
In 2006, American politicians started to investigate Sequoia but the threat to American democracy, albeit extremely important, has fallen into obscurity[6]. In 2007, Smartmatic sold its interest in Sequoia, but the whole ensuing story, full of offshore companies and complicated transactions, is so convoluted (perhaps on purpose) that only full time specialized researchers can dig into the mess[7]. It is understandable that, if there is any intention of voting manipulation, the scheme would now use a different and complex system of companies in order to make ownership and control.
The lesson that Brazil and Venezuela leave to America, on the verge of its Congressional elections, is that no electronic voting is secure. As Julius Cesar used to say, Cesar's wife must not only be above suspicion, she must appear to be above suspicion. What to say of a voting system? Unfortunately, in this perspective, the elections in Brazil, rigged or not, look and smell like a rotten whore.
---------
Related - Marcos-
Brazil Election Pits Illuminati East Vs Illuminati West
http://henrymakow.com/2014/10/Brazil-election.html
Marcos adds:
This video is in Spanish, but the whole demeanor is frightening...Venezuela's Maduro says that Dilma's victory opens the new stage for the South-American Federation and the revolution in the continent. Then he sends his minister to Brazil to sign training agreements with terrorist groups, with a briefcase full of plans for communist takeover.
https://www.facebook.com/video.php?v=546748068803062&fref=nf
---
You can find this article permanently at
http://henrymakow.com/2014/10/dilmas-re-election-in-brazil-l.html
Henry Makow received his Ph.D. in English Literature from the University of Toronto in 1982. He welcomes your comments at
Comments for "Dilma's Re-Election in Brazil Looks Rigged "
---
---