Men - Design Your Perfect "10"
November 9, 2012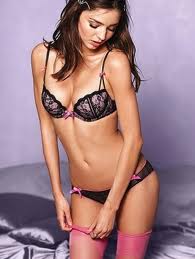 left, a
Victoria's
Secret model, the perfect 10?
Reflections on my cult-ural brainwashing, and what it cost me.
by Henry Makow Ph.D. Lately I have been
thinking about a great woman I knew when I was 24. I ignored Liz because I wasn't attracted to her sexually. She was average looking but there was no "
chemistry
."
She had many of the qualities in the left-hand column below, and she liked me. But my tastes and even my ideas had been
formed by PLAYBOY.
I had been brainwashed by my cult-ure to believe that "sexual attraction" is 75%-90% of what male-female relationships are all about.

Marriages were based on sexual attraction. You had to live together before marriage to make sure you were "sexually compatible." Sex was the Holy Grail.

I was thinking about Liz lately, wondering what her life has been like.
I was thinking about her because I am almost 63 and now realize that sex is a relatively small part of a good marriage, say 20%
What if I knew this back then? I wouldn't have had three failed marriages by the age of 50, two largely based on sexual attraction.
I am happily married now but how different my life might have been. I
might have had a family.
Men, Design your perfect "10"
You can choose 10 of the 20 qualities listed below. If you choose only from the right-hand column, you will get the woman in the picture above, but she will have none of the qualities in the left-hand column. Put another way, what are you willing to give up for sex appeal? Write and tell me your answer. Give your age.


Character (Honest, Fair) Sex Appeal

Personality (Cheerful & fun) Sex Appeal

Great Sense of Humor Sex Appeal

Intelligent and reasonable Sex Appeal

Skills & Talents Sex Appeal

Warm and loving Sex Appeal

Devoted & Loyal Sex Appeal

Common Beliefs & Interests Sex Appeal
Great conversation.

Incredible Cook & Homemaker
Good mother to your children. Sex Appeal

Unselfish, Interested in Others Sex Appeal







---
Comments for "Men - Design Your Perfect "10" "
---
---
---
---
---
---
---
---
---
---
---
---
---
---
Henry Makow received his Ph.D. in English Literature from the University of Toronto in 1982. He welcomes your comments at