Slow Travels: The Art of Voluntary Homelessness
February 24, 2013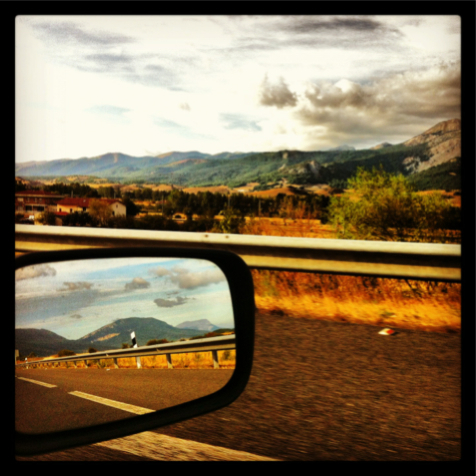 (left, Road to Burgos)
To a casual observer, Sean Madden and his partner Mufidah seem to have escaped the confines of everyday life. But, maintaining their nomadic lifestyle in Spain is a daily act of faith.
Sean M. Madden
is an American writer, photographer and educator who has lived in the South East of England since 2005.
by Sean M. Madden
(henrymakow.com)
Tell someone you're living
in Spain and a whole world is conjured.
Mention to them that you spent the summer in France -- traveling like treacle from Lille to Paris to Fontainebleau, spending two months in a quiet, riverside campsite just upstream from Vichy and a week amidst the château-crested vineyards of Monbazillac.
After frittering late August exploring the villages along the banks of the Dordogne, you made your way to Burgos, the ancient capital of Castile -- where you now spend your days writing, taking photographs and tutoring a handful of students between siesta and tapas.
The listener is apt to swoon and begin to question his own daily routine as a tinge of envy takes seed.
This is the life which mi mujer, Mufidah, and I have lived since leaving behind our quite comfortable life in Lewes -- the county town of East Sussex, just eight miles from Brighton -- to go a-traveling last May.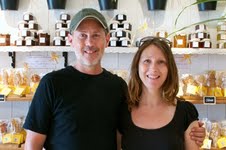 As we're in our mid-forties, folk we meet begin to tell us how fortunate and free we must feel given our lack of children, and how nice to have the financial independence to have picked up sticks and gone traveling, with no end in sight, no gut-sinking counting down of one's remaining vacation days, and no job whatsoever to return to.
But you can see a sort of inner jolt when we interrupt the program to tell them that we do have children, one daughter each, both in their early twenties and living independently on either coast of the United States.
Another jolt comes when they learn that we didn't, in fact, own the High Street apartment we gave up to go on the road, and that while it was, indeed, a beautiful home, it was rented and paid for by the skin of our teeth and a great deal of self-employed imagination and round-the-clock work.
And, no, we hadn't a nest egg nor a trust fund to either of our names.
You can then witness the slightly pained expression cross their face as they struggle to make sense of it all.
SOBER REALITY
The reality is rather more sober than they suspect. Yes, we've been traveling for nine months now, and have stayed for an extended time in a host of picturesque places, have met countless lovely people along the way, were invited into some of their homes for coffee, a meal, or to stay for a night or two and upwards to a week or more.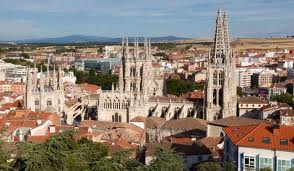 And it's true that since arriving in Burgos, left, last September we've spent a great number of our days writing, walking about town taking photographs, and generally seeming to many a casual observer like an anointed couple who've somehow managed to give the slip to the ordinary mores of everyday life.
What they don't know is that we seized the opportunity to take to the road -- something we've both longed to do throughout our lives -- before our luck ran out and we found ourselves homeless in our own hometown.
Those of you who've been self-employed might have had similar experiences whereby just the amount of money you needed to make that month's rent payment, say, appeared like a miracle at your doorstep. A new client comes. Perhaps one who of her own accord asked if you'd be offended if she paid you twice what you were asking.
Or you manage to fill a class or a workshop inspired and developed largely out of necessity, somehow managing to spark an interest in others which overrides their own financial concerns such that they telephone and ask if there's still space, that it's just what they're looking for and more.
Well, having been self-employed since 1995, these sorts of magical occurrences have happened to me more times than I can recall. But there comes a time when a whole string of serendipitous miracles seems unlikely to hold as a trend upon which one can depend. Rather, one feels with each blessing received that such good fortune can surely not be counted on.
So rather than find ourselves homeless no matter how much inspired effort we put into our respective businesses, we decided last Easter Sunday -- to seize what control we did have by voluntarily entering into a homeless state, taking to the road in our '98 Fiat Punto, and embarking upon a nomadic existence with no end in sight. Infinitely better this, we concluded, than an unbidden homelessness.
You can read more via our respective websites, but suffice to say that we soon found ourselves with little wind in our sails beyond Paris. By the time we reached Vichy, a city we had meant to deliberately skirt, not the slightest breeze stirred, and we took the occasion while sharing a kebab sandwich for dinner along the Rue de Paris to acknowledge that we lacked sufficient funds to reach our intended destination of Languedoc-Roussillon.
Instead, we found the aforementioned campsite situated along the Allier River, and lived out-of-doors for two months, scrambling to find a dependable income source to afford our 15-euro-a-day campsite fee (thankfully due at the end of our stay), and food enough to keep us going.
That said, our summer in Vichy was a lovely one, a Thoreauvian life lived close to the bone while we continued to write (barring the campsite's precarious wifi connection going down), and to explore the town and nearby villages. And we swam laps most days in the campsite pool, and prepared and ate scrumptious, if low-cost, meals tent-side.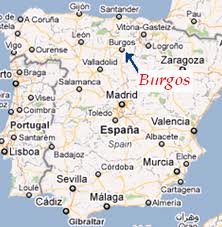 BURGOS
Here in Burgos, we're able to fund our rent and food bill by way of teaching English in our centrally located flat to individuals whose English is already good, and in some cases nearly fluent, but who want to improve their writing and conversational skills by working with native speakers.
Amongst our students is a high school English teacher, the children of another English teacher, a sociologist, a chemist, an economist, an ethicist, a number of business executives and professionals, PhD students, and individuals between jobs.
These students, who've become friends, have opened their hearts to us, and are continuously passing along relevant cultural and historical information, and recommending things to do and places to see. Many of the close-by places we have now visited, either on foot or by way of one of our weekly or fortnightly drives out of town as a means to keep the Punto putting along. But our student-friends can scarcely imagine why, when we're nestled in the heart of Spain with so many compelling destinations a couple of hours or so away -- must-see places like Madrid, Bilbao, Pamplona, San Sebastián, Santander, Segovia and Salamanca -- let alone places further along but still within a weekend jaunt from Burgos (e.g., Barcelona, Porto, Lisbon), why, that is, we never seem to get further than a leisurely drive into the surrounding countryside or nearby mountain ranges.
What they don't understand -- and we tend not to have the heart to tell them, in part out of hope that we will one day be able to get to some of these places -- is that we have little to no money left over after paying our weekly rent and buying our groceries for the day, two or three ahead.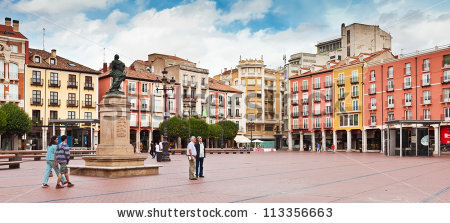 (Burgos, left)
BALANCING
But we're not complaining. These past nine months, while at times difficult, have been a godsend to us both, and we wouldn't have it any other way. Or so we tell ourselves, excepting, perhaps, that (thus far solely imagined) small but eminently livable villa perched upon a likewise small Greek island somewhere in the Aegean Sea from which we can write, walk, swim and take breathtaking photographs, while continuing to cook fresh homemade meals for ourselves and our new found friends. A dream which has more at stake than a leisurely existence, as Mufidah, herself half-Greek, has for many years wanted to explore and write about her family's heritage, in both Greece and Turkey before the 1923 population exchange.
For now we're happy to be doing these same things in Burgos, albeit without swimming or the sea. Truth be told, though, we also spend an inordinate amount of time handwashing laundry and draping clothes atop radiators, and seeking out free and, thus, oftentimes frustratingly slow and undependable wifi connections, the perpetual bane of our existence throughout our slow travels. And to find and keep our evenings busy with English students, we can often be seen leafleting the city and otherwise promoting our classes.
While we know we need to return to the UK by the end of April to get our car registered for the year to come, we're not overly concerning ourselves with where we'll be six months, or even a year or more away from now (though if we can find a suitable situation, we're considering living and working in Scotland this summer). Yes, we think about it. We brainstorm and chart out some possibilities.
And we feel the tension and the potential to fall into worrying. But we do our best to let the worry dissolve on its own terms while we, instead, turn our energies to the present and all that we're inspired to pursue therein and into the future. A future, however, which we're more than aware might never come, but one which we do our best to meet head on and to creatively direct, knowing full well that while we might chart out a course of action, the winds above might well have other plans, while the currents below carry within their constant flow the capacity to capsize in a moment plans composed of mere thought and intention.
These best laid plans might turn out to be ghosts rallied against the gale forces of reality, but who amongst us is prepared to give up our tender vessel to the whims of a rudderless fate?
----------------
You can learn more about Sean and Mufidah, and follow their slow travels, via their respective websites: SeanMMadden.com, Mindful Living Guide and MufidahKassalias.com.

Hilary's Slow Travels