Reader is Transported by Traditional Latin Mass
April 9, 2013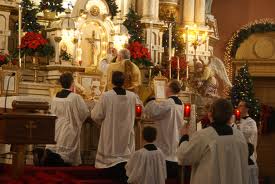 I'm convinced millions of women could throw away their anti-depressants if they could just experience the real Mass!
"I have had a startling and eye-opening experience witnessing first hand the evil from the local chancery as it moves to suppress the mass I attend, and the complete inability of most parishioners to accurately assess what is happening."
by Wendy Holland
(henrymakow.com)
One Sunday morning last June
, through a sequence of spontaneous events, with no forethought, desire, or planning, I ended up at a Tridentine Mass. I didn't know what a Tridentine Mass (Traditional Latin Mass) was; I had never heard of such a thing. I was raised by a Protestant mother and Catholic father, neither particularly observant, and as a teen in my early seventies fell away from both religions. The few times I have had occasion to go to a church service, whether Protestant of Catholic, I felt they were "empty".
Meanwhile, however, I searched high and low for truth: Buddhism, various forms of mysticism, Carlos Castaneda books, Yogananda, Unity Church, meditation, Baptist Church, Theosophy, Course in Miracles, etc etc etc, and was serious for extended periods about some of them.
And then, last June, the universe intervened and crash landed me in a Traditional Latin Mass. I felt so disoriented by the experience of the Mass. My mind couldn't grasp what was happening and what these people were doing.
By the second week I was attending traditional masses several times a week... and continuing.
The Mass unambiguously, unapologetically and powerfully establishes the true relationship of God and man, that is, man is under God. At first I felt embarrassed to kneel and say words like: "We praise Thee. We bless Thee. We adore Thee. We give Thee thanks for Thy great glory, Lord God, heavenly King.", my egocentric mind rebelling at this direct acknowledgement of who's who. Now, however, these words are humbling and moving because of the truth I feel in them. This is a real and serious attitude adjustment! I'm not the boss of me.

PRAYERS

Other prayers are poignant and passionate, a crying out to God: "For Thou, O God, art my strength:...and why do I go sorrowful whilst the enemy afflicteth me?" Ironically, there is something strengthening about acknowledging the truth of one's dependence on God, and something powerful about expressing direct adoration. (These prayers contrast sharply with the bland and boring services of mainstream religions, in which man, not God, is often the focus.) The Mass is also a powerful reminder of the glorious majesty of God, an aspect of God which has been erased from modern consciousness.
With no exaggeration, I felt like Christopher Columbus discovering the new vast world, unexplored and overwhelming in its potential. Over the past months, immersed in learning about traditional Catholic teachings, so many mini-nukes have exploded in my mind, that is, various traditional Catholic ideas which would explode my established mental structure, toss everything up in the air to be resettled in a new worldview, more truthful, I believe. I often feel the palpable presence of God and the heavenly hosts (almost an anguish of joy I could say), and an indescribable Rightness about it.
A recent explosion, for example, was the new-to-me idea, which traditional Catholicism has evidently defended for centuries: the idea of objective truth, that is, we can trust our senses. As opposed to Descarte's meaningless "I think therefore I am." (instead of "God created me."), and Kant's idea that we can't really know anything for certain, and others. All of this insidiously and eventually led to our current subjectivism and relativism.
Another idea which has been sobering to me is the idea that worship and adoration are owed to value (God), and that this would be intuitively understood by the healthy psyche (from Dietrich von Hildebrand's "Personality and Liturgy").
What? What? Some of the other "mini-nukes" have been: homosexuality (really wrong), abortion (How had I never realized that these are little people whose lives are being cut short?), no absolute separation of church and state (You gotta be kidding!!), there is good and there is evil (as opposed to: "It's all good."), even understanding why modest feminine clothing is right (good grief!).
Also, realization of truth of Satan's minions in the invisible world, i.e demons, and how very, very common that is... really more the norm than not when it comes to extreme states of anger/lust/addiction/hatred/despair, etc., although this understanding has been removed from even the minds of many traditional Catholics. But this is the truth as taught for 1900 years by the Catholic church.
One can't read the Roman Missale for long without coming upon a prayer imploring God to protect from the wiles of the devil. (We have been trained to dismiss ancient peoples as dumb and superstitious, whereas they were smarter and wiser.) Well, I've had so many "experiences" in the last few months confirming certain teachings that it is mind-boggling, and quite unbelievable to me. This realm of angels, archangels, demons, Our Lady Queen of Heaven, is true.
SKEPTICAL?
I don't blame you if you find this a stretch. My entrenched secular mind continues to revolt against all of this and thinks the part of me that feels the heavenly hosts at Mass, is nuts. Ha ha. Everyone knows only simple superstitious peasants believe this. Oh dear, Henry, the world is not as it is presented to us.
There is a scene in
Absence of Malice
with Paul Newman in which a dozen attorneys discuss a case and one of them swears using the name of Jesus Christ. The head guy turns to the middle-aged secretary taking notes in the corner of the room at her type-writer, and says something like, "Excuse us, Betty, if we offended you."
In other words, only dumb, uneducated, unimportant, poor people believe, certainly not important, smart, rich, well-educated people. Naturally we have absorbed this message, as you know, from the thousand ways it has been cunningly slipped into our world view.
Bishop Lefebvre said that the modern Catholic Church is "sterile and incapable of sanctifying society and the family". What? Who would have thought a religion ever thought itself capable of sanctifying society. And I don't think the Bishop was referring only to a moral influence, but to a supernatural reality. After all, it really is the Real Presence in the communion host. A fact some Catholics and even priests no longer believe.
One of my first reactions when I stumbled upon the Tridentine Mass, was shock at having stumbled upon this amazing thing. Why didn't everyone know about this? I'm convinced millions of women could throw away their anti-depressants if they could just experience the real mass! (Okay, maybe a few times in order for it to sink in).
SATANIC CONSPIRACY
Why is knowledge of this Mass completely unknown to the entire society? Because, understanding that it is a potent invocation of God and the heavenly hosts, Satan and his visible and invisible helpers hate it. The entire modern Catholic hierarchy is using every resource to stamp out every tiny little pocket of people trying to practice the Mass of the Ages!! It's ridiculous, and tells you something about what they know about the Mass.
Over the past months I learned about the Second Vatican Council. As soon as I started reading about it I knew it was another aspect of the Illuminati take-over of the world, being carried out within the Catholic Church.
Most traditional Catholics have a hard time understanding why they have to struggle so hard for the simple right to practice traditional rites and sacraments because they don't understand the big picture of what is going on in the world.
I have had a startling and eye-opening experience witnessing first hand the evil from the local chancery as it moves to suppress the mass I attend, and the complete inability of most parishioners to accurately assess what is happening. Therefore, they are paralyzed and display horrifying indoctrination by using words like "obedience", "charity" and "prudence" as the ship sinks.
----
Related -
How Catholics Have Been Defrauded
(YouTube)