Is This a Bad TIME to be Young?
June 24, 2013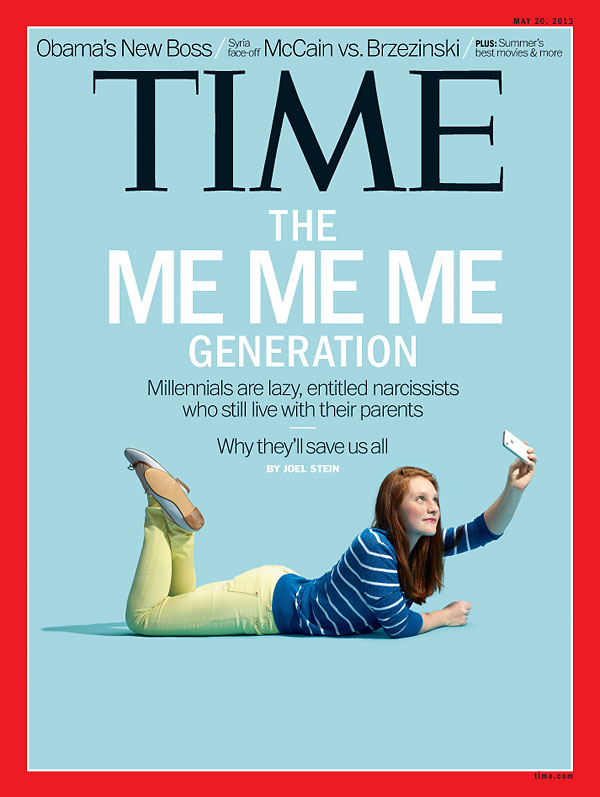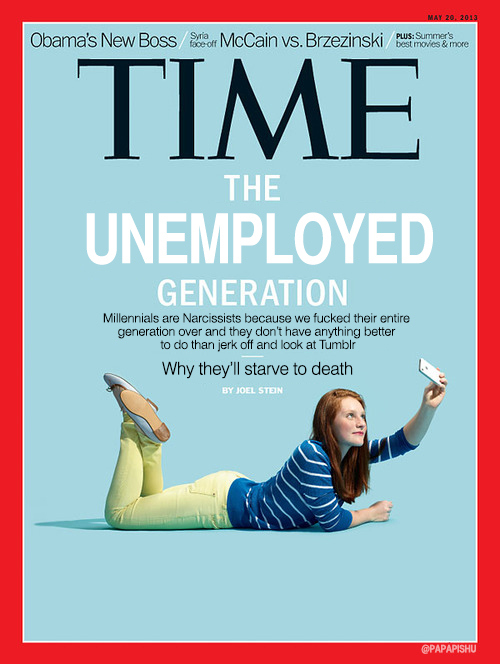 A recent Time cover story calls
young adults known as millennials "lazy, entitled narcissists." Writer Joel Stein points out,
"The incidence of narcissistic personality disorder is nearly three times as high for people in their 20s as for the generation that's now 65 or older, according to the National Institutes of Health; 58 percent more college students scored higher on a narcissism scale in 2009 than in 1982."
"Thoughtcatalogue.com"
satirized this cover with the one below it.
"Millennials are narcissists because we f**ked their entire generation over and they don't have anything better to do than j**k off and look at Tumblr. Why they'll starve to death."
Tell me what you think of twenty-somethings today. I'd especially like to hear from people this age.
"Is this a bad time to be young?"
[I'll send a free copy of Illuminati to the 20-something with the best response.]
The comments below from readers of the satire represent a good start to this discussion.
Matt:
Nice job! After spending the last eight years as a hiring manager interviewing hundreds of "millennials" , or as they are often called in the business world "the Trophy Generation", this is sadly pretty accurate.
Kay:
So tired of hearing about how hard it is for people my age to find jobs. I graduated in 2011 and have found not ONE but TWO full time, great paying employment opportunities.
The trick is to actually go to school for something that makes you employable
. But, alas, common sense seems to elude this generation.
Senior:
(To Kay)

Bri: Seriously though. So many kids in the past 5-10 years have gone into college for majors like "gender studies", "philosophy", "international studies"...hahaha. They wanna get paid to travel the world and talk about their experiences in magazines -- and while great for them i guess, that does not save lives or address the major problems we face today as a country. They all need to be a bit more realistic, and get a viable job and maybe make those other things their hobbies; plenty of people are artists and travelers and writers on the side. what ever made these kids think they aught to be guaranteed a career in one of these nonessential fields?


Dan:
It's not just the young. The boomers themselves are hosed. If you're 50 or older you're 20% LESS likely to be able to get another job after being laid off as so many were eliminated in 2008-2009 and so on. This is an issue of the wealthy extracting money from the US. It's not a generational war.
--------------------
Related -
30-Somethings 20% Poorer than their Parents at the Same Age
First Comment from Danny:
I am 24 living in Milwaukee, WI and am working as an urban farmer. I have to say that the majority of people starting to farm organically and sustainably are below forty years of age. I have met more than a hundred people at workshops I teach who are in their twenties and these people may not become farmers but they are without a doubt awake and aware. They want to grow food correctly which is really the foundation of civilization. We all need to change the way we eat to protect ourselves from the Illuminati bankers. Healthy food is the best weapon we have against them, for obvious reasons. And despite the absolutely disgusting nature of young people I witnessed in college, there is movements of absolute beauty centered around growing and eating healthy food. "The good food movement" is what the twenty-year-olds can bring to society to change it for good. It is really the only option and really is the best possibility.