Satanic Conspiracy as Investment Thesis
June 22, 2013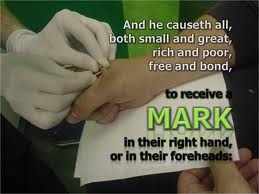 "As a Bible scholar, I would have to conclude that the final monetary system
is described in great detail in
The Book of Revelation.
"
The Illuminati conspiracy
has been a profitable investment
strategy for Thom Beecham.
"GOLD IS GOOD. I have a lot of it. Gold is good at any price, for it is a financial escape hatch, beyond the control of any government. ... Stop looking at the price drop as a curse. I look at it as an opportunity."
By Thomas Beecham
(henrymakow.com)The Globalists allowed gold and silver
prices to run up beyond where they normally would have been otherwise. With a price of $1,900/oz the amount of gold in storage roughly equaled 9-10 trillion dollars.
The globalists knew that eventually a time would come when their debt-based monetary system would start to crumble. They wrote about this during the Bretton Woods agreement way back in 1944. The globalist banking families have had all this time to figure out how to transition to the new and final system.
They also knew that as the current system began decay, people would look to investments outside the system for protection. The most important one is gold.
Thus, a scheme was hatched to keep people from turning to gold during that final leg of the fiat monetary regime. These families figured out how they would gradually run the gold price up, and get as many people into it at an inflated price. Then they would collapse it, leaving all unhedged investors with huge losses. The rest of the world would be scratching their heads wondering how gold could perform so counter-intuitively. Gold had been rising for years because of monetary expansion and increasing US debt. Then it collapsed
for the same reasons.
As a result, the typical investor would look at gold as if it were the worst thing possible. This seems to be working.
I cannot prove this theory, but understanding "The Conspiracy" as well as I do, it is the only one that makes sense. Inductively, it makes so much sense, that I have been confidently shorting gold since at least $1,600.
END OF DEBT-BASED MONETARY SYSTEM
M
any readers cannot figure out that the global banking families control the markets. The banking families can string this current system out until the end of the decade when they will finally get their war to wipe out all debts. By then, they will have consolidated what wealth is left.
The debt-based currency system was used to buy the governments and all of the media. They can promulgate their wars, which helps them to acquire all of the world's assets. In return, they stack the debt on the backs of the world's people. By the time they get their final war they will have pretty much acquired the whole world. At that point ,the debt will be cancelled out in return for the rest of the world agreeing to be compliant slaves to them. They don't care so much that the debt is paid back but that the debt is used as an instrument to enslave mankind.
The Bible really does talk about this in depth. It's all about the trafficking of men's souls, and being debt slaves to the world banking families.
In fact it's a mathematical impossibility to pay back debt under a debt based monetary system.
The globalists control it all. As of right now they control every aspect of the economy and what we hear and see in the media. They even control much of the alternative media as well. The alternative media is wrapped in a misleading disguise.
There will be no hyperinflation. As of now, I am more concerned about deflation. The novice economist thinks all that monetization we hear about is hyper-inflationary, but if none of that money goes to the end user (you and me) then there cannot be any inflation. When the US Fed first announced their QE programs, I was concerned about the inflationary potential, but over the ensuing months it became clear to me that the average guy on Main Street was not the beneficiary of this money printing, thus as the economy faltered, deflationary forces have kicked in.
By definition, the current debt-based monetary system is deflationary as it decays. Thus, the worst thing a person could do as the systems crumbles is to get into debt.
Bernanke says he is going to "taper" the bond purchases. If so, we need to appreciate that the financing needs of "USA, Inc." is more than 100% of the world's net savings. Thus, if we keep up current spending rates, the money needed exceeds what the global economy can provide.
Thus, my hunch is that deferred money, such as pensions, and eventually defined contribution plans, such as 401(k)'s will be logical targets.
I believe that retirement plans were established in part for their potential as a reservoir of funds that could be tapped in case the US Government could no longer borrow under traditional methods. I have read transcripts and presentations, etc, from the US Treasury and US Fed about how this could work. This is more evidence indicating how far back this conspiracy goes.
ENDGAME
What is the final system/endgame? It is one in which the globalists will control a compliant and bankrupt society, with the ruling banking families owning all the wealth. By then they will own all the gold, and will control it all.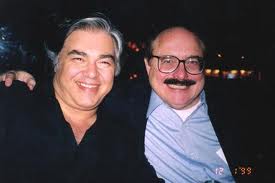 (A rare picture of the late Aaron Russo with Nicholas Rockefeller who said the plan is to chip the human race.)
As a Bible scholar, I would have to conclude that the final monetary system is described in great detail in
The Book of Revelation.
Please understand me. GOLD IS GOOD. I have a lot of it. Gold is good at any price, for it is a financial escape hatch, beyond the control of any government. But who do you think are the people shorting it? They are the wealthy, who acquire it continually. I don't care if gold goes to $500/oz. I have my offsetting short hedges. I intend to take my profits and plow it back into gold when the dust settles.
Thus, I hope to eventually own twice the gold by weight that I own now, and my assets are still outside the system. 50-60% of my gold short position is a covered short, meaning that I have the physical gold and am just hedging the losses. In addition, since I know The Conspiracy, I know where the price of gold is going and have added some gravy to my trading account.
Stop looking at the price drop as a curse. I look to it as opportunity. If you understood what was going on you would be thinking the same thing.
As Jesus said, the fearful will not enter the kingdom of heaven. Why is that? Fearful people make stupid decisions. When the final monetary system is fully in place, and it comes time to take the mark of the beast, the fearful and unwashed will line up and sell their souls without a thought.
Related -
Beecham -
Is a Deflationary Cash in the Cards?

Motorola (owned by Google) Developing Implantable Chips
Thom responds to Readers' Comments: "Most Christians are the biggest hypocrites, and moral hazards."
I am not at all concerned. Nobody, especially today's Christian, wants to be told the truth. What I say is downright depressing.
Today's Christian typically:
-Has a mortgage, and other sizable debts. In other words they are debt-slaves, which means they spend beyond their means,
-Lives in a broken home,
-Is in poor health because he cannot take care of his one Godly physical possession; on medicines, and on some sort of government benefit,
-Has credit card debt with big banks, and keeps their Federal Reserve Notes in the same institutions,
-Has a pension or retirement account that goes to feed the asset bubbles,
-Works for a publicly-traded company, or the government,
-Pats himself on the back and waits for the Pre-tribulation rapture to whisk him away. Ask the Christian Russians during the Russian Revolution if God raptured them out. Ask the German Christians during WWII if they were raptured out. Why do you think Christianity has been maligned the way it has?
-Watches TV multiple hours a day,
-Attends a 501(c)3 church,
-Sends his children to public schools, where satanic degeneracy has replaced anything Godly.
In other words, most Christians are the biggest hypocrites, and moral hazards. Before the Federal Reserve Act, most people kept a portion of their savings in gold and silver. That was being Godly.
Today's Christian is too contaminated to even entertain a debate. Every time I discuss gold with a Christian I hear the same verse over and over, ...you will weep and howl you rich man....
If Jesus came back today, he would just throw up his hands and walk away. He would be embarrassed by what passes for today's Christian. The remnant discusses issues I talk about. They are a cerebral, thinking people. They don't work for corporations, they don't have health insurance, they have no debts, they don't depend on government, they don't have retirement plans, and they certainly understand that we all play a part in this satanic conspiracy. Nobody's immune.
Today's remnant, doesn't pretend to be the Righteous Judge, they try to teach others how to get through this. Jesus may not come back for 100 years, what will these fools do then?