"We've been Had," Cairo Woman Speaks Out
July 24, 2013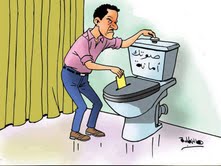 "Cartoon expresses the feeling that our votes went down the drain."
Our Cairo correspondent, who is a moderate, says the revolution has been hijacked by the army.

"Nancy S" speaks for average educated Egyptians.

by "Nancy S"
(henrymakow.com)

When I last wrote to you, you told me not to worry, there will be other elections. What is the use of voting when we have gone to the polls over 5 times in the last two years, waiting for hours on end to have our say and in the end, the army comes in and says "game over" because 'democracy' brought a different result from what they wanted or expected?

Over the past few weeks, they have been using Orwellian doublespeak. To say in one breath "We believe in freedom of the press" while at the same instant they have losed down the TV channels of the Muslim Brotherhood and others who express something contrary to what the Army wants. They say they believe in democracy while burning down, not only the MB's party headquarters but those of other parties whose voices they want to muffle. They say they are continuing the revolution while they kidnapped the first democratically appointed president who came as a result of that revolution.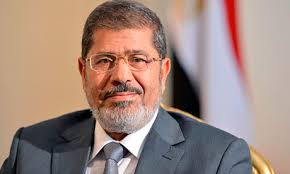 (Morsi, left)

They have been demonizing the MB (ikhwan) and trying to make them out as terrorists, but to tell you the truth, we saw nothing of the sort when they were in power.

Yes, we saw inefficiency, nepotism, many mistakes but the truth has to be said - no terrorism. What we did see was the terrorism of the army, who days after their coup, killed praying protesters in the street.

Conspiracy sites demonize them as Masonic, I don't know. May be they are and maybe they aren't. But how many democratically-elected politicians in the world aren't Masons? That does not justify negating what the people chose in the polls over the last two years and then say there will be other elections. What! Elections with sanitized approved candidates who will guarantee a secular government?
SABOTAGE

The army used the dissatisfaction of the people to make their "benevolent" coup. Did you know that the weeks leading up to the protests there were frequent power cuts all over Egypt with MorsI getting the blame and then the week before their planned protests, there were severe petrol shortages with queues many km long frustrated people as they couldn't perform their daily duties without petrol?
I tried going to my doctor's appointment during that time and couldn't get a taxi as they were all frantically trying to get petrol. This turned out to be an effective psy op to get the people out on the streets and protest against Morsi's government as admitted by an ex 'Tammarrud' activist (the "Rebellion" group that took it upon themselves to organize the 30th June under the auspices of Baradei). After the 30th of June [Coup] the power cuts and petrol shortages mysteriously disappeared. The campaign on TV against Morsi and the MB was so strong that my husband and I considered going to Tahrir that day (especially with my background from your site and others that the MB are Masonic). Most people that went to Tahrir that were calling for early elections - not army intervention. Now, however, most thinking people (not those who believe anything they hear on 'approved' TV stations) feel they've been had.

There have been tens of thousands on the streets since the 'benevolent coup' and not all of them are ikhwan or ikhwan supporters. Many who were in Tahrir on the 30th of June are now protesting the army's actions. They feel they've been had.
DESTROYING ISLAM
If the MB are Masonic, then they are serving the same masters as the Generals of the Army. The aim being to divide the nation and use the MB as dupes to discredit any attempt at 'Islamic' government. They have succeeded in secularizing the Western World; now it is the turn of the Muslims - make anything Islamic seem like it's the dark ages and terrorist rather than the light true submission to our Creator brings.
The feeling of euphoria for the average Egyptian the day Mubarak was ousted equaled the feeling of depression we had when the Presidential elections had come down to a choice between the MB's Morsy and the old regimes Shafiq. But we went through the process and voted for what we believed was the lesser of 2 evils. Even if he wasn't the President we hoped for - the majority voted for him and now these votes have gone down the drain.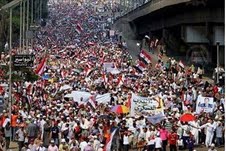 People in the streets in continuous protests in the summer heat during the fasting month of Ramadan
Do these protesters look like Muslim Brotherhood to you? Of course not. But they are asking "Where has the elected President disappeared to?"

NWO STRATEGEM
It was totally a NWO chess move. I think I read somewhere that Egypt was on the agenda at the Bildeburg meeting. At the time I wondered what's in store for us - then when this happened I thought that must be it. When the first revolution happened they hadn't betted how much it would unite Egyptians and they weren't expecting an 'Islamically' oriented party to win.
Ever since Feb. 2011 there have been false flags to divide Christians and Muslims, Men and Women, Islamic and Liberal, Soccer teams... You name it - they have been working hard to polarize society in any way they can.
This time I think they have succeeded. You have thousands pro Army/pro liberal (doesn't make sense b/c true liberals wouldn't welcome a coup) and thousands of 'Islamists' (I don't like that fake word) and also real democracy lovers are in the streets making their stand. If I had to choose I would protest with the pro MorsI - not because I like his party or policies but because what the army did was so obviously unfair. MorsI has been kidnapped and taken away somewhere and no one knows where he is. That is a gross injustice. But sometimes I wonder if both sides are being played against each other to divide society.
---------
Latest from Nancy :

Things seem to be getting worse. General Sisi came on TV yesterday in dark glasses (he was at an outside event - but I think it's strange to address the nation in dark glasses) and asked Egyptians to go to Tahrir on Friday to give him the mandate to fight 'terrorism'. In other words start killing regular Egyptians who are protesting against him. A person who really cares about his country wouldn't do this unless he was put up to it, that is my explanation for the dark glasses. He couldn't look people in the eye and say it.

Only God knows. But basically it means they want us going down the road of Syria with the government killing and destroying homes of regular people and then 'jihadi' groups will be created and you end up with all out chaos. I truly hope and pray that will not happen. I have heard from reliable sources that in the demonstrations people have been killed by bullets coming from unknown sources but from the direction of government buildings. That is one reason I haven't been to any protests for a long time. I see them as potential for enemies of the Egyptian people to come in pretending to be Ikhwan or Liberals and cause violence and pit the people of Egypt against each other. I must go know as I have a lot of work to do but there is much more than this and things are not as black and white as many people think.