"Screw the Judge - I Homeschooled My Children"
August 10, 2013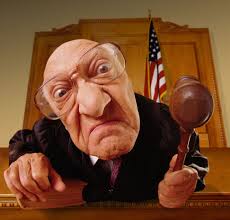 (
Left. Judge fined Bernard $50 for every day he home-schooled his children.)
"Screw him. I moved. I moved every September and tried to find a rental in the old business section of whatever new town where no damned busy bodies would turn me in again."
by Bernard
(henrymakow.com)
Anytime someone bitches about the schools
I immediately suggest they home school their kids. Most of today's selfish, spoiled mothers want the "free" babysitter, never mind that the education-empire taxes citizens much more than all other taxes combined. Talk about paying through the nose to have your kids alienated from you and otherwise mentally, emotionally and spiritually destroyed!
I kept my own kids out of school everywhere I could and home schooled them when it was a jail-able offense. An older brother turned me in to the "authorities" and I had to go to court. My day in court was to have an arrogant Baltimore judge (Jewish) cut off my first word in my defense with his viciously shouted: "There is no reason for your kids not being in school. If they are not immediately enrolled you go to jail and will be fined $100 every day they are not there." That was my "hearing." This was in the days when $50 per week was good pay on which to raise your whole family. Most people earned less.
Screw him. I moved. I moved every September and tried to find a rental in the old business section of whatever new town where no damned busy bodies would turn me in again. That alone was a great geography course for my kids. Consequently, due to not being in government hell hole prisons as children, they have turned out to be very self-sufficient, two of three raising big families - 8 kids and 6 kids, and those who are already grown and working are very successful. Everyone of those grandkids was/is home schooled and the great grandkids will be also. They are happy and socially well rounded people.

Parents who whine that they don't have the expertise to home school are just too damned lazy or else whimped out. Home schooling is so easy, especially in this day of the Internet, that anyone can do it well.
Don't believe the "professional educators" who have a vested interest in making it appear that they are driven, hard pressed, miracle workers with your kids (while they destroy them). I work in a school. Most teachers today are shallow-minded, union-oriented twits who couldn't hold down a real job. Too many of them love to lord it over someone else's kids and all of them play favorites. Practically always some girl. Boys are considered criminals and the women "teachers" all want them on numbing drugs.
I raised my kids without their mother but still found it easy to home school them. Actually, once I taught them to read phonetically - instead of the government school anti-reading, look-say, bull shit, they pretty much taught themselves, as any kids will if given the chance.
What we had in those days were dictionaries and encyclopedias, which they learned in no time to use well. That alone shows why home schooled kids are in constant demand by some of the best universities in the country. They are practically the ONLY upcoming kids with great work habits and properly developed personalities. Corporations soak them up too. They know they are getting a bargain and they won't have to spend time and money to educate such new employees to the simplest duties.
The answer to the criminal schools is the same as the answer to the criminal banks. Stop using their "convenience," don't give them your business, and they will shortly dry up and close their doors.
Why abet their criminality? That makes you a contributor to your own or your own kids' destruction.
------
Related
-
Traditional Catholic Homeschooling Program
(Thanks Michael)
First Comment from Richard: My grandmother was a cotton farmer's
daughter born in 1909 in Missouri. In farm country, most counties didn't enforce compulsory education after the 3rd grade - by then the child had learned the '3 R's' "reading, writing, and 'rithmetic".(arithmetic) , In the old days farmers relied on large families to work together. Just like in the
Genesis
stories.
When she turned nine years old, her father told she'd had enough schooling and was needed to take her place with the family collecting the harvest and all the other necessary chores. But it was 1918, and the county sent out a "truant officer" when she didn't show up for school.
She remembered her father telling the officer, "She's done learned her reading, writing, and 'rithmetic. I need her this year." She was present because her family had been picking cotton since sunup.
The truant officer and her 'pa' knew each other. Everybody did in the small towns back then. He said, "Listen Doc, the government says from now on all children have to be in school. Now if she's not at the school house tomorrow I'm gonna have to come back with the Sheriff to take ya to jail".
Today we automatically take this story as a great victory for freedom and liberation.. Victory over stupidity. The feminist inclined would say a victory over Patriarchy. But there's more to the story. Her family was shorthanded when the children were in school. It put them under hardship. The men started drinking too much and became permanent alcoholics. The girls came home from school wanting "city things". What they saw in the "Saturday picture show" made it worse. They fell into daydreaming all the time about moving to the big city and becoming famous movie stars or marrying millionaires.
As they graduated, the family broke up. Her mother sank into depression and died in her 50's.
Decades passed. My grandmother and her sisters moved off to cities and married ordinary men and had smaller families. They all ended up working ordinary non-glamorous jobs to make ends meet.
When they all grew old, the happiest of them with no regrets was the oldest sister that had married a farmer in the hometown and stayed there the rest of her life, on the farm. The bare cold fact is that they spent their lives working for companies owned by big shot Freemasons or the government, instead of putting their labor and allegiance back into the family and clan.
In Biblical terms I see it now as the equivalent of selling their birthright for a bowl of beans.