Help! My Wife is a TV Addict!
September 20, 2013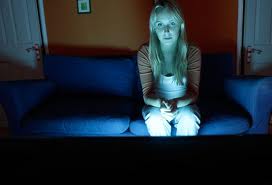 What does a man do when his wife is glued to the TV?

"She spends 12 hours a day soaking up garbage. I am so sad for her. I read in another room."
by Michael

(henrymakow.com)

What passes for humor and acceptable fare in movies and television these days would make a sailor blush twenty years ago- now it's the norm. I can hardly believe my eyes when I see commercials with phallic references, women's breasts and men kissing on prime time television.
I'm not a bible thumping Christian, but even I know these are wicked times...the days of Sodom and Gomorrah are here....iniquities abound and Satan is let loosed upon the land.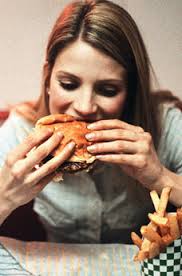 (TV - Junk food for the soul)
My wife (deeply sad about this, and trying to get her to see the error) watches endless shows on daytime TV that deal, hour after hour, with recitations and recreations of murder, rape, incest, pedophilia and other disgusting topics. I've explained to her that a person is the sum of what they experience.

One cannot keep a happy, pure heart when one absorbs shows dealing with those topics. It reminds me of either "The Mechanic" or "J.L. Seagull" (Richard Bach), where the narrator says that if you watch horror movies, your life becomes a horror movie (or something to that effect- it's been 20 or 30 years).
I barely watch TV anymore, and my wife is addicted. She spends 12 hours a day soaking up garbage. I am so sad for her. I read in another room. I had to make a hard choice between spending time with her watching TV (as she won't capitulate and read or do anything else) or grow apart to a degree.
I love her with all my heart, but it is my very soul that is in jeopardy if I soak up that disgusting filth, raunchy, crude evil crap they foist upon us as humor-shows like "Anger Management".
Until not so long ago, I would have thought Makow nuts to claim this was a designed denigration of our society, but I see it now and he is right. How I wish he wasn't, but it is what it is. I hope to save my wife is all I can say.

EXAMPLES

I went on the DVR and scrolled on the channel my wife is currently watching. This is a list of shows for ONE DAY on ONE CHANNEL.
"Double Cross", "Forbidden", "Nightmare Next Door", "Deadly Affairs", "Dates From Hell", "Deadly Sins", "Blood, Lies and Alibis", "Fatal Encounters" and "Deadly Women". (ID. Channel 192 on DISH)
THIS is the garbage spewing from the box and shaping the viewer's world perception.
We've all heard the saying, "You are what you eat". The same is true of television and movies. Your soul mirrors that which you watch. While Hollywood pumps out shows making it acceptable to cheat on your spouse, to engage in casual sex, to lust after pubescent girls, then this is how it becomes for people! This activity becomes the societal norm.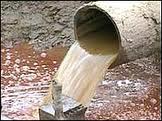 (Entertainment in very home)

I came to believe in a higher power by first believing in Satan. There is no other explanation for this activity....when debauchery is made the norm, then evil is in control. As a writer and researcher, I am well versed in the history of the occult, the Babylonian origins and the manifestation of evil in world leaders and the global elite to this very day.
My wife has fallen prey to this insidious evil. I am at a loss on what to do. I could throw out the TV. I am the sole earner and it is my right as such. (Maybe she would get a job to get her precious boob-tube back? One can hope!).
But, I am not that sort of man so it is not an option. I've plead with her to come outside, to take walks, play tennis, shoot pool...anything to get her away from that evil box, but all for naught. If any of you readers have a suggestion, please do share.

Lest a reader jump to conclusions regarding my wife (lazy, potato chip munching, soda swilling slob), she is a beautiful soul and wonderful human being. She has sadly fallen into the insidious claws of daytime television.

It is our duty as souls of the light to fight evil where we find it. If we run from evil, then we allow it to flourish and that is a decidedly cowardly act. When soft porn is on prime time, when cheating is encouraged, when thirteen year old girls are paraded as lustful little tarts, then I WILL NOT PARTICIPATE in the viewing....thereby giving my endorsement.

------
Information about Codependency:- Thanks Debra who believe it is related to addiction.
http://www.faqs.org/health/topics/80/Codependency.html
First Comment by Al Thompson:
Here are a few suggestions for helping Michael ween his wife from the TV.
1. Take the TV and then get a sludge hammer and smash it into little pieces. You can shoot it but that may be too dangerous in a crowded area. If you don't want to smash it, then pour water into it and that will ruin the electronics. Make sure it is unplugged. Better yet, you can simply cut off the plug on the electrical cord. The TV must be taken outside of the home; this is essential.
2. Cancel the cable-used the saved money to take your wife out more.
3. Have more sex and make more babies. Once the babies some then she will not have as much time. This way, you will have some fun and be productive at the same time.
4. Take her out to dinner more frequently and maybe you can pay more attention to her. If you have a nice wife, then take advantage of it and spend more time with her.
5. Do those things that both of you enjoy and find more of them. Before you know it, the TV will be a thing of the past.
6. If she starts to cry or whine, go back to #3
7. Don't leave her alone for long periods. Spend as much time with her as you possibly can and I think you'll get this problem solved.