Why I Admire David Duke
December 12, 2013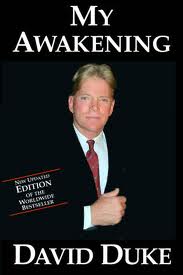 The Illuminati media demonize anyone who defends the white race.
An army veteran, John Stanley has been a cabbie,
an asbestos remover and a salesman. He is retired.

(Editor's Note. Although I am in general agreement with Duke, I do not follow him closely, and so reserve judgment. I welcome feedback from readers.)
by John Stanley
(henrymakow.com) I can't think of any American Political Dissenter
that has received more criticism and organized opposition from the mainstream media than David Duke.
This is no accident because it has all been propagated by design.
The defeat of white constitutional America was contingent upon the defeat of its defenders and leaders. David Duke was chosen by the MSM to be that target and "punching bag".
As a white Southerner, David Duke represented mainstream Southern traditional values that had to be removed from the consciousness of America.
If you agreed with his political platform of "freedom of association" and not "forced immigration" you were immediately identified as a racist or a white nationalist.
Also, if you found "racial quotas" in the workplace and universities to be unfair, after being " leapfrogged" by someone with less qualifications or scores, you were dubbed as a "racist".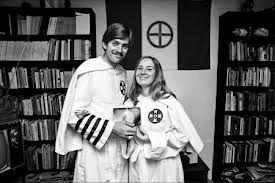 David Duke had to be guilty of a crime in order to justifiably demonize him to the public. That crime was being once a member of the KKK.
It was not unusual or really out of the norm for a White Southerner to be a silent card carrier or a KKK sympathizer back in 1965. Senator Robert Byrd was once one himself.
However, David Duke, unlike Senator Byrd, association with the KKK was not "sugarcoated". He was not cooperating.
The KKK was one of the few organizations left in America at that time that was not controlled by the New World Order.
After the Civil War, Northern carpetbaggers declared the White Southerner fair game for it's agenda of poverty and cultural degeneration. The KKK was then formed to counter this agenda.
Unlike the Civil Rights Movement, the KKK was neither founded or funded by World Order Marxism.
In his book,
"My Awakening",
David Duke recalls how his campaign for Governor of Louisiana was successfully sabotaged by forces outside of Louisiana.
His campaign platform was in direct opposition to the World Order and the World Economy. Illegal immigration, corporate outsourcing of jobs, and tax reform were his targets.
The campaign started out very well and had the support of the majority of Louisiana voters. He even had the support of Civil Right's Icon James Meredith who was harshly criticized for doing so.
David Duke was an "American Firster" who's campaign was gaining steam. He had to be stopped.
The New World Order forces them went to work. Media vilification would not be enough and time was running out. It had to be done with threats to state revenue.
The American Medical Association announced that it would no longer be holding any future conventions in New Orleans if David Duke were elected Governor.
Notices were put into some factory workers envelopes stating that the election of Duke could shut their plant down.
Mammon defeated idealism in the campaign of David Duke. His campaign was successfully sabotaged. Like most Americans, the people of Louisiana were all for idealism as long as the flow of money was not interrupted. The "carrot and the stick" strategy had worked again.
This is the very reason why America is in the mess that it is in now. The "spirit of sacrifice" has been replaced by a "comfort zone" that is slowly slipping away.
White Identity today has been reduced to White Apology. If a man can take responsibility for his own mistakes, that would be rare enough. To take the responsibility for previous generations is asking too much.
The majority of white Americans today are descendants of Europeans who came to America in the early 1900's. They never killed any Indians or owned any Black slaves.
The negative portrayal of "White America" that has been propagated by Hollywood and the MSM was intended to destroy their pride and identity. And, the last thing in the world the Illuminati want is someone like David Duke trying to give them their identity back, right or wrong.
David Duke has also lived in Europe and has spoken to millions advocating their sovereignty and freedom, and the renewal of their cultural heritage. For his efforts, he has been jailed and expelled from some of these countries.
Unfortunately, David Duke and his political agenda is "dying on the vine" today. World Order Marxism where all are "equal in their poverty and enslavement" has defeated us.
I don't agree with everything David Duke said or did nor am I saying that he is a saint. But, I do admire his courage and strength. His patriotism that has not been moved to this day.
How many of us could have lead his life? Could you handle being treated like the "plague" by the general population for 50 years? And, could you also handle being rejected by the very people you are trying to defend?
Right or wrong David Duke has been called many things. But, a coward and a traitor is not one of them.
---
Duke's website is
www.davidduke.com
First Comment by Andrew
:
John Stanley's interesting essay needs a little fine tuning after he reads The Scottish Rite's KKK Project by Anton Chaitkin. Chaitkin was the first to expose the KKK Project as controlled opposition. The KKK was the resurrection or terrorist mutation of the Knights of The Golden Circle (KGC) after Robert E. Lee's surrender at Appomattox Court House ended The War of Northern Aggression mischaracterized by modern Northern historians as an American Civil War.
The metamorphism of the KGC was the result of being driven underground. The KGC originated in Cleveland Ohio under the management of the Scottish Rite of Freemasonry. It marched south through the Mississippi Valley with a sack full of gold hiring northern and southern gun slingers to liberate Mexico and finish the Mexican American War with the annexation of Mexico, Cuba and all the Caribbean Sea Islands. They reached Texas the same time as news of the commencement of North-South hostilities with the KGC acting as the Confederate Gestapo firing on Fort Sumpter. So the KGC at 65,000 strong representing the largest fighting corp at that time in America, immediately captured the Capital of Texas forcing Texas to join the Confederacy against the will of the majority of Texans and Governor Sam Houston.
After being driven underground, the KGC became the Circle Clan. The Classical Greek word kirkos means circle. The word "circle" derives from the Greek κίρκος, itself a metathesis of the Homeric Greek κρίκος.
Eventually the κρίκος Klan became the Ku Klux Klan.
It was never a truly southern organization but a subset of the Scottish Rite.
COMMENT FROM DAN:
Ah, David Duke. Listen: I was in junior high in north Florida during the Civil Rights era. The Klan was active then. I knew some boys whose fathers and uncles were members. Their methods of persuasion were intimidation, vandalism, and beating the crap out of people. The high school Klanners devolved into nothing but a gang, who fought other white 'cracker' gangs over girls, territory, or just plain meanness.
Of course this wasn't the 'real' KKK of old. In the past, they really did kill unimportant people and burn churches down.
The Klan was always full of Freemasons. By 1971, the word came down to the lower Masons that 'de-segregation' was part of the Masonic long-term plan, so the State Police and sheriffs abandoned the Klan. In the 1960's, it was fully infiltrated by FBI COINTELPRO anyway, and by the mid 1970's I believe it was entirely an FBI project, if not sooner. That is to say, the KKK today is a controlled opposition group.
So two things about Mr. Duke. First thing is, I think the Klan was fully controlled opposition when Duke became a celebrity for being the first Grand Dragon in a century with more than a 300 word vocabulary. I mean I suspect David Duke is a controlled opposition leader.
People have a natural inclination to want leaders, but we have to be careful not to fall into the 'cult of personality'.
Being used as controlled opposition doesn't always mean the celebrity is 'in on it'. I think Duke is a dupe. Media will always give him some attention because he's a 'brand' that they created. These days Duke says a lot of things that need to be said, and media is happy to make him a spokesman for those things because they can tag "KKK Leader David Duke says...."
Media gives us our leaders. People confuse celebrity with authority. Media loves to use Duke to be the spokesman for the issues to which he draws attention. In fact, the more articulate, the more rational and truthful he becomes, the worse it is for the causes he represents.