Making Sense of the Turmoil In Iraq
January 7, 2014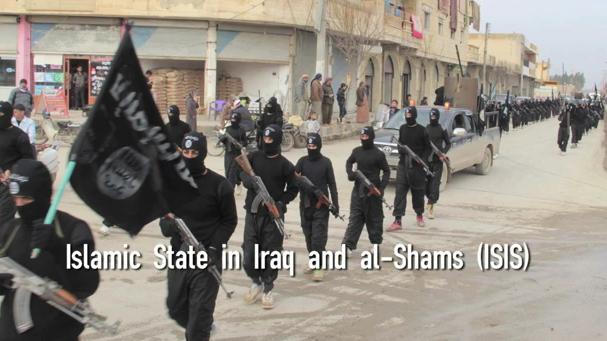 (Left, Al Qaeda fighters take control of Fallujah on the weekend.)
Turmoil reflects Sunni-Shite Divide
The US-Saudi-backed war in Syria is threatening
to upset the fragile r
egional balance of power. It's the old
Illuminati
tactic: divide and conquer
"Two years after U.S. troops ended a near-decade long presence in Iraq, the once high hopes for restoring peace, development and democracy after Saddam was toppled are being dashed. The country is increasingly marred by a combustible mix of instability and violence."

by RA
Our Iraq Correspondent
(henrymakow.com)
More than seven years after U.S. troops dealt a severe blow to al-Qaeda in Iraq, killing its chief, Abu Musab al-Zarqawi, the Islamic State in Iraq and the Levant (ISIL), an affiliate of al-Qaeda, captured the Iraqi city of Fallujah last weekend.
Fallujah, which covers about a third of Iraq's territory, is home to some 300,000 people and is located about 64 kilometers (40 miles) west of the capital Baghdad in the Sunni-dominated Anbar province. The city was the center of the insurgency after the 2003 U.S.-led invasion that brought Shi'ite majority to power.
The latest round of violence intensified when Iraqi police broke up a Sunni protest camp in Anbar earlier last week. More than 100 people have been reported killed in heavy fighting since last Friday.
AL-QUAEDA RESURGENCE IN IRAQ
The ISIL relatively easy success in taking over Fallujah marks an important and dangerous escalation in Iraq's sectarian violence from routine car bombs and suicide attacks to more direct ground battles. It also tests the tenure of Iraqi Prime Minister, Nouri al-Maliki. The latter heads a Shiite-dominated government which has been struggling to impose control over the vast oil-rich country following the U.S. drawdown in 2011.
ISIL has been tightening its grip on Anbar province in a bid to create a Sunni state bordering Syria's rebel-held eastern desert provinces. The recent developments come on the heels of one of the bloodiest years since the end of the Iraq war. The civilian death toll passed 8,000 in 2013.
Iraqi Prime Minister has pledged to eradicate terrorist fighters from Anbar province after losing control of Fallujah. And although the Iraqi armed forces declared that ISIL militants could be defeated in a few days, al-Maliki ordered them to temporarily postpone a large-scale assault in order to allow tribal leaders in Fallujah time to expel the Sunni Islamist militants themselves.
The tribes of Anbar decisively helped tip the balance of the insurgency in 2006 and eliminate al-Qaeda by publicly siding with the Iraqi army and U.S. forces. However, ISIL resurgence has divided people in Anbar this time around, as many of them accuse al-Maliki of marginalizing Sunnis and of being a puppet of Shi'ite Iran. Armed Sunni tribesmen from the area are therefore fighting on both sides.
Moreover, the Iraqi army is overwhelmingly made up of the Shi'ite majority. Although it has launched multiple airstrikes against fighters over the past few days, it has been prevented from entering Fallujah by local tribesmen. Despite being opposed to al-Qaeda, many locals do not support the Shi'ite dominated government of al-Maliki.
SYRIAN CIVIL WAR
Seizing control of Fallujah highlights the growing strength of ISIL. By expanding its presence in the Sunni-dominated desert province near the Syrian border, ISIL militants aim to secure a base to wage more attacks on Syria.
The ongoing civil war in Syria is conspicuously pitting Sunni fighters against the forces of Syrian president Bashar al-Assad, whose Alawite sect is an offshoot of Shi'ite Islam. The war is spilling over to neighbouring countries, mainly Iraq and Lebanon, and has exacerbated sectarian divisions across the Middle East. Major regional powers such as Saudi Arabia and Iran back opposite camps in the conflict. The Iraqi government aligns itself with al-Assad regime.
Consequently, the sectarian violence in Iraq stems from the civil war in Syria and threatens a fragile regional sectarian balance of power.
IRAQ'S MURKY FUTURE
Two years after U.S. troops ended a decade-long presence in Iraq, the once high hopes for restoring peace, development and democracy are being dashed. The country is increasingly marred by a combustible mix of instability and violence.
The war in Syria aside, the resurgence of extremist Sunni militants is hardly surprising. Al-Maliki's stubborn pursuit of sectarian and divisive politics has caused the inevitable resistance. More specifically, his failure to reconcile with Sunnis and other alienated Iraqi factions has disenfranchised large numbers of Sunnis and pushed them into al-Qaeda's lap.
The country requires greater participation by all factions, and chiefly the Sunnis, in the political process. In addition, fairer distribution of oil wealth and the creation of more jobs would reduce Al Qaeda's appeal and shield the country from the repercussions of the Syria war.
Otherwise, Iraq is set to plunge sooner rather than later into another vicious cycle of bloodshed.
-----