Complaint: Women Want Kids, Not Husbands
June 7, 2014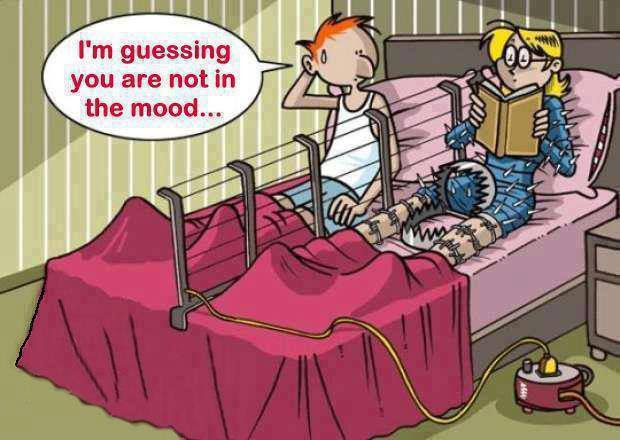 (left. This cartoon doesn't exactly fit the story but I thought it would elicit a smile.)
Mike, from England,
is so disgusted
with women, he says porn
is a better alternative.
Women want his child
but they don't want him!

Mike was responding to
Revenge Killer "Traumatiz
ed" by Porn as Child

May 29.




by Mike in the UK


I have a different take on Porn than most.

Though I have learned now, by default it ain't a good thing.

Having been molested by an abnormal degenerate, I took looking at porn (growing up) as something "normal" & "straight" (as it was ALL straight porn,) and something of an education. I learned an awful lot from Porn...and I'd say EVERY woman I have been with also "valued what it taught me".
But that's where it ends.

This is WHERE I learned my lesson....!

EVERY woman I have had relations with in the last 20 years, NEVER once mentioned Marriage.

They put out the "sex" within days,....talked about Babies within weeks or months, but NOT ONCE any word about Marriage.
In fact their conversational skills were very COLD, BUSINESS-LIKE and no matter the amount of "sex" being had, I kept being put through a dry interview by these women,...that were hardly half way to beginning to prove anything REAL to me. It was akin to a job interview!

So totally out of touch with REAL REALITY,...these women would talk to me....as though they were in the 3rd person, or something !!
Absolutely NO Love and absolutely NO Loyalty proven to me....yet they wanted my DNA growing inside of them because according to women today : THAT'S ALL THE DONE THING. Blunt.

When I mention my slightly older old fashioned take on things,...such as, prove yourself Marriage material; prove some loyalty; prove she can be of use to My Life....if I am to take on a Life Changing Burden of HER Children....because apparently from all these conversations with WOMEN....I am the LAST PERSON to have any say....I got a look from them like I was form another Planet !

She is a woman, Women have kids...simple as that.
But here we have the insanity !!

Women have spoken to me about this...as though,..being feminists, they don't need to consult me beyond the release of my seed inside her,....and WE ALL know that should her "fickle fad" of liking me could change any minute...WE ALL know the STATE will pay her way & pay for everything and also drain me of my money.

So....with Porn being an easy alternative to a Nightmare, I haven't hated it as much as most.

In fact I could say, if it were NOT for Porn,..I probably would have been driven to make even more mistakes getting to know even more selfish spiteful ego-maniac women and lost more & more money!.

But having Porn so readily available and having women brainwashed by the toxic horrors of Media & Feminism....Porn is the LESSER of three evils. I'd rather look at porn than end up fighting some psycho woman in the courts over My Child SHE was not ever willing to Marry the Dad of....!!!!

Also, funnily enough.....Once a man is all "porned-out" and can't even be bothered with that....It is the PUREST of tests each & every time that man then meets a new woman....because he's SEEN it all and even the most amazing things, repeated over & over again....and its becomes a bore.

A bore without any grown up feelings included.

But today, I find women a complete BORE now because SO MUCH is based on SEX in THEIR HEADS too.

IF men don't even put in all the awkward effort of getting around to talking about "sex" and the "sex they want"...conversation certainly dries up fast...because women are EXPECTING to have to rebut,tease or refuse the topic of sex.They also expect non-stop compliments.....I can't be bothered with anymore. Becomes a CHORE after so many women & so many dates & so many "outfits" & "costumes" they wear......Whatever !

Without a man's drive, NOTHIN' happens.

And when it's so over-familiar for women today as to make it sound like a JOB INTERVIEW ....[every aspect of a relationship] then I certainly admit giving up caring what they think or want anymore.

I gave my best....

Best years of my life....

And each & every time....It has become a joke.

Now I look at women,....and since they've ALL been the SAME....I look away in disgust !
----

First Comment from Dan:

The man has only been interested in women who have sex with him 'up front' (sluts.) If he had a father around, the man never explained the difference between 'nice girls' and 'bad girls', ie. sluts, whores, skanks, barflies, nymphos, etc. Fathers used to have 'the Talk' with sons at puberty to explain that a girl that will have sex on the first date will have sex with anybody. That's all they're good for. Mike never got that wisdom handed down to him.

Consequently, he's confused whores with 'women' - the generic term FEMINISM applies to erase these crucial distinctions that men need to discern. I'm assuming that UK sluts deliberately pick out blokes who are dumb enough get them pregnant: these are a species of lazy whore for whom a baby is merely a meal ticket - and excuse to file for welfare and child support. It's a grift.

Like most people today, these men don't seem to understand that they themselves are just as disordered as the women they pick up in the sleazy environs they prowl, ever hunting the next orgasm, like a crack whore craving the next five minute high. Like the addict, they'll never straighten out until they hit bottom and realize they have a problem, and quit thinking like a Feminist.



Edward says:

I sympathize with the experiences this man has been through. ("Mike Finds Porn Preferable...") It's helpful to hear from other men about their experience with women and women's attitudes in our time, as "the state will pay" for many things or make men pay, without giving husbands and fathers much say in a marriage relationship or how children are brought up. And by now, this has affected the way many women think, apparently.

Hearing from other men (and women) on these issues helps me stay somewhat sane in these times of manufactured news and cultural insanity.

I do want to propose to Mike however that in my opinion porn is basically an addiction and it basically makes people weak and angry. It turns people into slaves. I believe porn addiction transform a man on a spiritual level in such a way that women can actually "pick up on" it and they can tell that he's easy to seduce and easy to manipulate. So while it isn't easy, I've left porn behind me and feel better for it. Why idolize women, or turn women into idols when I can spend time getting to know God better or just getting to know people better in non-sexual ways? Somehow this seems to also help me meet a better class of women, and even have better interactions with them, but that's strictly secondary and I honestly don't have high of expectations for any of that because of how difficult marriage is in these times of manufactured recession and societal breakdown. I am slowly, very slowly, learning to put God first in my life, or at least closer to first, and then just see where that leads me.

Good luck Mike, and thanks for sharing your story.