Wedding Cake Ruling Persecutes Christians
June 3, 2014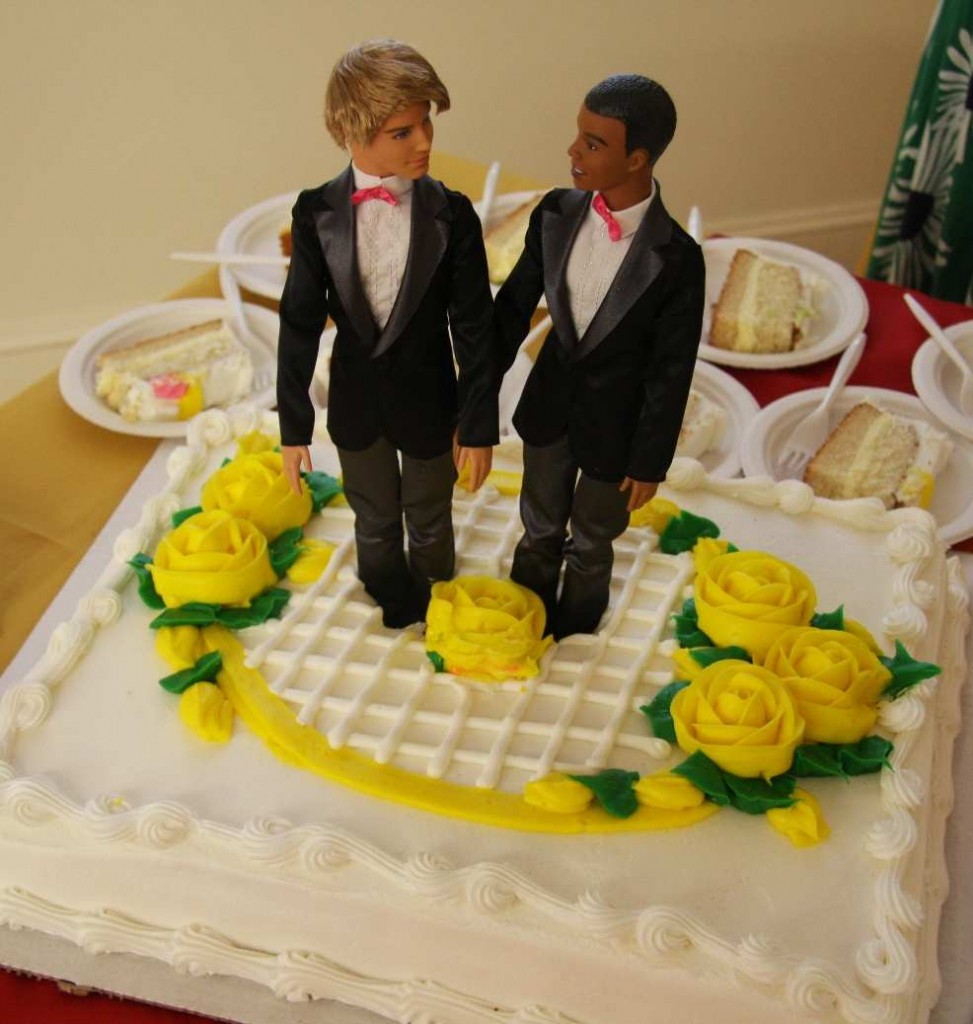 The owner
of Denver's
Masterpiece Cakeshop
said Monday he'
ll no longer sell wedding cakes
after the Colorado Civil Rights Commission ruled he discriminated against a gay couple when he refused to sell them a cake.
The owner said
he feels he is "participating" in the weddings he bakes for.
Why do "gay rights"
trump religious rights? "Human rights" are a ruse by Illuminati Jews and Masons to dismantle Christianity, and religion in general. Selectively applied, they are
a higher form of discrimination.
Gays who want to marry
represent
less than a quarter of one percent
of the population. The Illuminati Satanists have used this as a pretext to redefine the central institution of Western society.
Marriage
is a heterosexual institution. Muslims can't say it's their "human right" to celebrate Passover. Homosexual marriage cannot be equated with heterosexual marriage. Treating different things (i.e. heterosexuals and homosexuals) as if they were the same is how Communists (i.e. Satanists) destroy society.
Just as the Masterpiece Cakeshop
in Denver will no longer sell wedding cakes, so the Illuminati want to destroy the institution of marriage altogether.
This is my view. Below, John Stonestreet looks at the pros and cons. What is your view?

Would Jesus Bake Cakes for Gay Wedding?
http://www.lifesitenews.com/news/would-jesus-bake-cakes-for-gay-weddings (Mar 3 2014)
by John StonestreetThe call for tolerating same-sex marriage
has become a demand for compliance. Cases like
Masterpiece Cake Shop in Colorado
and Elane Huguenin's
New Mexico photography business
have shown us that "tolerance" ends exactly where the right to say "no" begins. And so people, businesses, and non-profits are forced to choose between their livelihoods and their convictions.
Some fellow Christians are giving this new state of affairs a thumbs-up, including Kirsten Powers, whose fearless stand against abortion I admire, and Skye Jethani, a friend I respect greatly.
They argue that Christians who won't participate in gay "weddings" are "applying Scripture selectively." If you object to baking a cake, shooting photographs or playing music for a ceremony for two men or two women, they say, you should also object to serving anyone with an unbiblical lifestyle. But since no business owner can do a background check on every client's personal life, Powers and Jethani conclude that any religious objections to doing business are illegitimate.
Plus, they say, baking a cake or providing floral arrangements doesn't mean that a Christian is participating in or affirming gay "marriage." They're only conducting business.
Now before I reply, it's important to understand how confused this whole conversation has become, especially with all the noise surrounding the anti-discrimination bills in Kansas and Arizona.
The Kansas bill was very problematic, and unfortunately created enough negative sentiment to defeat the Arizona bill, which did not give anyone the right to refuse to serve gays, members of other faiths or political parties, or even Yankees fans for that matter.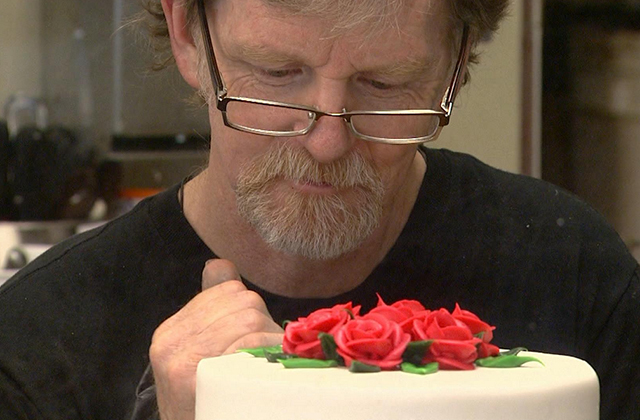 (left, Masterpiece Cakeshop owner Jack Philips)

And neither the baker in Denver, nor the photographer in New Mexico, nor the florist in Washington refused to serve customers because they were gay. They refused participation in a same-sex wedding.
Every good baker and photographer I know who take their work seriously see themselves as participating in the ceremonies they service, especially weddings. Their cakes adorn the celebration and their pictures document the story. And that's why they object to being forced to participate in same-sex weddings. It's not something they can do in good conscience.
A baker friend of mine told me he turns down cake business all the time because of convictions that have nothing to do with same-sex weddings, like if they're sexually explicit or crude. He wouldn't bake a wedding cake if he knew the couple to be abusive. His faith has shaped his business for over 15 years, so why should he be forced to disconnect his faith from his business now?
Again, if he refused to serve a gay person a cupcake, he's sinning. However, that's not the same as baking a rainbow cake to celebrate gay marriage. It just isn't.
Powers and Jethani are right that Jesus would serve, wash the feet of, and have dinner with a gay person. But that's different than saying that Jesus, the carpenter, would carve an altar for a same-sex wedding with a rainbow on it in place of a cross. He spent time with tax collectors, but He didn't help them steal more.
Theologian Russell Moore makes a strong case for avoiding any involvement with same-sex "weddings." But I'm with Eric Teetsel, there's much more to consider about what constitutes involvement and what doesn't. And there's also another question.
Even if we assume that Jesus would participate in a gay "wedding," does that mean we should force everyone to do it? Stamping out the freedom of those whose consciences differ is still unthinkable. I'd never want a judge to order a bakery owned by someone who identifies as gay or lesbian to be forced to bake a "God hates gays" cake for Westboro Baptist Church. I would defend that baker's right to say no every single time.
We can't shrug off conscientious objections as if religious liberty doesn't matter. As Os Guinness argues in his book
"The Global Public Square,
" religious freedom is essential, not only for Christians or for religious people, but in this deeply polarized society, it's essential for maintaining peace, prosperity, maybe even civilization itself.
Part Two
Threats against religious liberty and freedom of conscience are no longer theoretical--they're real, and they're growing. Just ask Jack Phillips, the owner of Masterpiece Cakeshop in Denver, who declined to make a wedding cake for two men who got "married" in Massachusetts.
Phillips said this would violate his Christian beliefs, and there are other shops who would make the cake. But Colorado's new law on civil unions does not provide religious protections for businesses, so Phillips is being hauled before Colorado's Civil Rights Commission. If he loses, he faces fines of up to $500 per case and a year in jail. Phillips' attorney says that forcing him to "choose between his conscience and a paycheck . . . is intolerable."
But that's a choice that same-sex "marriage" is forcing upon those of us with traditional religious beliefs. The once rhetorical question "how will gays getting married affect you?" is being answered all around us.
And the Obama administration is still requiring Catholic charities and other religious institutions to provide their employees with insurance for abortion inducing drugs--or face crippling fines.
Archbishop Charles J. Chaput of Philadelphia says, "The day when Americans could take the Founders' understanding of religious freedom as a given is over. We need to wake up." Chaput is responding to the latest revelations in the IRS scandal. It's not just conservative political groups that were targeted. The Alliance Defending Freedom has released a tape of an IRS agent telling a pro-life Texas group that they can't "force" their religious beliefs on others. How handing out brochures is forcing anything on anyone is not explained.
Also, an IRS employee may have leaked a confidential donor list from the
National Organization for Marriage
to the pro-"gay marriage" Human Rights Campaign, whose president was named a national co-chair of the Obama campaign.
These donors were subsequently "outed" and harassed by liberal activists. Chaput warns that "the latest IRS ugliness is a hint of the treatment disfavored religious groups may face in the future, if we sleep through the national discussion of religious liberty now."
Congressman Jim McDermott criticized the IRS targeting of conservative groups, but he also blamed the victims. "Each of your groups is highly political," he lectured. "From opposing the President's healthcare reform, to abortion restrictions, to gay marriage, you're all entrenched in some of the most controversial political issues in this country--and with your applications you are asking the American public to pay for that work."
What's the implied message? Think twice before entering the public square if you don't have the proper beliefs. Keep in mind that no so-called "gay-rights" groups have ever been lectured. Such open bigotry is scandalous, really.
The Department of Justice, meanwhile, has released a brochure encouraging its managers to ensure that the lifestyle choices of LGBT employees are not just tolerated, but affirmed. If an LGBT employee "comes out" to a manager, the manager is told: "DON'T [in capital red letters] judge or remain silent." Why? "Because silence will be interpreted as disapproval." Well, if employees can't express disagreement or be silent, the only remaining option is obvious.
So both political and social pressure is growing for Christians to shut up when it comes to public expressions of faith. We're told to "keep it in church."
---------------
Again, Makow -
Human Rights - A Higher Form of Discrimination
First Comment from Dan:
The homintern is on a roll since their statutory formula achieved traction. "Pride Month" just started in the States. I noticed that the twinks that live down the street have put out their gay flag. Last night I had dinner with friends who argued because their daughter is spending all of her time with a 115 lb flamer. They don't understand it. The mother favors it because she's thinking "at least he won't make her pregnant".
The girl dropped in to ask for money, because she'd lost her purse. She said when she her gay guy were clubbing the night before, she let him carry her purse. She said he drank too much and kept having to go to the restroom to puke. Later, when she was dropping him off, she asked for her purse, and he said, "OMG! I must have lost it".
I'm streetwise, so I told the parents the truth. "He's her drug connection. That's the attraction."
The mother said, "well, she did say he used to do a lot of drugs".
I said "ALL the young twinks use drugs when they're clubbing. I shouldn't have to tell you why he spent so much time in the restroom. Somebody stole her purse while he was giving blow jobs in the stalls."
The mother got mad and left the table. She's been conditioned by TV shows like "Will and Grace" to think little gay guys are asexual, harmless clowns.
But I digress. The new battery of 'anti-discrimination' statues caught the cake shop owner off guard. Score "One" to "Zero" for normal society.
Now it's our turn. We'll beat this with the same weapon - with statutes that can circumvent theirs. The baker is entitled to require a non-refundable deposit. Then make a cake which meets the requirements of a good cake by law, but make it unacceptable to them in some way so that they reject it, and don't get their money back. Maybe have one of the grooms on top of the cake in "the position". If they LIKE the cake and take it, spread the story and photos all over the internet. We need to draw attention to the BEHAVIORS that the 'anti-discrimination' statutes mean to force us to 'bend over' for.