Pope Francis is a Jewish Imposter
June 20, 2014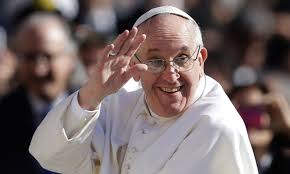 Pope Francis says,
'Inside every Christian is a Jew.' Is he referring to himself?
(See Makow Comment Below Article)

By Josephine Mckenna |
Religion News Service June 13
VATICAN CITY -- Underscoring the close ties between Christianity and Judaism and calling Holocaust denial "madness," Pope Francis told an interviewer that "inside every Christian is a Jew."
In a wide-ranging interview published Friday (June 13) in Spain's
La Vanguardia
newspaper, the pope said dialogue between the two faiths can sometimes be a "hot potato."
"I believe that interreligious dialogue must investigate the Jewish roots of Christianity and the Christian flowering of Judaism," Francis said. "I understand it is a challenge, a hot potato, but it is possible to live as brothers."
Francis' statement seems to go further than his predecessor, St. John Paul II, who made headlines in 1986 as the first pope to visit Rome's main synagogue and declared Jews to be the "elder brothers" of the Christian faith.
"Every day, I pray with the Psalms of David. My prayer is Jewish, then I have the Eucharist, which is Christian," the Argentine pontiff added.
The pope also took the opportunity to criticize Holocaust denial as "madness" while defending the record of Pope Pius XII, who led the Roman Catholic Church during World War II.
Francis will soon have to decide whether to advance the sainthood cause for the controversial wartime pope, who is accused of failing to speak out publicly against the mass murder of Jews. For years, Jewish leaders and Nazi hunters have demanded the Vatican open up its secret wartime files.
Francis said he was concerned about "everything which has been thrown at poor Pius XII," while stressing that he sheltered Jews in the convents of Rome and other Italian cities, as well as the popes' summer residence in Castel Gadolfo.
"I do not mean to say that Pius XII did not make mistakes -- I make many mistakes myself -- but his role must be read in the context of the time," Pope Francis said.
Francis added that he breaks out in an "existential rash" when he hears people speak against Pius and the church's wartime record while ignoring inaction by the Allies fighting against Nazi Germany.
"Did you know that they knew perfectly well the rail network used by the Nazis to take the Jews to the concentration camps? They had photographs," he said. "But they did not bomb these rail lines. Why? It would be nice if we spoke a little bit about everything."
During Friday's interview with the Barcelona daily, Francis was also asked about his own security, saying he refused to travel in a bulletproof "sardine can" vehicle because he wants to mingle with ordinary people.
"It is true that anything can happen, but let's face it, at my age I have nothing to lose," the 77-year-old pontiff said.
The former archbishop of Buenos Aires was also asked how he would like to be remembered as a pope.
"I have not thought about that," Francis said. "But I like it when you remember someone and say 'He was a good guy, he did what he could, and he was not that bad.' I would be happy with that."
--------
Makow- When I read references to the Jewish "Faith," I ask myself, "faith in what?" You don't need to believe in God to be Jewish.
More than half don't.
Half of so-called religious Jews don't.
If there is a Jew inside every Christian, there must be an aetheist inside half of them. If Pope Francis doesn't know that Judaism is the antithesis of Chrstianity, then Catholics are in big trouble. If he doesn't know that the Talmud
is full of hatred
for Jesus, and for Christians, where has he been?
Judaism is harmful to Jews and non-Jews alike. It is defined by the Cabala which says God is unknowable, formless, and not even in the universe, It is the existential logic behind "secular humanism." You cannot have a religion without serving a knowable God.
Ultimately, secular humanism, like Judaism itself, is devoted to the deification of the Cabalist Jewish leadership. This is the Jewish "faith."
--
Related -
Jewish Hatred of Christ
First Comment from Dan-
(Pope's Israel visit suggests he may have some redeeming qualities.)
I've been scrutinizing this pope's every act and word since he was elected. I think he is a "useful idiot". He's a creature the 1960's. Growing up he was a weakling and daydreamer, enamored with Socialist magazines with starry eyed idealism rather than cold blooded Marxist activism. Today there's an incredible naivete that comes through his statements.
As for his being a 'conspirator' in knowing cahoots with his Jewish handlers, notably Rabbi Skorka (with whom he co-authored a book on 'interfaith dialog'),
I don't think so. I withheld making a conclusion on that aspect of Bergoglio until I'd seen how he handled - or was handled - during his 'Holy Land' visit.
The visit was a dud for media, and a disaster for Bergoglio. I believe the stress of it is the real cause of his taking the summer off. Media has tried to play it down, but the Pope's health took a dump on that trip. He cancelled important appointments, and since then he's cancelled most of his normal Papal itinerary for the summer.
I don't think Bergoglio expected the collective bad vibes against him in Israel. Vile graffiti directed at him was in the news before he arrived. Then he deviated from his tightly controlled itinerary to stop at the graffiti covered wall that separates the Palestinian ghetto from Israeli Jerusalem, and place his hand on it in a photo op that made a very clear statement. Note there's no photo of Bergoglio touching the Wailing Wall. Why not? John Paul II did it. Benedict XVI did it. Even Putin did it, along with Obama, Bush, Clinton, Rand Paul, UK PM Cameron, Madonna, and all the rest of them.
But Bergoglio kept deviating from the script. At his sermon in Bethlehem, he invited the Palestinian leader and President of the Knesset to visit Rome to "pray with him". In response to this, unknown arsonists set fire to draperies in Church of the Nativity shrine of the birthplace of Jesus.
Finally, Francis interrupted a rhetorical speech by Netanyahu to correct his saying that Jesus spoke Hebrew. "He spoke Aramaic", Francis said.
So the Pope hasn't been feeling so hot after this trip. A press release last week said he's even thinking about his own resignation "at some point in the future".