Basil Zaharoff - A Name You Should Know
October 29, 2014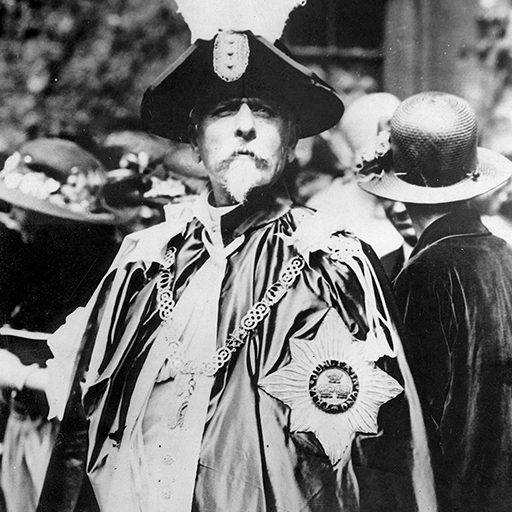 (Basil Zaharoff (left) displays the Knight Grand Cross of the Bath which he received in 1919
for selling the munitions that killed 10 million goyim on both sides in WW1. )
Basil Zaharoff, 1849-1936, a Director of Rothschild-owned Vickers
that produced guns and armaments in two world wars. "The Zaharoff System" involved selling arms to both sides in a conflict
and even instigating conflicts
.
Below are two short accounts of the man.by Eustace Mullins
(From New History of the Jews, pp. 92-95)During the late 19th century,
the Jews realized with growing excitement that the moment was approaching to set up their world empire. Jewish international bankers controlled all of the governments of Europe, and they needed only to wreak further havoc on the gentiles before conquering Palestine, for it was their superstition that they could not rule the world until they owned the little patch of desert where they had started out as bandits five thousand years ago.
A typically prominent Jew during this period was Basil Zaharoff, who for fifty years was known as the "Mystery Man of Europe." He is credited with having started many small wars and to have played the leading role in setting off World War I. There was never any real mystery about Zaharoff. His biographers state that he was born Manel Sahar, of Russian Jewish parentage, in the ghetto of Wilkomir, Russia. His parents moved to Constantinople when he was four years old, and at the age of six, he became a brothel tout, leading tourists to houses of prostitution. As a young man, he was a well-known pimp in Constantinople, and at the age of twenty-four, he fled to Athens after murdering a sailor on the docks during a robbery.
After eking out a dishonest living in Athens for several years, Zaharoff became an armaments salesman for the firm of Maxim Nordenfeldt. The transition from pimp to salesman was a simple one, for government contracts were customarily arranged by furnishing beautiful prostitutes to the contracting officer. Through his talents for pimping and blackmail, Zaharoff was extraordinarily successful at persuading governments to buy his wares, and he soon became a millionaire.
He spent many thousands of dollars to erase his criminal record, but in 1911, his past was revealed when his son, Haim Sahar, a Jew living in Birmingham, England, sued him for part of his fortune. Although Haim proved that he was Zaharoffs son, he got nothing from Zaharoff, who by this time had amassed a fortune of one hundred million dollars.
ROTHSCHILDS
In the 1890's the largest munitions firm in the world was Vickers of England, which was owned by the Rothschilds. In 1897, Vickers purchased the Naval Construction and Armaments Co., and also the Maxim Nordenfeldt Co.
Zaharoff was the biggest stockholder, and the Rothschilds placed him on the board of Vickers. The Jews then loaded up all of the governments of Eu- rope with munitions. The Rothschilds forced the governments to whom they lent money to allot most of it for the purchase of armaments. The stage was set for a world war, and as Werner Sombart, the economic historian, said,
"Wars are the Jews' harvests".
The Jews began to spew out of their Balkan ghettoes, entering England at the rate of 600,000 a year, and the United States at the rate of one million a year. They took over government offices so completely that the English Foreign Office was known as "the Too-Foreign Office", in reference to the great number of Jews with thick accents who filled its ministries. Jews became ministers of finance and justice in many countries, so that they could control the nations through these positions. The Minister of Finance in France was Klots; in Italy, Luzzatti; in Germany, Dernberg; in England, Isaacs. Of 355 English salaried consular officials, 200 were foreign born, and 120 readily identified as Jews, although the total was undoubtedly higher.
Every European Government was rocked by financial and espionage scandals as the Jews sold state secrets and patents to the highest bidder. When the Gentile, Marconi, invented radio, the Jewish Isaacs family obtained possession of it, and the American branch RCA , was headed by the Russian Jew, David Sarnoff. On March 7, 1912, the English Postmaster, Sir Herbert Samuel, of the Jewish family which owned Shell Oil, and Charles Isaacs, president of Marconi, Ltd., split 100,000 shares of stock as a gift to his brother, Rufus Isaacs, Minister of Finance, and Lloyd George, the Prime Minister. When the scandal broke in the press, not only did Lloyd George remain in office, but, with typical effrontery, the Rothschilds forced Lord Asquith to appoint Rufus Isaacs as Lord Chief Justice of England, with the title of Baron Reading of Erleigh. Rudyard Kipling commented on this appointment,
"Three years ago you would have said that the Marconi scandals and the appointment of the present Lord Chief Justice were impossible."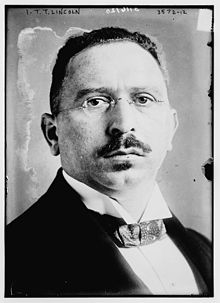 (left, Trebitsch-Lincoln)
Not only did the Jews control Lloyd George with bribes, but Zaharoff sent his ex-wife over to have an affair with the Prime Minister. An aide of Zaharoff was an Hungarian Jew named Trebitsch who had come to England, added Lincoln to his name, perhaps in memory of the murdered
St. Hugh of Lincoln
, [a 13th century "blood libel"] and as Trebitsch-Lincoln, he became a Church of England clergyman and a member of Parliament, while working as an agent for Zaharoff. Trebitsch-Lincoln died during the 1930s as a monk in Tibet...
Zaharoff also died during the 1930s, as a multi-millionaire on the Riviera, while planning the Second World War. Before he died, he had murdered the only person who knew all the secrets of his criminal past, a Jew named Nadel who had been a member of the French Surete, and who had come into possession of documentary evidence against Zaharoff. Nadel blackmailed Zaharoff for ten years, and was finally found dead in his suite on the Riviera with one million francs in cash in a bureau drawer, apparently the last installment that Zaharoff was willing to pay.
The First World War had broken out on schedule, carefully planned by Zaharoff and the other Jewish munitions tycoons. Tremendous fortunes were made during the slaughter of the Gentiles. During the war, the Jews sang their anthem,
"Onward Christian soldiers,
Marching as to war;
We will make the uniforms,
As we did before."
--------------------------------
Related
-
Jews Fought and Died in WW1 (But not Illuminati Jews)
---------- Makow -
World War One - First Christian Holocaust
Basil Zaharoff by Richard Spence
(from New Dawn Magazine)
No one was certain,
or ever would be, whether Zaharoff was of Greek, Jewish, or Russian origin. He established a special relationship with British interests in the 1870s and that endured, to one degree or another, until his death in Monte Carlo in 1936. In the interim, Sir Basil, as he was later known, earned infamy and vast wealth as the world's paramount arms dealer or, as the less charitable termed him, the "Merchant of Death." Zaharoff later spread his tentacles into ship-building, banking, radio communications and, perhaps most prescient of all, oil. The basis of his business success was what he called the "System." In essence, this involved selling arms to both sides in a conflict and even instigating conflicts when need or opportunity arose.
Zaharoff maintained an official residence in Paris and was rewarded by the French with enrollment in the Legion of Honor. But it was London which gave him an Order of the British Empire and a Knight Grand Cross of the Bath for his special services. Sir Basil was intimately connected with the British-owned Vickers firm and British politicians like future Prime Minister David Lloyd George.
His influence reached its peak during the First World War. According to T. P. O'Connor, "Allied statesmen and leaders were obliged to consult with him before planning any great attack." [To avoid damaging or capturing munition factories] He was also rumoured to operate a private intelligence service which put the French Surete to shame. His legion of sub-agents allegedly included Sidney Reilly and arch-schemer Ignatius Trebitsch-Lincoln. [Both Jews.]
French investigative journalist Roger Menevee, the first to attempt a biography of Zaharoff, was convinced that not only was he a key British asset, but also was a kingpin in a shadowy "International Oligarchy" which dominated the world's economy. One can only wonder how that connected to Reilly's "Occult Octopus" or to the "High Cabal" alluded to by Winston Churchill. Was Zaharoff a manifestation of the link between British imperial interests and some sort of "Illuminati"? If so, who was running who?
---
Related-
The Merchant of Death
- John D Flynn