Tibetan Buddhism - A Racket Posing as Religion
November 14, 2014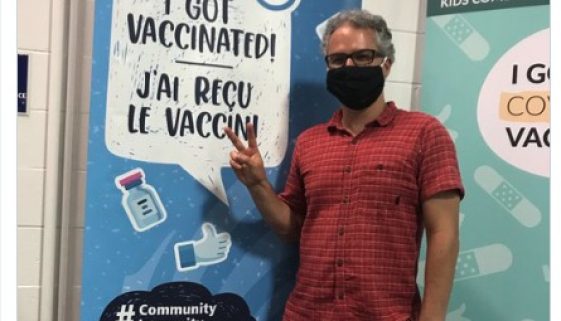 ("He's a wolf in sheep's robes, like the pope." )
When Richard looked into Tibetan Buddhist
monasteries in America, he recognized
the characteristics of a mind controlled cult.

by Richard
(henrymakow.com)
Tibetan Buddhism is a cult
- a tax exempt 'sweat shop', 'company store' racket using religion as a cover.
They were permitted to experiment with social engineering to see if American hippies could be turned into willing coolies.
As you may know, Maurice Strong and his wife bought thousands of acres for these Tibetan projects. The Strong's pet hobby was manufacturing the new one world religion. The Dalai Lama was their creative director.
The Dalai Lama the rest of the elite tulkus and their entourage of 80,000 escaped to asylum in the Indian Himalayas.
After years of denial, it was confirmed in 1998 that
the CIA had provided at least $1.7 million
annually to his foundations since 1959. It is suspected the CIA played a part in the revolt against the Chinese that forced him to flee when it failed. Since the 60's, he dispatched hundreds of Tuklus and thousands of lamas to establish monasteries learning centers in the United States, UK and Commonwealth countries. There are several in Canada, from Nova Scotia to British Columbia.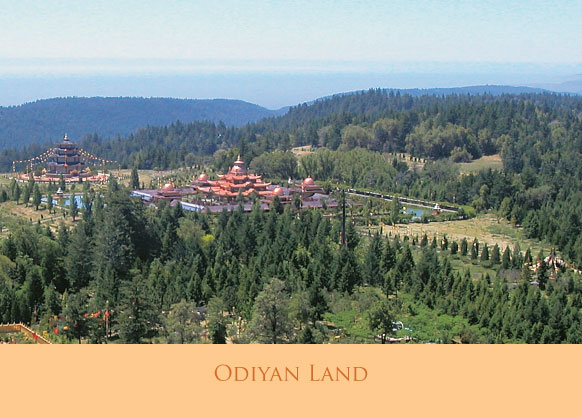 These centers keep a low profile, they recruit through word-of-mouth within the trendy, upscale American 'new age' network. You're not likely to be aware they exist unless you're heavily into yoga classes and drive a hybrid. The monasteries are off the radar, buried deep in mountain forests, but they are on hundreds acres of land. They grow their own food, do their own construction, generate their own power. They are 'off the grid' as much as possible.
Each monastery is presided by a Tulku, the reincarnation of his predecessor all the way back through a lineage of semi-divine lamas. The Tulku's entourage is a company or Tibetan lamas, who manage and run the place. Finally, labor is supplied by volunteers who've signed a contract to work at the Monastery for at least one year, in return for Tibetan monastic training.
PERSONAL ENCOUNTER
In 2001 I had a two major shocks in a row that sent me into a period of depression. Namely, 911 - which Hunter Thompson called Americas' 'national nervous breakdown'. Then my estranged girlfriend died in an accident in another state in December.
During spring 2002 I was going to counseling every week, and the shrink asked me if I'd like to get away for a while in a Tibetan monastery. I was a professional art metalworker, and the place needed volunteers to do the metalwork on the Tulka's reproduction of an 10th century bronze temple in Tibet. Supposedly this Tulku had overseen the building of the original, nine centuries ago.
At first, it sounded like a wonderful opportunity. I had just entered middle age. twenty years earlier in college, I'd done Transcendental Meditation, read all of Alan Watts books, as well as "Ram Das" (Richard Alpert). I had taken a year of Buddhism and Hinduism in college. I'd been curious about Tibetan Buddhism, so I went straight to the video store and rented
'Kundun', 'Seven Years in Tibet'
, and
"The Tibetan Book of the Dead".
Also, I found the California monastery on the website and downloaded the volunteer form, filled it out and mailed it to Berkley, California. A week later I got a call from a woman with a Brooklyn heights Jewish accent. She seemed friendly at first. After asking about background and interest, she described the monastery and what they were doing. It's a 1000 square acre tract of prime woodland on the California coast in the Sonoma redwood forest. To the south is the location of the famous Bohemian Grove.
To the north and East were ashrams of Indian origin, interlaced with smaller communes or various cults.
I asked, "Sound interesting. When can I come out and visit the place?" At that point her tone changed abruptly. "There are no tours. You will stay here at our Berkeley center for two weeks orientation, and then you'll be taken to [the ashram].
We require a commitment of at least one year. We prefer two."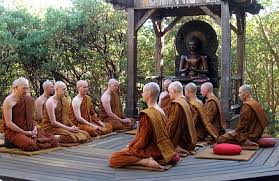 Then she proceeded to describe the itinerary. Volunteers live 20 people to a barracks. Wake up for meditation at 4am, vegan breakfast in silence, then to work at dawn. Work is 12 hours, then meditation, and lights out at 9pm. Work days are Monday through Saturday. Sunday begins with 8 hours farm work. Finally you get three hours 'free time', when you're allowed to walk around the gardens. No phones no internet. I think they allowed 10 minutes public phone time if you're willing to spend your only free time for the week standing in line to make a call.
When I heard all this I recognized serious symptoms of mind control cults:
Absolute authoritarianism without meaningful accountability.
No tolerance for questions or critical inquiry.
No way to leave without permission and means of transportation.
Deprived of private means of communication with the outside world
'Cloistered', cut off from family and friends.
No visitation
So next I pulled up a number of 'Cult Awareness' websites. To my surprise none of them would touch Tibetan Buddhism - or any other powerful international religious body for that matter. It seems if you're big enough, and connected enough, you can do all the above but somehow not be a 'cult'.
I don't agree. For more information see here:
Tibetans escape from Northern California center.
"It was like escaping from the Chinese all over again".
In 2012 the same place brought down lawsuits from their more influential neighbors.
'Retreat center's expansion plans provoke concern'
-------
Related-
Dalai Lama Supports Transhumanism

First Comment by MF:


I work for a fence company and can confirm that theses Buddhist monasteries exist and new ones are built. I have received a couple few phone calls over the years.
They are in remote locations and they require 10' fences!
When I asked what threat they were trying to keep out, they said that they are to keep the monks in. They have a 2 year period where they can't leave and the 10' fence is to make sure of that. The area where they were building was rocky and windy so I tried to bring the height down to 8' being we wouldn't have to penetrate the ground as much in the rocky terrain. But the answer was no, that is not tall enough because some of them really try to escape.
True story, I remembered this because it made me wonder what was going on there.



David Livingstone writes:
Read my article,
The Occult Secrets of the Dalai Lama.
It might seem complicated, but that's only a tiny portion of the larger story, which has taken me 600 pages to detail.
My book
is about fascism, which is an outgrowth of synarchist, but the Dalai Lama is central to that story.
It starts with Blavatsky who believed that Tibetan Buddhism was the purest survival of Central Asian Shamanism, which she connected with Shambhala, the seat of her purported Great White Brotherhood of "Ascended Masters."
The big picture is the Dalai Lama has been elevated to his role because in Theosophy Tibetan Buddhism is considered the survival of Central Asian Shamanism. This was crucial to the Great Game, because to Halfard Mackinder, who influenced Brzezinski, Central Asia is the World Pivot, which is why it still features in the New Great Game and the Clash of Civilizations.
The importance of Central Asia, or more specifically Xinxiang was perpetuated by the synarchists, who formed the basis of 20th century fascism. It begins with a plot in St. Petersburg, headed by Papus and Gurdjieff.
That's what established the role of the DL's predecessor. That function was continued by the Nazis, but as Nicholas Roerich, who was connected to the same circuit, while also influencing Henry Wallace to place the eye and pyramid on the dollar bill.
To understand what's going on there it's important to know of the Society of the Green Dragon.
This is a fundamental aspect of the true cult of the Nazis, and their reason for their expeditions to Tibet. But also, the Nazis didn't really lose the war. They just reconstituted themselves. They went to work for the CIA coordinating an international fascist network of terrorists known as Gladio to fight "communism."
The chief ideologue of Gladio was Julius Evola, a synarchist, leading representative of Rene Guenon, and who worked with the SS, who heavily influenced the DL's friend, Miguel Serrano.
Serrano was also connected with the Nazi colony of Colonia Dignidad in Chile, which served the CIA's Operation Condor, and so on and so on.

Ryan counters Dan:
As a long term westerner Buddhist practitioner in Sri Lanka, S.E. Asia, Thailand, Japan, USA, Germany and Switzerland I would like to stress I am a CRITICAL Buddhist practitioner, I have seen over the last over 30 years more than a few circumstances in Buddhist circles which deserve criticism/rectification. However I find it interesting that several of the criticisms of the Dalai Lama and Tibetan Buddhism recently published/referred to at henrymakow.com are coming from exactly the circles which I over the last few decades have become the most wary of and therefore question their motives.
The author's story I find is more telling of the American situation rather than that of Tibetan Buddhism.
I personally have not been to Uddiyana nor do I know anyone from there so I cant comment directly on any of the circumstances there. However I would ask the objective reader to consider to what extent the hearsay report of one person about a temple he didn't even visit can be applied to a worldwide religion with millions of adherents.
I would like to point out that sometimes when exotic religions come to the west it is the case that a few western zealots take control of a good thing and let their ego get out of control and spoil the whole thing for everyone. I am not saying that this is the case at Oddiyana but I can highly suggest the book "Monkey on a Stick" about the Hare Krishna movement to document this phenomenon. Come to think of it some Christian groups arent all that different...
Shouldn't you Americans use this article to question your own situation and motives?
The feeling of hopelessness which motivates resignation and escapism!
The interest of Maurice Strong i.e. the Illuminati on influencing various religion I also find alarming. I would like to point out that it is not only Tibetans Buddhists which have temples in Crestone, Colo. See:
http://en.wikipedia.org/wiki/Crestone,_Colorado
Henry, I would like to point out that including the Dalai Lamas image is completely inapropriate. Oddiyana is in the Nyingma Order and the Dalai Lama is in the Gelugpa Order. The Dalai Lama has no influence over Oddiyana. Also the image of Theravada Buddhist monks is completely out of context.
May I suggest that those in the future who would like to publish articles of this type (Mud Slinging) take a deep look into their own motivation.