Freemasonry Trumps Feminism in US Court
December 8, 2014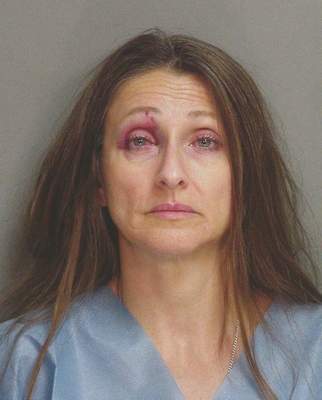 (Lydia Salce, 50, on the night of her arrest, Aug 11, 2011)
Lydia Salce feared for her life when her biker husband
held a knife to her throat and started punching her.
When he dropped the knife, she stabbed him.
A court
sentenced her to sixteen years in jail. In this day and age, when courts are dead set against men,
and women can do no wrong, how did this happen? There must be a link between Freemasonry and the Hell's Angels.
Both believe in breaking all the rules.

"
During the trial, Salce's public defender pointed to the McKee's numerous tattoos, including one across his forehead that reads 'Trust no one' and one on his back that says '(expletive) the rules.'
Do you think the truth means anything to him?"Prosecutor said, "Don't Judge a book by its cover."
On sentencing, Judge Jerry Scarano said this "brutal and vicious knife attack" against McKee "appears to have been unprovoked."
Being threatened with a knife and repeatedly punched in the face is not a provocation? by Henry Makow Ph.D.Q- When is a man who beats his wife
likely to get a break in a feminist US court today?
A- When he is a 240-lb six-foot ex-con covered in Nazi tattoos who belongs to the Hell's Angels.
This criminal biker gang must be linked to the Freemasons who own the US Judicial System. That's the only explanation for why a Troy NY Court in 2012 leaned over backward to protect Michael McKee. Meanwhile, the judge sentenced his wife Lydia Salce to
sixteen years in prison
for attempted murder -- stabbing him as he beat her. He recovered completely.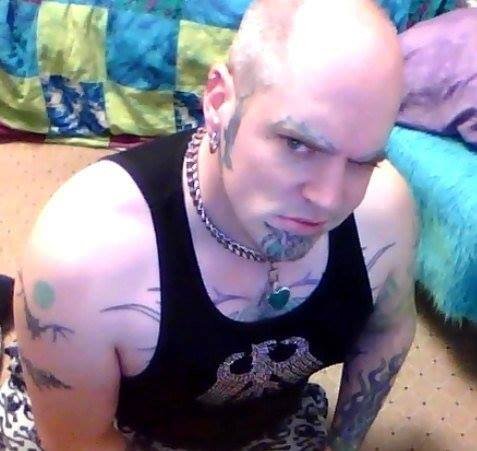 (left, actor Brit Zane played McKee. The complicit local media printed many pictures of Salce but not one of McKee)
The story caught my attention on
a recent episode
of
Wives With Knives.
I could not believe that in our feminist age, with the relentless emphasis on domestic abuse, a woman who successfully defended herself would receive this treatment. Clearly, where Freemasons are concerned, some US courts are woefully corrupt.
THE STORY
Lydia Salce, 50, was a single mother, and an administrator at a Walmart near Albany NY when she met Michael McKee, 42, at a church prayer group. McKee was a biker who had spent time in prison in Florida for arson and robbery. He was there as part of the "church outreach" program.
Salce suffered from low self esteem and a Florence Nightingale complex. When McKee convinced her he had reformed, she agreed to marry and rescue him. But soon afterward, it became clear he was merely exploiting her financially. He quit his job and resumed his biker lifestyle which consisted of drinking non stop at home and carousing at bars until 5 a.m. When Salce demanded a divorce, he grabbed her by the hair and held a knife to her throat. Then he dropped the knife in order to pound her on the head. She picked it up and stabbed him a dozen times to make him stop. Then she called 9-11 and his life was saved.
Here's how
the local media
portrayed the court proceedings. I doubt claims she wanted to murder him. Why would she call 9-11?
BALLSTON SPA -- The heavily tattooed and bearded biker choked back tears on the witness stand as he recounted how his wife muttered, "You're done," while stabbing him more than a dozen times at her Halfmoon home last summer. Michael McKee testified Thursday for the prosecution that Lydia Ann Salce had just told him he needed to choose her or his Prisoners of Fate motorcycle gang.
"I felt a painful stabbing in my back," he said under questioning from Assistant District Attorney Michele Schettino about the attack..."All I could hear at the juncture was 'You're done.'"
....McKee acknowledged to the jury that he had previously pleaded guilty to menacing an ex-girlfriend in Gloversville and in 1996 served prison time for arson and burglary in Florida.
He told jurors that it was during his incarceration that he got the tattoos, including "Trust No One" on his forehead, "SS" for the armed wing of the Nazi party near his eye, "Honor Among Thieves" on his chest and two teardrops. Blumenberg said those "signify in gang language that you killed somebody." "They're just tattoos, and it has a meaning of losing a beloved one," McKee shot back.
....
Assistant District Attorney Michele Schettino said it was Salce, 51
, who exploded in anger and initiated the vicious attack with a 6-inch serrated knife because she longed for him to spend more time with her instead of drinking and partying with his biker buddies.
"We're not going to hear about Michael McKee being husband of the year or even somebody that you might want as part of your family," the prosecutor said, "but that is not what this is all about."
She urged jury "not to judge a book by its cover," noting McKee, who has tattoos, is "somewhat of quiet guy who kept to himself."
"From the moment she walks in to the end of her shift," Schettino said, "she is angry and complaining about her husband, saying, 'We're getting a divorce' and 'It's done. If he's going to keep going out, I'm going to kill him.'"
"In the end, the victim had more than a dozen stab wounds," Schettino said, hours after the jurors decided the case. "The defendant, by contrast, had a black eye and that's about it. It's really hard to get past that."
The victim -- who is a member of either a "motorcycle club," as the prosecution told it, or a "motorcycle gang," as the defense told it -- suffered two punctured lungs and 12 to 14 stab wounds to his head, chest, back, side and thigh, close to the groin.
Schettino brought in witnesses who testified to Salce's growing dissatisfaction with her marriage, including a number of instances in which she told friends she would kill her husband if he didn't stop his late-night drinking with friends.
"She said it to multiple people in multiple locations," Schettino said. "He was going out partying with his friends and she was unhappy because she was being left behind." [Hardly]
During the trial, Salce's public defender, Andrew Blumenberg, pointed to the man's numerous tattoos, including one across his forehead that reads "Trust no one" and one on his back that says "(expletive) the rules."
"Do you think 'the whole truth and nothing but the truth' means anything to him?" Blumenberg asked the jury during his summation.
Blumenberg argued that Salce stabbed her husband to fend off a "beat-down" being administered by the "diabolical, scary dude."
But that's not what the evidence showed, Schettino said. "There were never any photos or medical tests that demonstrated any kind of 'beat-down' or serious injury," she said.
http://www.saratogian.com/general-news/20120706/jury-convicts-lydia-salce-of-second-degree-attempted-murder-after-she-stabbed-her-husband.
MCKEE "SCARED FOR LIFE"
BALLSTON SPA -- Michael McKee told a court he still has many unanswered questions and can't stop thinking about his brush with death at the hands of his wife last year in their Halfmoon home.
"You have mentally and physically scarred me for the rest of my life, but I'm still going to do what I have to do," he said between long pauses Friday before Lydia Ann Salce was sentenced to 16 years behind bars for the crime. "I wish I could lock this away in the back of my head and leave it there."
Saratoga County Judge Jerry Scarano said the evidence ...shows this was a "brutal and vicious knife attack" against McKee that "appears to have been unprovoked."
Scarano also issued a permanent stay-away order of protection that bans Salce, 51, from ever having any contact with McKee, 42.
The defendant told Scarano she wanted to address the court but couldn't because she planned to appeal the sentence. She then thanked him and the people of Saratoga County for their time.
On Friday, McKee talked about "letting his guard down" and said he "became vulnerable again" during the better times in his relationship with Salce. He said he now has put the "shield" back up as a result of the attack.
In asking for the maximum 25-year penalty, Assistant District Attorney Michele Schettino described Salce as an "incredibly dangerous person" who in a pre-sentencing report still refused to accept responsibility.
"When she doesn't like what's going on, what does she do?" asked Schettino. "She resorts to violence and then claims she is the victim."
In 1996, Salce pulled a knife on a College of Saint Rose employee and later pleaded guilty to two second-degree menacing counts in exchange for a sentence of 60 days in jail and 3 years' probation, prosecutors say.
Public Defender Andrew Blumenberg asked the judge for a 5-year prison sentence, arguing that his client "took a big-time beating," from McKee, went to college, has always worked and has a daughter, 12, who needs her.
This appeared in a Comments section:
My name is Colleen O'Keefe. I
was married to a Michael O'Keefe. He talked the talk but didn't walk the walk. He was a biker, con man, probably sociopath and definitely a nasty drunk. This sounds exactly like my x. Please feel free to contact me. Thanks.
My X was a biker. He IS a con man. He had multiple aliases. He stole people's social security cards....If you, or anyone else has any other info it would be appreciated.
---

Related
http://mylifeofcrime.wordpress.com/2014/01/03/psycho-for-love-lydia-ann-salce-tried-to-kill-her-husband-michael-mckee-because-of-his-biker-lifestyle-she-was-sentenced-to-16-years-in-prison/
http://www.investigationdiscovery.com/tv-shows/wives-with-knives/videos/after-knife-lydia-salce.htm