A Christian Goes Public
December 23, 2014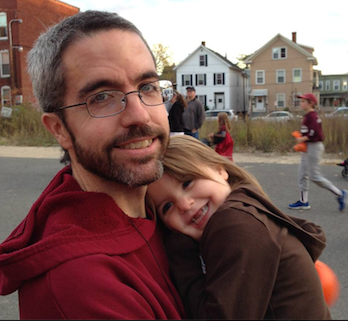 Tim Cronin, 38, left, lives in New Hamphire with his wife and children. He shares his spiritual and political journey with fellow truth seekers, and doesn't conceal his identity.

"I never realized how there was a deliberate attack on Christ and his Kingdom by the Masons and the Cabbalist sect of the Jews. What was a turning point for me was when Obama was pushing to fight the rebels who last year he was supporting against Assad. Since then I've been reading extensively."

(
Editor's Note-
One of my aims is to create a virtual community of people who are aware of what is happening.
We are separated by distance but not in spirit. )

by Timothy Cronin
(henrymakow.com)I was raised nominally Catholic
in Wallingford, Connecticut. My idol growing up was ski racing. I excelled at it and enjoyed winning races. Gradually most the typical activities a child would do fell away. I went to Stratton Mountain High School in Stratton, Vermont where winning ski races was the main focus with an academic backdrop. There was little else to do there.
Being away from my mother allowed me to stop going to Church. Pornagraphic materials were rampant at the school and I took part in it. I also played with a ouija board there. I heard about a ski coach reading a book called
"The Way of the Peaceful Warrior"
and decided to read it myself. It was sort of a new age religious syncretic kind of book.
When I reached my sophomore year, my skiing abilities started plateauing and other racers surpassed me. Ski racing lost its luster when I wasn't winning and I suffered many injuries.
During my junior year I gave up the idolatry of sports and instead focused on sex and women. This became my new idol. In the meantime, I was still spiritually confused. I bought tarot cards and explored Native American spirituality. My new girlfriend became pregnant and I was excited. She however was not. It came down to an argument in a KMart parking lot.
She insisted I support her abortion or the relationship was over. I sacrificed this child to the idol of sex and women. Later the same girlfriend became pregnant again and decided to keep the baby.
I was reading a Taoist book at the time and working at a call center. Despite my spiritual explorations I was disturbed by a coworker wearing a blatantly Christian t-shirt. I started overhearing Christian conversations at work. A coworker named Angela noticed the Taoist book and invited me to explore the Bible with her and her husband Larry. I accepted, repented, and gave my heart to Jesus Christ. I think the sinfulness of the abortion and the grace of another child helped move me towards this moment.
The relationship with my baby's mother ended quickly also. My conversion was part of the reason for the breakup. I returned to the Catholic Church in 2000 after reading a Scott Hahn book called
"A Father Who Keeps His Promises"
. My devout grandmother was dying and I'm sure praying for me.
I joined young adult Catholic groups and explored the faith deeply. Five and a half years later, I met my beautiful Catholic wife and we were married. Combined we have six children (two were hers) and two grandchildren. We've been married eight years. I try to keep Christ at the center of my life.
One of the things Catholicism has taught me is the evangelical counsels. These counsels are poverty, chastity, and obedience. Kent Lasnoski has writings about how these can be applied to married life. These counsels help fight satan's trickery of lust of the eyes, lust of the flesh, and the pride of life. cf. 1 John 2:16
POLITICS
My political leanings prior to returning to the Church were Democratic. Following my conversion, I became a Republican. I delved into different economic, historical, and political theories from Christian viewpoints. For instance I read
"Wealth, Poverty, and Human Destiny"
by David Schindler. The book explored the merits and flaws of capitalism. I also read
"The Unintended Reformation"
by Stephan Gregory which explored the role Protestantism played in the culture from a historical point of view. John Medaille's distributist theories also interested me.
I didn't like Bush's leadership when he went to war in Iraq and I was unhappy with Obama's leadership. I didn't consider a conspiracy however. It wasn't until Obama started talking about attacking the rebels fighting Assad less than a year after he was talking about attacking Assad that I started questioning what was going on here.
For the last six months, I've been exploring and found that what I was fed through the media and textbooks growing up was fraudulent. In World War One, Germany was betrayed by Zionists for Palestine. The economic system is purposely set up by Zionists to fail for their benefit. Money should come into circulation without interest. 9/11 was a Masonic/Zionist/Illuminati inside job. Presidents who try to come off the Federal Reserve such as Lincoln and Kennedy are assassinated. The Bolshevik Revolution was Zionist led. Masons and Zionists largely control finance, media, and governments and are pushing for a naturalistic world order against Christ's Supranational and Supernatural Kingship and the Church. The United Nations is Luciferian while the World Bank is Zionist.
When I tried to share this information with my Catholic friends, I received no reply. When I first realized the level of conspiracy and corruption it was eye opening and disturbing. I'm glad it disturbed me. Truth can both afflict the comfortable and comfort the afflicted. Like realizing our sinfulness, the awakening to the realization of the diabolical conspiracies working against the Truth can be difficult but it is worth the effort of facing it. It is the only way to fight it. We know Truth wins in the end but we are headed towards a very difficult time now.
I learned many things the hard way. The main lesson was that nothing can replace Jesus Christ in one's life and not end in disaster. Until recently I though conspiracy theories were false. If one looks back at the history of the Church though it often recognized the threats of organized naturalism. Pope Leo XIII is a prime example of someone standing up for the Church against the Masonic Jewish conspiracy. Somehow the Church has lost sight of this. Prayer and continual spreading of the truth will hopefully bring her around. I think the Church has to travel the path of her savior to the cross before the final victory.
------
First Comment from JG:
An encouraging article here for the young and old searching for a Christian walk in their lives divorced from the worldly satanic alternatives that lead to self destruction.
As scripture reveals to us, the flesh and the spirit are two different natures.
The fleshly solutions to our problems are only temporal ones. When we feed the flesh we numb the spirit. The flesh dwells in sensuality while the spirit dwells is divine wisdom. The flesh can only be satisfied by what is external and temporal while the spirit is satisfied by what is internal and eternal. As Jesus tells us " the Kingdom of Heaven is within you".
The conflict of mankind comes when we try to intertwine the two natures which are in direct conflict with each other. The result always ends producing a hypocritical character and nature. No one ever saved his soul by way of sex, drugs, or obesity. Salvation is by way of the fruit of the spirit and not the fruits of the flesh and this is why St. Paul tells us to "starve the flesh" along with it's desires.
The Holy Spirit never has and can't dwell too well in a morally corrupt body that is ruled by it's fleshly desires.
Lust is the fruit produced by envy and covetness while the spirit is the fruit of charity and chastity.
I have been blessed to have lived around many great Christians in my lifetime and all of them had put the fleshly desires to death in the end. The intrigue of deceit was no longer with them.