Serendipity
January 20, 2015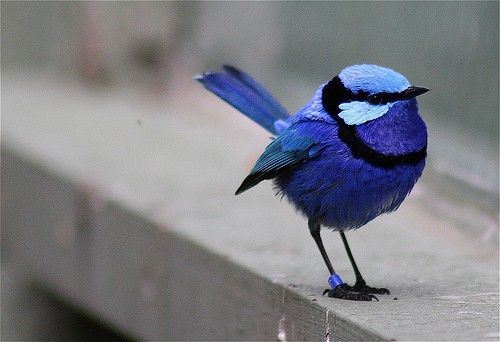 (left, a bluebird lands on your window ledge)
serendipity = "lucky happenstance"
The problem with serendipity
is you can't pick up
a phone and order it.by Henry Makow Ph.D. Serendipity is vernacular
for Grace. Grace is when you experience a kind of bliss through no action of your own. It is undeserved, a gift from God.
It's free!!
I can only think of two specific instances of serendipity.
During the hot summer months here in Manitoba, a friend showed me a swimming hole in a sand quarry.
The water was turquoise and pure. We used to go there with my dog, Raffi. There were usually only a couple of other summer pilgrims there. The place had a charmed quality. Afternoons were blessed.
(This picture reminds me of my quarry)
Of course, special places that fall through the interstices never last. The company that owned the sand pit decided it could not be responsible for people drowning, although no one ever did. They put up NO TRESPASSING signs and NO PARKING signs on the nearby road. That took away the magic and we stopped going. Why couldn't they have simply posted disclaimers:
Swim at your own risk!
?
One of the drawbacks of living in Winnipeg is you have to drive more than an hour to get to a lake. This quarry was only 25 minutes away. It seems that society has a way of stamping out good things that are free.
SUNDAY AFTERNOON
Another example of Serendipity took place Sunday. My wife wanted to see the Salvador Dali exhibit at the Winnipeg Art Gallery. I didn't want to because I regard Dali and modern art in general as a fraud. And it was expensive. Nonetheless my wife was going to see it alone. I went.
The exhibit was a disappointment as predicted. The gallery was crowded and stuffy; the "art" seemed stale and underwhelming. My wife soon tired of it and we visited other exhibits instead.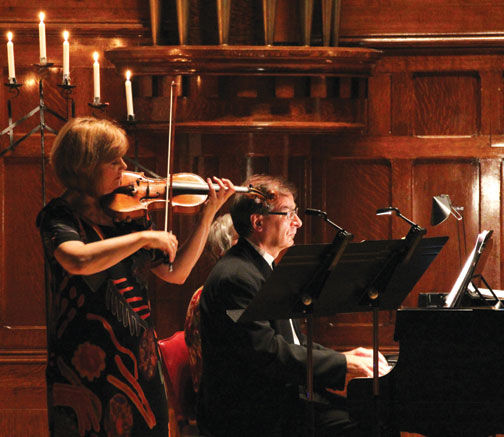 (Moroz and his wife,Gwen Hoebig)
On the way out, I heard music in the distance and was drawn down a passageway to the Gallery's auditorium. There, a lone pianist was rehearsing on stage. He was performing what turned out to be Schubert's
Four Impromtus
op. 142 D935
for a concert that evening. My wife and I sat down at the back of the dark empty auditorium and drank it all in.
I never go to classical symphony but Chamber Music felt more intimate. I was enthralled by the beauty of the music and the virtuosity of the performer. On an overcast, cloudy Sunday, I was transported to a better place.
When the pianist had finished, I thanked him. Turns out he was
David Moroz,
a local boy,
definitely world class.
I may subscribe to the Winnipeg Chamber Music Society.
But this was different from attending a concert.
It was serendipity.
--------------------
From Dan: H
ere's David Moroz. Definitely world class. They don't grow on trees.
Chopin's Nocturne in B Major, Op 62, No 1
https://www.youtube.com/watch?v=2y_IiK6_nGc
-----------------------
I'd like to hear your experiences of serendipity. hmakow @gmail.com 150 words max
----------------------------
Afterthought: On reflection I realize that my life is testament to serendipity. My health and my wonderful wife; my success with Scruples and this website; the peace and prosperity Canada enjoys etc. I don't want to seem ungrateful. I guess I am talking here about small examples of serendipity.
-----------
First Comment from Andrew:
Serendipity is an aptitude for making desirable discoveries by accident. This English noun was in 1754 (but rare before 20c.), coined by Horace Walpole (1717-92) in a letter to Horace Mann (dated Jan. 28); he said he formed it from the Persian fairy tale "The Three Princes of Serendip," whose heroes "were always making discoveries, by accidents and sagacity, of things they were not in quest of." The name is from Serendip, an old name for Ceylon (modern Sri Lanka), from Arabic Sarandib, from Sanskrit Simhaladvipa "Dwelling-Place-of-Lions Island."
The first Monday after Christmas in Old Galveston, I found a Vietnamese restaurant with not only the best food but the most beautiful Ukrainian and Moldavian waitresses. The afternoon was transformed into a feast of the senses.