"Police Brutality" Designed to Divide Blacks and Whites
March 10, 2015
(left -
This audio is found here)
I was taken in by the
"unarmed-black-teenager
-killed-by-a white-policeman" narrative
until E. Michael Jones set me straight.


Latest!
Police React to Shooting of Two Ferguson Policemen During Rally
. Urban warfare beginning?
By Henry Makow Ph.D.
I felt my anger
rising Monday evening as I watched the TV Network News. My sympathies were with
demonstrators protesting the latest shooting
of "an unarmed black teenager" by a white cop.
This time, "Michael Brown" is Tony Robinson, 19, and Ferguson MO is Madison WI.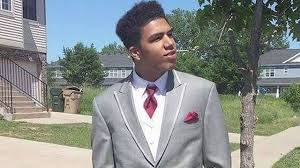 (Left, Tony Robinson in his Sunday best.)
But later I stumbled across an interview with E. Michael Jones that showed me that even someone who considers himself sophisticated in the ways of the Illuminati media can be completely taken in by them.
E. Michael Jones is the author of
The Jewish Revolutionary Spirit
and the Editor of
Culture Wars.
In the interview posted above, he explains that ever since
the Jewish central bankers organized the NAACP in 1909
, they have developed the black population into their "revolutionary vanguard." Their strategy for subjugating the US is to sow division between blacks and whites. (They're doing the same thing by dividing Christians vs. Muslims.)
Jones compares the "Civil Rights Movement" to ISIS in Syria: Illuminati bankers are using indigenous groups as their proxy fighters.
Although the Iranian interviewer is clueless, Jones is able to get his message across. He says the problem is not the cops. It's the fact that Blacks "can't raise their own children."
He says 80% of Black youths are illegitimate. Without paternal discipline, they become petty criminals and antagonize the cops. "That's the real issue." Michael Brown got shot because he went for the policeman's gun. Something similar probably happened in Tony Robinson's case.
(Tony Robinson's mugshot)
As usual, they portray Tony as a model citizen. There's no mention of his conviction for armed robbery.
This article shows exactly how the media is manipulating us.
As one Jones' commenter said, "The country's problems are due to the Jews (i.e. the banker-controlled media) pitting Blacks and Whites against each other."
Jones believes the US government does not represent the people. Americans can't recognize their enemy, and can't mention him when they do.
Blacks and whites and ordinary Jews like myself need to unite against the central bankers and their myriad lackeys in government and media.
I was taken in. I quickly forgot that the policeman was probably a beloved husband, father and a good man. I felt hate for him.
That shows the power of the Illuminati media. I won't be taken in again. Thank you Michael Jones.
----------------------------------------------
Related
- E. Michael Jones -
The Goy Guide to World History

--------------
Media Glosses Over Crime-Race Relationship?
First Comment from Dan:

This a is world wide psyop. This compilation video of world news with this
modus operandi
will be self explanatory for everyone. This viewer juxtaposed "unarmed black teenage" shooting stories in the US and LONDON. Same script, same action, even the same TV speech given by Obama was parroted by the British head of the Home Office.
The Unarmed Teenager: Psychological Operations