My Crusade Against Psychiatry
August 26, 2015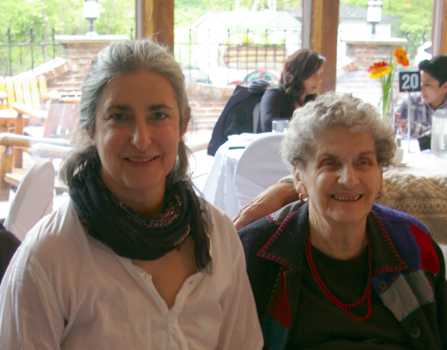 (left. Katherine Jaconello of Toronto, with her mother on Mother's Day, 2013)
Some people suffer a grievous injustice
from the State. The injury inspires a lifelong mission to correct the injustice. Katherine Jaconello describes her crusade against the mental health establishment.
by Katherine Jaconello
(henrymakow.com)
In 2000, my mother was hospitalized, and then involuntarily committed -- all because she had a dream of suicide while drugged!!
My mother had no history of psychiatric care. She was the main caregiver of my sick and elderly father. Her family doctor gave her a sleeping pill when she had pneumonia and she had side effects - a palpitating heart.
At the local hospital emergency, she was diagnosed with anxiety. She had NO SUICIDAL IDEATION. Not until doctors dosed her with the anaesthetic, chloral hydrate - contraindicated in elderly people with gastric problems like my Mom had.
She was held for five days until she finally had a dream of killing herself. Then the Dufferin County Mental Health jumped into action. While she was delirious, they did a 15-page mental health assessment, committed her to a mental asylum while she was in the hospital.
That left my ill father without any help at home, plus he was in shock.
After I raised hell, they let her go home as long as she attended the Dufferin County Mental Health office in two days. There, a doctor repeatedly pointed an index finger in her face and demanded to know if she wanted to kill herself.
She was finally told to be at Homewood Psychiatric Hospital by 9 pm or the Ontario Provincial Police would come and seize her in front of her neighbours.
ASSAULT BY STATE PSYCHIATRY
What followed was a tragic series of events that fractured our family for some years, maybe forever, but I did succeed in springing her from that mental hospital.
My mother entered a hospital with a simple side effect of a sleeping pill and was drugged with hypnotics for five days to induce a dream. This is called "Incubation." Since that dream was of suicide, they had grounds to involuntarily commit her. Exactly how is removing her human rights and committing her to lock-up with drug addicts and 24 hour light part of a "journey to wellness"?
The mind-boggling fact is that this occult secret society has recruited the whole of society into its fold. They have united the entire population into the fixed idea that psychiatry has a solution.
We have $50 million invested in "mental health" in 2005 in Ontario alone; 10 ministries, 440 children's mental health agencies, 330 community agencies, 150 addiction agencies and 50 problem gambling centres, involved in delivering "mental health" services".
They have succeeded in getting 33% of our population in Canada hooked on antidepressant drugs that cause homicide and suicide.
TODAY
Today, my mother is 94. She lives independently in a retirement home near me. She takes no medication. She walks every day and cheers a lot of people up. I will not allow her to ever see a medical doctor alone.
After her ordeal, she could not sleep for one minute at night because she had been drugged. It was terrible. She had the delirium tremens and would be hovering over me when I woke up in the morning. I took care of her and my dad.
In that time, the family doctor sent a registered letter expelling both my parents from her practice because I was interfering with her "care". The doctor never once called us. The College of Physicians and the Health Review Board both said the doctors were right. The complaints I made trailed on for 13 years.
I am trying to wake people up to the fact that such a debacle could happen to them. When that happened, I was told by everyone that my mother was finished. She was 79. I did not accept that. I encouraged her along for about 9 months. She finally called me one day just before her 80th birthday and told me she was well again.
Psychiatry is a fraud. Medicine is an industrial complex that cares nothing about the Hippocratic Oath. "Mental illness", suicide and the need for psychiatric services is being cooked up for obscene profit. It is criminal use of public money.
------
New First Comment by Dan
Modern 'mental health services' can seem like a bit of a racket, because it's bent into the shape that it's in by the pharmaceutical combine.
Modern counselling has never has more than 2% success rate, which happens to be the same success rate among the demographic that have gone through disorders or depression and get over it without 'treatment'.
Since drugs achieve 10% 'success' rate, since the 80's the counsellor's job is little more than matching a diagnosis code from the DSM-IV manual to the client, and writing a prescriptions for the indicated 'meds': ranging from the relatively light serotonin re-uptake inhibitors like Zoloft, to heavy duty brain numbing psychotropics like Thorazine.
My advice for people that feel capable of handling their own lives is to watch out for the questionnaire routinely presented by family doctors, employers, or schools, which are supposed to screen for depression. Be very careful of your answers.
Nursing homes can be especially risky as this daughter and mother learned. I don't blame the staff necessarily. It's the system. The same thing described in this article happened when I was my grandmother's legal guardian 30 years ago.
In the case of elder parents, a committed advocate is usually enough to keep the wolves at bay.