Modern Turkey: a secret Zionist state controlled by the Dönmeh
November 29, 2015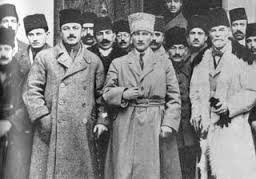 (left. Kemal Ataturk, making Masonic sign, and the crypto Jews
called Donmeh who control Turkey)
Turkey's support of ISIS is more understandable
if we recall Wayne Madsen's 2011 explanation
that
Turkey is run by secret Jews and serves the
Zionist goal of a greater Israel. Like Bolsheviks and Zionists,
the Donmeh are Illuminati i.e Satanists, Freemasons.
Be sure to also read, How the Illuminati Terrorize & Control Turkey by a Turkish dissident (link below)
by Wayne Madsen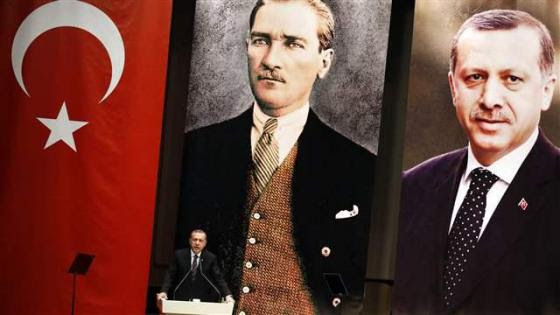 Although known to historians and religious experts, the centuries-old political and economic influence of a group known in Turkish as the "Dönmeh" is only beginning to cross the lips of Turks, Arabs, and Israelis who have been reluctant to discuss the presence in Turkey and elsewhere of a sect of Turks descended from a group of Sephardic Jews who were expelled from Spain during the Spanish Inquisition in the 16th and 17th centuries.
These Jewish refugees from Spain were welcomed to settle in the Ottoman Empire and over the years they converted to a mystical sect of Islam that eventually mixed Jewish Kabbala and Islamic Sufi semi-mystical beliefs into a sect that eventually championed secularism in post-Ottoman Turkey. It is interesting that "Dönmeh" not only refers to the Jewish "untrustworthy converts" to Islam in Turkey but it is also a derogatory Turkish word for a transvestite, or someone who is claiming to be someone they are not.
The Donmeh sect of Judaism was founded in the 17th century by Rabbi Sabbatai Zevi, a Kabbalist who believed he was the Messiah but was forced to convert to Islam by Sultan Mehmet IV, the Ottoman ruler. Many of the rabbi's followers, known as Sabbateans, but also "crypto-Jews," publicly proclaimed their Islamic faith but secretly practiced their hybrid form of Judaism, which was unrecognized by mainstream Jewish rabbinical authorities. Because it was against their beliefs to marry outside their sect, the Dönmeh created a rather secretive sub-societal clan.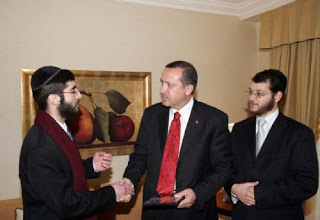 Many Dönmeh, along with traditional Jews, became powerful political and business leaders in Salonica. It was this core group of Dönmeh, which organized the secret Young Turks, also known as the Committee of Union and Progress, the secularists who deposed Ottoman Sultan Abdulhamid II in the 1908 revolution, proclaimed the post-Ottoman Republic of Turkey after World War I, and who instituted a campaign that stripped Turkey of much of its Islamic identity after the fall of the Ottomans.
Abdulhamid II was vilified by the Young Turks as a tyrant, but his only real crime appears to have been to refuse to meet Zionist leader Theodore Herzl during a visit to Constantinople in 1901 and reject Zionist and Dönmeh offers of money in return for the Zionists to be granted control of Jerusalem.
Like other leaders who have crossed the Zionists, Sultan Adulhamid II appears to have sealed his fate with the Dönmeh with this statement to his Ottoman court: "Advise Dr. Herzl not to take any further steps in his project. I cannot give away even a handful of the soil of this land for it is not my own, it belongs to the entire Islamic nation. The Islamic nation fought jihad for the sake of this land and had watered it with their blood. The Jews may keep their money and millions. If the Islamic Khalifate state is one day destroyed then they will be able to take Palestine without a price! But while I am alive, I would rather push a sword into my body than see the land of Palestine cut and given away from the Islamic state."
After his ouster by Ataturk's Young Turk Dönmeh in 1908, Abdulhamid II was jailed in the Donmeh citadel of Salonica. He died in Constantinople in 1918, three years after Ibn Saud agreed to a Jewish homeland in Palestine and one year after Lord Balfour deeded Palestine away to the Zionists in his letter to Baron Rothschild.

One of the Young Turk leaders in Salonica was Mustafa Kemal Ataturk, the founder of the Republic of Turkey.
Some texts suggest that the Dönmeh numbered no more than 150,000 and were mainly found in the army, government, and business. However, other experts suggest that the Dönmeh may have represented 1.5 million Turks and were even more powerful than believed by many and extended to every facet of Turkish life.
It was Ataturk's and the Young Turks' support for Zionism, the creation of a Jewish homeland in Palestine, after World War I and during Nazi rule in Europe that endeared Turkey to Israel and vice versa.
ZIONIST GENOCIDE OF ARMENIANS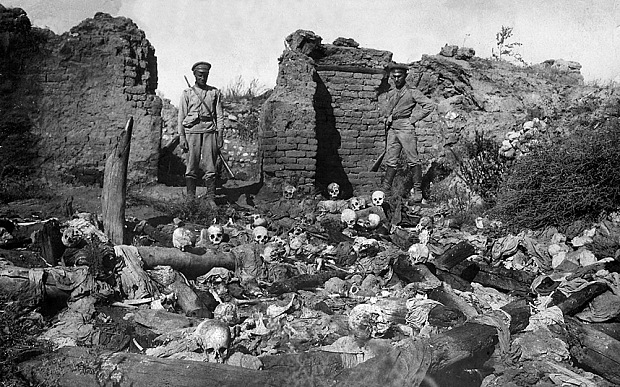 Israel has always been reluctant to describe the Turkish massacre of the Armenians by the Turks in 1915 as "genocide." It has always been believed that the reason for Israel's reticence was not to upset Israel's close military and diplomatic ties with Turkey.
However, more evidence is being uncovered that
the Armenian genocide
was largely the work of the Dönmeh leadership of the Young Turks. Historians like Ahmed Refik, who served as an intelligence officer in the Ottoman army, averred that it was the aim of the Young Turks to destroy the Armenians, who were mostly Christian. The Young Turks, under Ataturk's direction, also expelled Greek Christians from Turkish cities and attempted to commit a smaller-scale genocide of the Assyrians, who were also mainly Christian.
The Dönmeh leadership of the Young Turks not only murdered hundreds of thousands of Armenians and Assyrians but also stamped out Turkey's traditional Muslim customs and ways. Knowledge that it was Dönmeh, in a natural alliance with the Zionists of Europe, who were responsible for the deaths of Armenian and Assyrian Christians, expulsion from Turkey of Greek Orthodox Christians, and the cultural and religious eradication of Turkish Islamic traditions, would issue forth in the region a new reality. Rather than Greek and Turkish Cypriots living on a divided island, Armenians holding a vendetta against the Turks, and Greeks and Turks feuding over territory, all the peoples attacked by the Dönmeh would realize that they had a common foe that was their actual persecutor.