Vatican Arrests Portend New Banking Scandal
November 3, 2015
Spanish monsignor Lucio Angel Vallejo Balda, 54, Secretary of the Prefecture for the Economic Affairs of the Holy See and Italian PR woman Francesca Immacolata Chaouqui, 33, were
arrested for leaking incendiary information.
Close to Pope Francis,
they had been assigned to investigate and reform the Vatican banking system.
Vatican desperate to stop publications of books containing leaked information.
by Leo Zagami
(henrymakow.com)
La Stampa reported Monday: "Spanish monsignor Lucio Angel Vallejo Balda, 54, Secretary of the Prefecture for the Economic Affairs of the Holy See and Italian PR woman Francesca Immacolata Chaouqui, 33, are under arrest in the Vatican."

Behind this arrest is an ongoing war between the more conservative factions of the Opus Dei and the Jesuits. The two people arrested were Opus Dei members openly working in the diplomatic field for one of their most prominent figures Countess Marisa Pinto Olori of Poggio, ambassador of the small Republic of San Marino and Black Nobility member. She is animator of the club, Diplomatia, founded by none other then financier, JP Morgan and active in international relations.
In 2013, Pope Francis instituted a
Pontifical Commission on the The Vatican Bank
, the infamous IOR, chaired by Cardinal Raffaele Farina.
He chose its members from his inner circle, including the arrested Francesca Immacolata Chaouqui.
She was considered a controversial choice for her Twitter posts, where she stated once that Benedict XVI had "leukemia."
In Feb 2012, she attacked Cardinal Tarcisio Bertone, Vatican Secretary of State writing: "Bertone is corrupt! There seems to be secret archives and a company from Veneto involved."
Her nomination was due to her special friendship with Mgr. Lucio Angel Vallejo Balda. She is a protege of
Senator Giulio Andreotti
(1919-2013), said to be the illegitimate son of a Pope, and the 41st Prime Minister of Italy. He is accused of having had ties with the Mafia in the 90's. He is a member of many Vatican Knighthood Orders, and was the Grand Master of a NATO supported secret society called RING.
VATICAN DESPERATE
Francesca Immacolata Chaouqui, who is apparently pregnant, was released after only one night because she is said to have collaborated with investigators, telling the media she tried to stop Mgr Balda.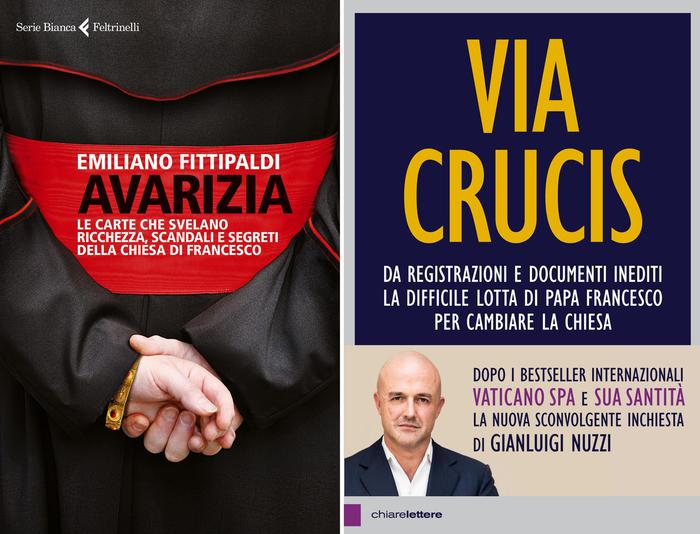 The confidential documents have served as the basis of two upcoming books, left. The Vatican is desperate to stop the release of these books, taking legal action against the publishers and the investigative journalists involved.
Balda and Chaouqui who are obviously being used in some way by the traditional faction internal to the Vatican, to oppose Bergoglio, seem to have acted in an act of revenge because they felt used and left out after the Commissions work was terminated.
Two books based on these documents are due on the 5th and the 9th of November 2015. They are"Avarice," by journalist Emiliano Fittipaldi, of Italian news magazine L'Espresso and " Via Crucis", by Italian journalist Gianluigi Nuzzi; whose 2012 book, "His Holiness", was based on the leaked documents he received from the Pope's butler. The new book is being published in 7 different languages in 23 countries.
The Vatican is trying to stop the release of these two books. The problem now is will they manage to censor them as in the good old days of the Inquisition, or will new scandal erupt?
"Avarice" is shocking Italy
by revealing that former Vatican Secretary of State ,Cardinal Bertone's 700-square meter luxurious penthouse was constructed with the money sent for the Children's Hospital of the
Bambino Gesù.
In the meantime, the two informants are facing 8 years of prison behind the Vatican walls. The Pope is fully endorsing this unprecedented action due to the gravity of having such classified information coming out in the open, and the possibility it could further damage the Church, already in a precarious state.
-----
Leo Lyon Zagami is an Italian-based geopolitical researcher and the author of nine books.
These discoveries are part of a special investigative report he will give on Radio Rock (Link:http://www.radiorock.it/ ) at 9 am on the 4th of November 2015 that will demonstrate how Pope Ratzinger, JP Morgan and Opus Dei are behind this latest scandal in the Vatican. Zagami's latest book Pope Francis: The Last Pope? reveals the money, Masonry and occultism behind the decline of the Catholic Church.
First Comment by Dan:
I just heard of this news yesterday. Balda and Chaouqui are Opus Dei. I had been wondering ever since it became clear that Bergoglio is an Antipope, whether Opus Dei genuflects for him as they did for Benedict and John Paul II.
Opus Dei was opposed since it's inception by the Jesuits, until John Paul II took them under his personal protection.
They remained protected until Ratzinger's health faltered and he was forced out out power.
I now wonder something I hadn't wondered since 2013. Everybody think back: media hounded the Benedict's Roman Church with daily attacks. But when their boy Francis they treat him like the Second Coming. Look - none of the old scandals have been resolved. NONE. That's media. Whatever Benedict XVI was guilty of covering up, Francis has also been covering up for two and a half years. What happened to media's urgent concern to bring boy raping priests to justice? On the contrary, Francis and media have changed the channel to celebrate the 'gift of gay'. No. There's been enough time to shed any doubt that the ouster of Benedict XVI was a coup d'etat.
Think back to January 2012 and the 'Butler's scandal' that became known as VATILEAKS or the Vatican Leaks Scandal. Recall that Benedict assigned three of his most trusted Cardinals to gather a dossier of crimes of their enemies (the Gay Lobby) that weren't entangled with self damning booby traps. You see the way political blackmail operations work is everybody has to have some dirt that they can expose on factions that would expose them... a form of 'mutual assured destruction' (MAD).) I now believe that Benedict really had decided to go for broke and go after them. Unfortunately his health failed him.
And it's not over yet, not entirely. Unfortunately, the Novus Orbis Ordo (NWO) has the full weight of 'world media' behind it. But I'm going to file it under "Return of the Jedi" anyway.