Famous "Rabbi Finkelstein" Interview is a Jewish Psy Op
December 20, 2015
left, Kenneth Feinberg, who was in charge of bribing families of victims of 9-11. His picture is used for "Abraham Finkelstein."
The Rabbi Finkelstein interview is often cited as proof of the Jewish Conspiracy, but some consider it a hoax because of a ridiculous claim that Jews grind goy children into hamburgers. It is a hoax, but not one by Patriots as you might imagine. It's a Jewish hoax to discredit genuine revelations like The Protocols of Zion and The Hidden Tyranny.
"Yes, a minority of Satanists -- Jews and non-Jews -- do indulge in human ritual sacrifice but to say that each year after Passover, Gentile babies
become part of McDonald's
supply chain
is ridiculous. "
by Henry Makow Ph.D.
The interview between "Rabbi Abraham Finkelstein" and white nationalist pastor James Wickstrom has been a curious part of the "Jewish Conspiracy" scene since roughly 2004.
I have avoided it because the claim that Jews were using Gentile children in hamburger meat, hotdogs and sausages seemed just too outlandish to be credible. At the 40 min. and again at the 53 min mark, "Finkelstein" claims that for thousands of years Jews have been
grinding up Gentile children and feeding them to the goyim while reserving their blood for their religious rituals.
"Every year at Passover, between one hundred and 300,000 children go missing. We always eat the blood of our enemies, while we have the goyim eat their own children," he says.
The rest of the interview confirms every cliche about the Jewish Conspiracy, most of which are also true. The outlandish claims about eating the children are designed to ridicule, parody and discredit the grim reality of Satanic Jewish colonization of the planet which Finkelstein ably describes.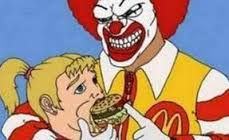 Yes, a minority of Satanists -- Jews and non-Jews -- do indulge in human ritual sacrifice but to say that after Passover, Gentile babies
become part of McDonald's
supply chain
is ridiculous.
HOAX
The proof that this interview is a hoax designed to discredit authentic revelations of the Jewish Conspiracy is as follows:
1. "Rabbi Abraham Finkelstein" doesn't exist. The picture used in this connection is
Kenneth Feinberg.
2. "Finkelstein" is connected with
"The Plymouth Rock Institute of Research."
Their
website
informs us that the founder "Irving Goldblum" is the President of "Naughty Shiksa Enterprises." His assistant is a very sexy
and presumably naughty shiksa,

Senior Fellow Aaron Cohen (also Kenneth Feinberg) was former chair of "
the Jewish Endowment for World Dominance (JEWD)."
S
hlomo Sheinmann, Senior Fellow. is a member of the AK-47s for Settlers Fund and "The Committee to End Arab Domminance (sic) of the American Media."
THE INTERVIEW
Apart from the hamburger claim, the interview is largely credible. It reminds me of the Harold Rosenthal interview The Hidden Tyranny (1976) which some believe is also a hoax. In my view, the truth is never a hoax; Rosenthal's every word is true. The present world is the proof.
The same applies to Finkelstein who said many things in 2004 which are being realized today.
He said the best way Jews have to "cull the herd" is to get goyim to kill each other. The Iraq war pits Christians against Arabs. Like all wars, it is very profitable for the bankers who own the "defence" contractors.
Finkelstein repeats Rosenthal's confession that "Jews don't know this but their God is Lucifer" which is true. He repeats Rosenthal's admission that he can be candid because it's too late for the white race, (i.e. Americans) to reclaim their future.
Finkelstein stated in 2004 that immigration and miscegenation are designed to destroy the white race; feminism and homosexuality ensure whites don't propagate.
He says it's "easy to take over a government if you're the bank." The politicians are perverts and bribe-takers. Goyim are a "bunch of schleppers" who want to be controlled. "We give them what they want."
On the other hand, Finkelstein allows some of Pastor Wickstrom's false claims to go unchallenged which discredits both men. For example, Wickstrom claims no Jews died on 9-11 which is ridiculous; that there were only 3.5 million Jews in prewar Europe (almost that many in Poland alone); that Jews don't work hard, which is also untrue.
The interview naturally inspires a lot of hatred for Jews but most Jews do not share Finkelstein's view. The pastor asked the rabbi if all the Jews were in on the conspiracy. Finkelstein implied that only those who attended
synagogue were kept "informed."
I doubt if this is true but even if it were, less than a third of US Jews attend a synagogue.
The bottom line is that the Jewish Conspiracy is real but the majority of Jews aren't aware of it. Yes they see things going their way but they don't have
the big picture
.
Judaism is a satanic cult like Freemasonry, which is patterned on Judaism. The rank and file are kept in the dark better to be manipulated. People are more effective as tools when they sincerely believe a lie.
Patriots etc. would do better to focus on those Jews and Freemasons who are initiated and actively advancing the NWO agenda, i.e. the perverts and bribe-takers. But the aggrieved are the first to victimize the innocent, whether they be Jew or Muslim. They are too cowardly to confront the guilty because the guilty are powerful.
In conclusion, the Finkelstein interview is a Jewish hoax designed to discredit genuine revelations of the Jewish Conspiracy like the Protocols of Zion and The Hidden Tyranny. The point: Finkelstein's claim about human hamburgers make the idea of a Jewish Conspiracy seem absurd.
-------
First Comment by John E
I'm surprised you're skeptical that infant victims of SRA are being ground into hamburger after all the related material you've published. There was a story in the news fairly recently in Hampstead UK where the young survivors speak of a secret kitchen in the local MacDonald's - they even name it - where sacrificed babies were cooked. The original video was pulled from YouTube. This one remains, for now:
https://www.youtube.com/watch?v=Cuvs6IosFio
Of course, the courts determined it was all a hoax:
http://www.spiked-online.com/newsite/article/the-hampstead-cult-that-wasnt-the-satanic-panic-revisited/16802#.VnejhFLwD_c
There are other accounts of eating babies in SRA:
https://www.youtube.com/watch?v=ws2GDT0Xr78
There's value in censoring ourselves to a point. A psychological block goes up when horrible truths are asserted. But that video is suspect for more reasons than the baby hamburger comments. I don't think your judgement was warranted on this known practice in SRA.
-----
John, There is a difference between Satanists eating it and feeding it to the masses. -H