Afrikaner Exile Seethes With Indignation
December 19, 2015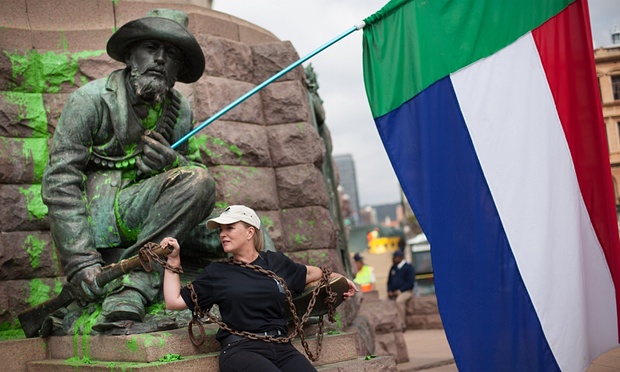 In April, South African singer Sunette Bridges chained herself to the statue of former Boer leader Paul Kruger, known as the father of the Afrikaner nation, in Pretoria to protest against calls for its removal.
Agnes de Jong looks back at her beloved homeland ruined by incompetent corrupt Black Communists imposed by Illuminati Jewish bankers. As these bankers sponsor the migrants overrunning Europe, will white nationalists meet the same fate as Afrikaners?

There are about 2.7 million
Afrikaners
in South Africa. Dutch in origin, they are the original settlers of South Africa.
by Agnes de Jong
(henrymakow.com)
Very sorry for the delay; it is usually a busy time of the year now. We try to send a few parcels to our relatives in South Africa.
Most of my family use to be of the middle class, but are now impoverished. The world organizations help the poor Blacks, but not the poor Europeans. One of my brothers lost his bank job because of affirmative action. He has been unemployed now for 4 - 6 years ( can't get a job) and he has a wife to support. Fortunately they don't have children. Many European young people in South Africa decided not to have children, because of the dire situation in South Africa today. Many Europeans, esp. young people, loose their jobs to the Blacks or they cannot find work even with degrees. The ones with qualifications like us, emigrate. 95 percent of South Africans who live overseas, will return if it was not for the mess in South Africa - we love Africa!
Yes, you will find
Whites that are rich or well off
mostly amongst the Jews and the English, apart from the Blacks. Lots of British rich retire in South Africa today as if South Africa belongs to them. They enriched themselves in England with the resources of other countries, including South Africa; now they see how much more they can get out of South Africa. (South Africa has one of the healthiest climates in the world).
All systems are rundown. Nothing is functioning any more. Blacks are running all city and district councils and most towns are bankrupt. In some places the Whites pull together and work and finance their own services and systems.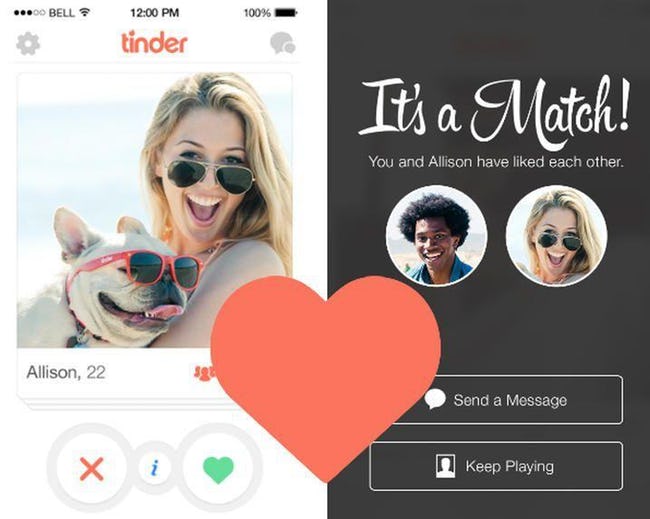 There is a town, called Orania, in South Africa, where some Whites built themselves a community of decent, upright people, with zero crime and full employment. They make their own decent rules and laws. Outsiders would call it an 'apartheid' town, but everything there works. People feel safe and everyone is happy. Pity not every South African can live in such an utopia. All races are welcome to visit.
(See documentary)
EDUCATION
What concerns tertiary education, Black students only need to have 70 percent for school end exams to be admitted to study Medicine at university. Europeans need 90 percent. The daughter of one of our Afrikaans friends got 93 percent for 13 subjects in her last year at school, but she was not allowed to study Medicine.
Another's son wanted to do physiotherapy, but did not get in. Obviously a lot of Jewish, Indian, English and Black children get in for whatever they want to do, because they are part of the money elite. The Black students are also admitted for being Black and 'underprivileged'. Long before Mandela came to power, some Blacks became millionaires by exploiting their own people. They had for example 'shabeens'( illegal) on the streets that brew their own 'dangerous' alcohol.
A Black man from one tribe will not work for or give work to one of another tribe. They very seldom mix. Many Blacks said they rather work for a European boss than for one of their own - they are harsh on their own people. But they are beguiled today by the money and power that is theirs (parvenus) at the cost of so many of their own poor and the Afrikaners and other Europeans. What they do not realize is that the riches come at a price - the selling of their soul. The Black people are easily influenced like children and they get led by their noses by the elite. No consideration for others, only their own desires and 'entitlement' count.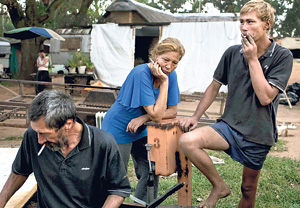 AFRIKANER SQUATTERS
Quite a few Afrikaners lost everything and live today in squatter camps with not even the bare necessities. Fortunately the Afrikaners have always looked after one another and there is a helping hand, but you can give so much and not more. I'm glad we could help them when my in laws died. Apart from keeping a few things for ourselves and selling a few other things, we could give them the rest of the household. They are thankful for anything; not like the refugees in Europe today who just demand! Something tells me there is no more room for decent, upright people with compassion in the world today! Money greed brings out the most ugly in us. You might laugh, but to the Afrikaner (staunch protestant) in the past, it was a sin to make a profit in business! If they could see the 'profits' that are made today!
LITERATURE
On the literary scene, Afrikaans authors were excluded from prizes. It only went to Jews, the English and Native South Africans. Only in 2003 did J.M. Coetzee managed to win the Nobel Prize for literature. Like quite a few liberal Afrikaners, who try to count with the degrading English, he only got it because his works that portray an anti-apartheid face.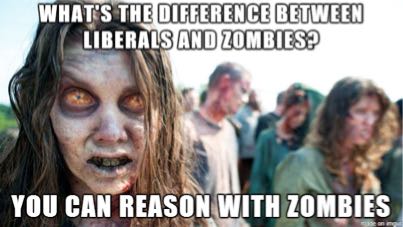 In other words, the Afrikaners who dance to the money and 'cool' tune of the money elite, are recognized and land themselves jobs. The indoctrinated English and Jews have always looked down upon us. A laureate nobel prize winner, Jewess author Nadine Gordimer (1923-2014) left, degraded the Afrikaner in her books, because she had a too high opinion of herself and thought she understood the political situation in South Africa ( She joined the Communist Party). She was a neurotic person who was totally possessed by sexual desires.
Like conservative Germans, we have no say in the world, because we dared to stand up to the Masonic Jewish British. How many people in how many nations were killed by the British in the day of the British Empire? I don't want to know. Just look at all the nations' flags that contain the Union Jack and you will see which were occupied by Mother England. Millions died in India of famine on the English watch, apart from all the massacres and the violence that broke out when the division of India took place. Thousands were displaced and killed. Communism was a Jewish invention (world elite initiated). 66 million people, esp. Christians, were slaughtered in Russia and Eastern Europe under Jewish-led communism.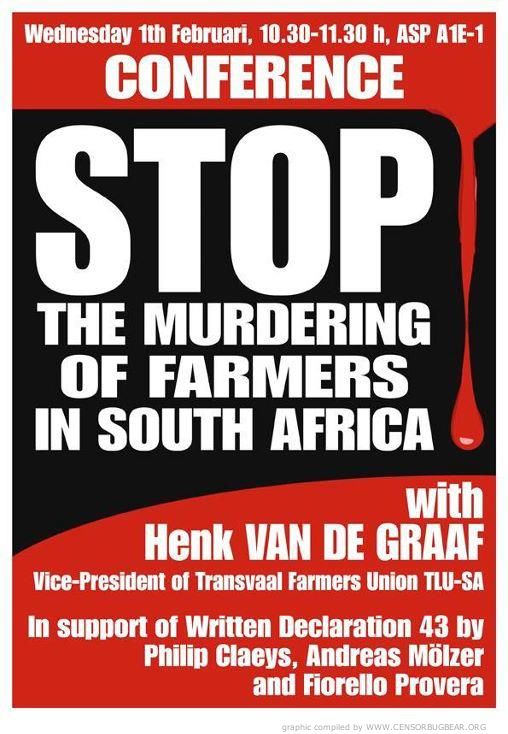 FARMERS
Another tactic of the South African police criminals is to provoke White farmers to try and put the blame for misdeeds on them. They imprison them then so that they can torture and rape them. One of our Afrikaans friends in South Africa is a lawyer who tries to get the guys out before anything can be done to them. In one case, the court set a farmer free. They could not find evidence of his guilt. And instead of setting him free, the police took him to prison for the weekend (obviously to be tortured). Our friend contacted the Judge of the High Court who eventually set him free.
LANGUAGE
People whose home language is English, do not understand what it is to have their language been taken away from them or forbidden to speak it. The British pushed their language down every nation's throat and prevented the natives from using their own language.
In New Zealand they forbid the Maoris to speak Maori. Most Maoris today do not know their own language. It is only coming back at school now and is learnt as a second language.
In South Africa, the British literally tried to crush Afrikaans. We had a severe struggle to keep our language. When the battle against apartheid started, the troublemakers (world rulers in South Africa) indoctrinated the Black people to hate everything that is associated with the Afrikaner, including his language.
My husband and I still speak Afrikaans to each other and our children to keep it up - it is our identity! The Whites in South Africa never took the Blacks' languages and culture away from them. In fact, we have a sincere appreciation for their culture, literature and art.
SUICIDE RATE
Because of losing their jobs, many people see no way out. It is esp. the young people - White males stand last in the queue for jobs. First, they take Black women, then Black men, then White women and lastly White males (in the tradtional system and Afrikaner society the actual breadwinners of the family) in employment. Therefore, many White men kill themselves. In extreme cases, the father took out his whole family, before committing suicide ( family annihilations). They reason if the breadwinner dies, the rest of the family is stranded with no future. Many happened in South Africa a few years back.
In the past it was almost unheard of that Black people kill themselves, but since the Black government took over, disillusioned young Blacks are more prone to commit suicide. It is esp. bad amongst Black policemen. They are not in an enviable position today. The Black criminals coerce them and their families to cooperate with the thugs. So, they either become criminals themselves or they die. There is no law and order. It is so bad, that civilians sometimes take the law into their own hands. My brother-in-law was killed by a stray bullet by a man that shot after a thief stealing his car. The new Wild West! The rich do not feel it, because they are fenced in with vicious watch dogs, alarm systems and bodyguards.
They pay for their apartheid and immunity against crime. ( I believe all Mafias, Crime gangs and groups are linked today with one another in some way and with the governments of nations, money elite and bank families. The corporates are so interconnected, it looks like a plate of spaghetti right across the world). Most ordinary families in South Africa have been touched by the violence in some way or other - attacked, tortured, shot, raped, being robbed or killed.
------
First Comment from Dan:
I was moved reading Agnes de Jong's story. Let me say to her that I regret letting myself be conned with all my American college classmates about Afrikaners and the Boers during the massive propaganda blitz against them back in the late 1970's. We didn't have Internet of course. I always tried to learn the full story on issues back then from the library, but every book about the situation in South Africa was skewed to paint the picture of Afrikaners as "white supremacist" colonial pirates governed by a white male "Patriarchy" fascist regime that didn't deserve any sympathy. Hollywood also produced a number of dramatic films and TV miniseries to underscore this unilateral presentation.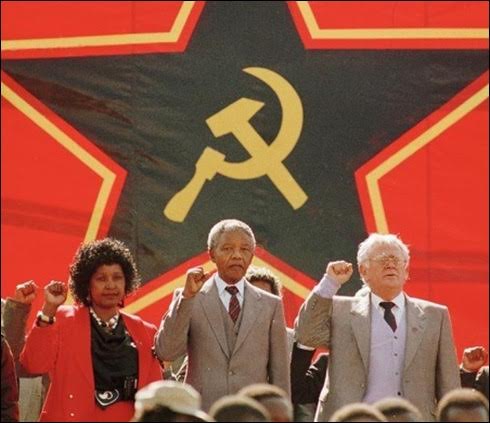 (l.
Mandela, his murdering wife, and his Jewish handler Yossel 'Joe' Slovo in Moscow)
Our media and politicians didn't tell us that Mandela hadn't been in prison for 'civil disobedience' though they missed no chance to make us assume that was the case. On American TV Mandela was marketed as from the same mould as Mahatma Gandhi and Martin Luther King.
Imagine my shock to discover - after he'd gotten the Noble 'Peace' Prize that the black front man for a clique of professional terrorists of the South African Communist Party, lurking behind the African National Congress. The others were Denis Goldberg, Rusty Bernstein, Harold Wolpe and Joe Slovo. CBS never mentioned those names. They never mentioned that the reason he was held in prison for 27 years was for running a terrorist organization responsible for blowing up school buses. The radio never played the anthem of his organization - the MK. The one that goes like this:
"We the members of the Umkhonto have pledged ourselves to kill them! -- kill the whites!"
So to Agnes de Jong, I say I'm sorry. I'm sorry for the Afrikans and the Boers, and sorry for Americans.
We were naive enough to trust our media, movie and publishing industries to tell us the truth, the whole truth, and nothing but the truth.
But hey, now South Africa has a 'sophisticated retail sector' - just like America. So differently the same.