Obama Preaches Tolerance While Inciting Hatred
December 15, 2015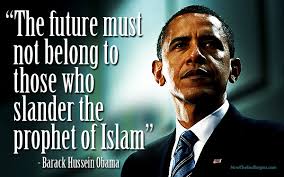 Obama Doublespeak; What's his Game?
Obama funds ISIS and blames false flags on "radical Islam" while defending Islam at the same time?

(Disclaimer: Radical Islamic terror is a CIA-MI 6- Mossad creation. I disagree with Mathew B about Islam and don't think polygamy, which I am against, disqualifies Mohammed. Nevertheless, Mathew raises an important question. What is Obama's, (i.e. the Masonic Jewish) game? They want to create an imaginary threat, while at the same time divide Americans by making some react fearfully while making others condemn this reaction as "intolerant." It's a mind game to sow division and confusion.)


by Mathew B
(henrymakow.com)

Obama and the mainstream media ALREADY play a masterful game of 'double speak' when it comes to Islam. They are very careful to add 'radical' in front of terrorist every time the word is mentioned, to ensure the masses don't associate terrorism with the real Muslim faith, lulling us into a continued sense of complacency toward the Muslim religion and Muslim immigration as a whole.

Remember, we're talking about a religious and political ideology here, NOT a racial ethnicity.


This doublespeak trick is part of the game of divide and conquer, from the top down. Bring the Muslims in and deliberately stir them up. Then use the fires caused to justify additional totalitarian laws for our 'safety', whether legitimate attacks or false flags, is irrelevant, while continuing to praise and defend the 'true' Islamic faith.

Again, I'm aware of the role the Jews and Masons are playing in this at the highest levels. But I also know Islam is a radical religion in and of itself. Yes, there are 'sects' of Islam that have excluded the radical elements of their faith based on the intuition of the human soul, and do practice their faith more like Christians than Muslims. But the fact remains that they've excluded these radical elements in spite of their faith, not because of it.

One example, Muhammed was a polygamist and Islam justifies polygamy. On this basis alone we can see Islam is a false religion. Christ was clear in the NT scriptures, one man and one woman. He truly, traditional Catholicism truly, gives men and women equal respect, in complimentary roles. For Muhammed and Islam to justify polygamy is to take a major step 'backwards'.

Study the traditional Catholic dogmas, as I'm sure you already have, and you'll find no such moral conflicts in its theology, not one. Therefore when a member of the clergy or faith acts contrary to its dogmas, the faith itself can't be blamed, as it can in Islam.

I have taken up quite a bit of your time today Henry, so I won't include a youtube clip of Obama 'bashing' Christians. I'll simply show you one where he's praising Islam:
https://www.youtube.com/watch?v=tCAffMSWSzY (less than 10 minutes)

Yes, a couple of bits and pieces probably are taken out of context there. But the overall theme that Obama praises Islam and does no such thing for Christendom is established beyond doubt. Again, a quick youtube search will bring up video examples of Obama openly mocking Christianity including Christ and the gospels, if you'd like to see them.

I'm sure you're also aware that Christians are being brutally persecuted all around the world, especially in Islamic nations, but not limited to Islamic nations. It's not unusual for China to persecute Christians for example. And sadly, the West itself is rapidly heading in that same direction, because we have become lovers of lies e.g. sodomy is good, and haters of truth e.g. chastity is a virtue.

Anyway, here is CNN defending Islam (and there are many more such clips online):
https://www.youtube.com/watch?v=9kucGqPzcR4 (less than 10 minutes)

-----
First Comment from Dan:
Who can find any fault in this essays' title? "Obama Preaches Tolerance While Inciting Hatred"
That is exactly what he does. That should be his place in history - no President since Lincoln has wrought more division and kindled more fear and loathing of our neighbors than Obama Husein Iscariot.
Typically he and media in concert have derailed the public focus on his outrageous plan to import hundreds of thousands of unknown entities displaced by his bombs and mercenaries directly into the heart of America.
That's what this debate over 'religious tolerance' is about. But that's a distraction from the real situation.
Obama is presiding an undeclared war and radicalization of all those people.
Suddenly our government wants to import refugees from war zones which that same government has created. Though it is obvious that we are responsible for the ruination of those people's lives, since when has ours or any government imported refugees from 'enemy' nations during a war. When the Washington and London firebombed Dresden on February 13, 1945, did Roosevelt insist on bringing the German civilian survivors of Allied bombing to distribute all over the United States?
The answer is no, he didn't. As a matter of fact naturalized Japanese-American citizens were incarcerated in American concentration camps for the duration of WWII. The reason for these policies is obvious: during wartime anyone from 'enemy' countries is a potential saboteur, terrorist, and spy.
While Obama and media pluck our heart strings for their policy of deliberately importing potential terrorists, Obama just announced he's about to issue an Executive Order that will ban guns for anyone on any Government agency 'watch list'. He's only waiting to accrue the support of the usual governors, to enact the same order at the state level. Don't you see? The more chaos and violence that tyrants can bring down upon us the more power they gain over us.
We may not like to hear these things but these are just the basic facts of WAR. Americans born after 1940 have no recollection of how things worked when the US and UK used to declare our wars. If you want to help the Syrian refugees - AS I DO - go after your god damn treasonous moles who are running our government and demand a total withdrawal of American and NATO de facto destabilization of the Middle East.
Tony B weighs in on toleration of evil:
There is hardly a greater sin than the toleration of evil. It allows the destruction of all that is good simply because it "should be tolerated" without anyone bothering to offer a reason as to why evil should be tolerated. This is the modern mantra and it comes straight from hell as there are just too many notices from God that the Devil is now loose on earth, influencing most everyone.
It would be so wonderful to hear someone simply ask the question as to why evil, like good, should be tolerated simply because it exists. It shows that people today know nothing of the real world and real history. People are sadly ignorant and not willing to think. About much of anything. Propagandists such as Obama depend on it. Thus the allowance of civilization destroying abortion, so-called "same sex marriage," "family courts," etc., ad nauseum. (sp?)