The Monster Behind Ontario's Child Sexualization Program
June 11, 2016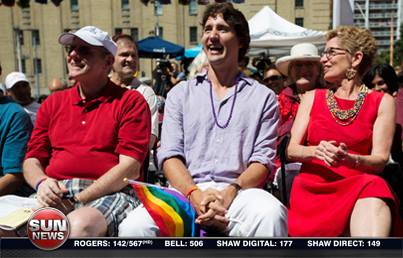 Left, Convicted pedophile and child pornographer Benjamin Levin at the 2013 Toronto gay pride parade with future Canadian Prime Minister Justin Trudeau and Ontario Premier Katherine Wynne .
A typical Jewish overachiever from Winnipeg, Benjamin Levin leveraged a supposed concern for the disadvantaged to promote his own career as an education guru. As Deputy Minister of Education, he designed a "sex ed" program now used in Ontario to sexualize children. This 2015 Toronto Life story describes the police sting that landed Levin in jail. Although entitled "The Double Life of Benjamin Levin," the article fails to reveal that Levin is likely a Cabalist satanist who practises depravity as a way of spitting in God's eye. Vicki Polen revealed the existence of this Illuminati cult, which most of our "leaders" (Clinton, Trump, Sanders) adhere to, on the Oprah Winfrey show in 1989. Pillars of the community by day, they indulge in the most reprehensible behaviour by night.
From the "Comments" - "
As someone who attended all the Finch courthouse dates, I can say that one of the best moments was when Levin kept sinking into his chair while the utterly disgusting details of his depravity were read out and addressed. I have no sympathy whatsoever for this depraved monster. Shame on him and shame on those who supported him."
by Lauren McKeon

(Excerpt by henrymakow.com)
In late 2010, [Levin] registered on a self-described alternative sexual lifestyle site that Toronto police call "M," which includes chat rooms covering child pornography, sex with children, incest with children and youth-related BDSM. Cops use a code name for the site both to discourage people from visiting it and so existing users don't know the police are patrolling it. Levin created the profile BandB--named for Ben and Barbara (he used his wife's name without her knowledge)--and peppered his bio with dashes of truth: he was an academic who lived in Canada, he was in his late 50s, he was married with three grown daughters.

The rest was all horrific fiction. He said [online] that he and his wife [ a "Community health Worker"] liked to have sex with children together and claimed they were both interested in chatting with other parents of daughters. Over the next two years, he acquired 144 contacts on the site, many of whom indicated sexual interest in kids, and 29 subscribers who would be automatically updated every time he posted images or stories. More than 5,000 people viewed his profile, and 44 people favourited his posts. He was active on several other sites as well, though they weren't part of the ensuing police investigation. For Levin, viewing child pornography was a social pursuit, consistent with how he approached the world in general--he was as popular online as he was in real life.
M's incest chat room quickly became one of Levin's favourite destinations. He began telling other users that he and his wife had been sexually active with his daughters when they were 12, 13 and 16; anyone under six was too young. He liked to pretend his wife initiated the incest. He told people he wished he'd had a son so he could have had sex with him, too. He hoped that one day his daughters would share their children with him. Eventually, as his contact list grew, Levin oscillated between chatting about his own family and begging for stories from other parents who had abused their children.
Ever the meticulous researcher, Levin kept a Word document cataloguing 1,750 individuals--his contacts on M, plus the people he'd met on other sites and through his prolific use of instant messaging. He noted their usernames, ages and locations, their sexual desires, their children's ages, and what they liked to do with their children. He also included snippets of text from their chats, presumably so he could remind himself of what they'd talked about. Levin's sheet served both to keep his ever-expanding list of friends organized and to weed out what he called the "fakes," a phrase he used to describe people he deemed not genuinely interested in having sex with children--dilettantes whom he believed were there out of curiosity, not desire. Their existence disrupted the fantasy of the depraved world he had created.
Two years into Levin's online activities, the child exploitation unit became aware of him. They found Levin's profile through a routine investigation of online chat rooms. He was brazenly transparent about his offline identity: he sent pictures of himself and his family to contacts and bragged about his prestigious career. His chat partners didn't have to work hard to get him to talk--he directed the conversation. Toronto police quickly figured out that BandB and Ben Levin were one and the same.
When they ran his username through an international database, it popped up. He'd already struck up a conversation with Angela Johnson, a detective constable with the London, Ontario, exploitation unit, who was posing online as a mother of three. During their chat, he bragged about abusing his own children and swiftly connected Johnson with another user so they could have a three-way conversation about what they did to their kids. Around the same time, he also started talking to Russell Joe Gray, a covert Internet investigator in New Zealand. Levin took a special interest in Gray, sending him several images and claiming he had girlfriends all over the world, including one in New Zealand whose 13-year-old daughter Levin had fantasized about. In June 2013, he wrote a story at Gray's behest that imagined a violent sexual assault of a 10-year-old girl.
The investigators deduced that if Levin was talking to undercover officers, it likely meant he was also chatting with--and possibly counselling--other people with real sexual interest in children. He boasted about all the conferences he was attending and talked openly of trying to secure access to a real child while he was on business trips. He thought he was untouchable--and that's what did him in. "People on these sites are usually extremely careful," says Kim Gross. "But Levin was pompous. He was confident. He'd been doing it for a while."
--
Levin acquired an army of rabid critics, people who believed he was instrumental in developing Ontario's new sex education curriculum as a grooming manual for child abuse (the Ministry of Education has said he wasn't involved in its creation [a lie]). In dozens of letters written to the court, Levin's opponents urged the judge to sentence him to the maximum jail time allowed, adding that "his perverted sexual attraction to children" had guided his professional life. One New Brunswick man wrote that he was "a creepy little man" and that "anyone with more IQ points than teeth sees [his work] as deliberately and prematurely sexualizing children."
Toronto Life comment from paper girl
This article doesn't go into detail regarding the disgusting material found. Not that this should have appeared in the magazine but I just want to let readers know that the graphic descriptions read out in court made those present gasp for air and physically ill. Even the most seasoned reporters in the room couldn't always hold back their shock and disgust.
Kudos to those in media who came out to cover this horrific case and kudos to the bloggers and members of the general public who came out to show their support for those who often don't have a voice, the children.
As someone who attended all the Finch courthouse dates, I can say that one of the best moments was when Levin kept sinking into his chair while the utterly disgusting details of his depravity were read out and addressed. I have no sympathy whatsoever for this depraved monster. Shame on him and shame on those who supported him.
---
You need to understand that these kind of people subscribe to liberal leftist ideology, it's cultural marxism, or humanistic "religion". Note the reference in the article that his parents where staunch NDP supporters.
Liberal ideology in general is very permissive, with so called "sophistication" which makes EVERYTHING relative. 40-50 years ago it was just unthinkable to predict that homosexuality will become a norm and perfectly appropriate and healthy behaviour as it is now. But society develops and moves forward, next and obvious step would be legalization of polygamy. Next would be...... your guess is as good as mine.... Thinking and responsible parents need to look carefully at Sex Ed curriculum which will start in a few weeks....
What drove Levin to the heights of his depravity was his narcissism and hubris. He suffers from Narcissistic Personality Disorder at the pathological spectrum.
Dina Sorenstein wbg299 • 10 months ago
Ben Levin sure fits the character traits of a narcissist. I would agree that his personality fits into one of a narcissist at the most pathological level. His arrogance and pompousness did him in and the fact the he initially denied all the charges says something. Not only do I think his family is in denial but I am sure he was too. He thought his prestige and status would be sufficient to safeguard against a prison term...that is the height of his sheer arrogance and inflated self-importance. I hope he is enjoying himself at Milhaven Penitentiary.
Paper_girl Dina Sorenstein • 10 months ago
Agree completely. Met him a few times when he was deputy minister and he seemed to thrive on the attention and accolades he received.
Dina Sorenstein Paper_girl • 10 months ago
I am not surprised by his downfall in the least because he has this sense of entitlement and omnipotence that he was untouchable. He has three years to think about his actions, more likely he will serve only one-third of his sentence so he will be out in one year. The man may be brilliant academically but he is morally corrupt, psychopathic and depraved. I hope he continues to receive psychiatric help upon his release because he will need it.
wbg299 Dina Sorenstein • 10 months ago
This nebbish little man certainly fits the profile of a pathological narcissist to a T. Yes I met him at a TDSB conference a few years back and he was brimming with arrogance and swagger. I am sure his arrogance and bravado have no place in Millhaven Pen with all the other thugs given his designation as a pedophile and child sex offender.
Concerned99 Dina Sorenstein • 10 months ago
Brilliant academically? Well, anything and everything he was preaching must be reexamined and looked under the microscope.
How about SEX ED CURRICULUM he was brought in to lead?
It didn't took long time for journalists to uncover his own emails where he introduced himself to colleagues as being in charge of implementing new equitable and inclusive approach to education and Sex Ed curriculum development.
-------------------
Makow Comment- Media coverage of this trial was cursory with The Globe and Mail particularly remiss. This reflects Illuminati complicity
in Levin's crimes. Furthermore, former Conservative leader Tim Hudak did not make sex ed an issue in the last Ontario election, which he lost. This also smacks of collusion.