Real Men Want Real Women
June 24, 2016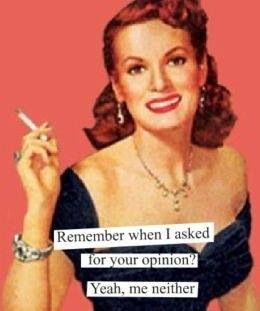 Ronald Samartino, 71, the father of
women. He has distorted Mark's message
but we are not about imposing one view.
We leave that to feminists. Ronald's take
is resonant of real life.
"Mark wants some uneducated, dingbat, whose only passions are housecleaning and cooking and gardening and saying "Yes, dear."--Wow, he sounds to me like someone who is threatened by women, who feels a bizarre need to hold them down and needs constant ego boosts from the female in order to feel manly. It's a very distorted and unenlightened perception of life, of the value of human lives, and of the universe."

by Ronald Samartino
(henrymakow.com)
I would've been embarrassed to tell my wife that her entire precious existence on this earth--was meant only to serve me. I never regarded my wife in that way which seems pretty disrespectful. I saw her as an individual with hopes, dreams, desires, aims, just like me, not some slave. If you need a woman to clean up after you to feel manly, you got a problem.
I feel like these articles are written by men who don't have daughters. My wife and I had three girls, and NEVER did I say, now here's a fine slave for some man.
No, sorry. Real men want real women. I didn't even question it--and I grew up in a pre-feminist era. I'm 71 years old, but it never crossed my mind to raise subservient, uneducated, ignorant humans, whose lives revolve around another human male without any interests or goals or aims.
Are you kidding? My wife and I raised intellectual, kind, caring young women who knew how to take care of themselves, make their own money, not--NEVER to depend on a man, but to also take care of their future families in a loving, caring atmosphere.
They saw me their father helping their mother with everything around the house. Again, I was raised pre-feminist era, now widowed after 43 years of marriage--and I NEVER had to be told to help out around the house. To me it was NOT, you're the female you do these jobs and I do this and you cater to me so I can feel like a "REAL" man.
My wife and I were a TEAM. We were in it TOGETHER, raising and taking care of OUR family, OUR home. When money was tight, my wife worked, and she and I were both happy that she did. And when money wasn't tight, she worked, because she wanted to and she was her own person--you know, someone with their OWN, INDIVIDUAL thoughts and desires.
My wife worked right alongside me when we decided to build one of the homes we lived in over the years. She was amazing--that's a REAL woman, a loving mother, who will work for her family, who's independent and regarded as an EQUAL.
I didn't have to be asked to help around the house---I WANTED to help, if dinner wasn't ready I cooked it, I enjoy cooking. I helped clean and do laundry, I changed diapers, we did all the work EQUALLY, because we loved each other and our family, and we strove together to make our home nice for our children. We were EQUAL partners. That's being a REAL man, not this phoney divisiveness that is just as extreme and wrong as the militant feminism is.
And any REAL man who has daughters sure as hell doesn't--does NOT, want them to be mere slaves to another man, even if he's the greatest, nicest man in the world. It's a sickening thought as a father.
PROUD FATHER
I watched as my daughters grew and they spoke of their passions and interests and the jobs they wanted--and I'm bewildered how any man could possibly want to smother his daughter's ambitions, or prevent them from having an education, inhibit their own individual human wonder and enlightenment. You really have to have something wrong with you--honestly, to subvert a human being like that.
By the way, I was raised Catholic, came from a nuclear family. My mother worked a full-time job as did my father. My wife was catholic--not a feminist, same age as me; we both grew up in the pre-feminist era, high school sweethearts. But never did I even EVER think of using the bible written in archaic unenlightened times as my guide on how to treat a woman--I didn't and still don't believe my wife belonged to me, we chose each other and I valued her as a person, as someone who deserved as much respect as me--and vice versa.
And for any men who are reading these Makow articles and are unmarried, hoping to find a nice woman, I would disregard all of it as purest bull$hit, because that's what it is. If you really love someone, you want them to be a true equal, not something like chattel that you feel you can boss around so you can delude yourself with some false sense of power as "head of the house".
If you need that, if you need a slave to care for your clothes and clean your house and revolve you to feel manly, then you're missing the big picture. A REAL man, can handle a NON-SLAVE woman, and loves the fact that she is an equal.
------
Makow comment- It's a shame that Ronald needs to distort our position in order to make his point. Mark and I do not regard women as inferior or slaves. On the contrary, in a traditional marriage there is an exchange of female worldly power for male love. The woman and man become one. The husband consults and cherishes his wife as part of him and wants to see her happy and thrive in every respect. That's what love is. Love does not succeed when husband and wife compete as neutered "equals."