Racial Prejudice Thrives in Canada
August 22, 2016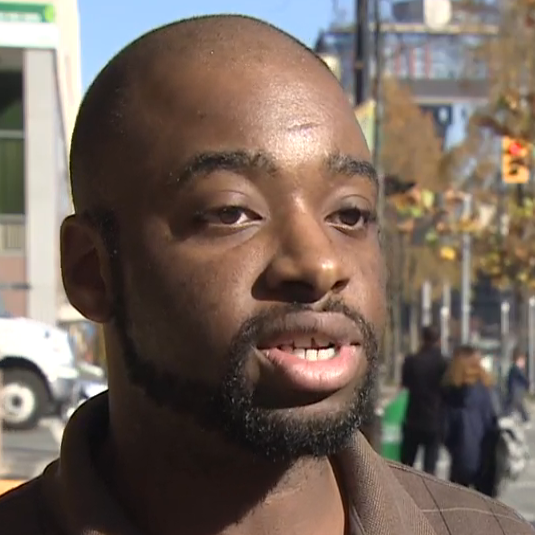 (left, not Alex)
Despite Canada's good guy image

and commitment to "diversity"
racism may be worse than in the US.
"Alex Chilcott" 25, describes
what it was like growing
up black in Ottawa. His story is
a reminder that all people must
be judged as individuals first.
"I went from being viewed as a gifted nice boy to simply black, and black was no good. "
by Alex Chilcott
(henrymakow.com)
I would like to share my personal experiences growing up as an African American in Canada to allow you to see the world through my eyes and feel how I feel. My family moved here from the Caribbean to find opportunity and a better life. My father is an engineer with a high position in his company; my mother is a doctor. I live in an upper middle class neighbourhood. I have four older siblings. We are all university educated in either law, medical or engineering fields.
As one of the few African Americans in my school, I was bullied for being different, getting lunch stolen and beat up for refusing to do what my bullies wanted, even got my bottom teeth literally kicked in by a group of kids at school. I'm not saying I was a victim or am I looking for pity as we have all dealt with bullies in one form or another. This is just part of life; kids in general don't know better unless taught.
I was a quiet, extremely polite, timid individual who kept to himself while being a gifted math and science student, which is probably why I got picked on. This was pretty much my situation well into middle school, until I started growing and playing sports and was strong enough to defend myself. I only made friends because I was athletically talented.
It wasn't till I entered high school that I began to notice that everywhere I went, I was treated with prejudice based on what black meant to others, which they learned through music and what they saw in movies. Stereotypes that all blacks are criminals and dangerous. I realized that I went from being viewed as a gifted nice boy to simply black, and black was no good.
Where my fellow classmates adored and respected me, now it was the teachers who began to bully me. Refusing to teach or answer questions in class to humiliating any and all African Americans in their class. Naturally my grade dropped, I was no longer a gifted student.
One young teacher in particular would go as far as calling us "niggers" multiple times and when we reported her she was just given a warning and slap on the wrist. In grade 12, that school ended up expelling a large number of students a month before graduation on attendance technicalities, as well as the excuse of poor attitude to hide their true reason. That included me, but didn't matter as I had all the credits I needed to graduate and get into a good university due to reaching ahead in summer school. However, I was robbed of my prom with my colleagues.
Even the coaches of the sports teams had their prejudices, only allowing a maximum of four blacks on the team only to bench them every single game, even though some of us were clearly the star players. On the basketball team, the two best players was an African American boy and myself. We were benched the whole season except two games which we won, all the others we lost by a landslide, generally being 86-14. I later quit most of the sports teams that didn't allow me to play.
COPS
Though school had its bad moments, my non-stop run of horrible encounters with police officers were experiences that no one deserves to go through. Up to the age of 17 yrs, I had been a victim of racial profiling by police easily more than two dozen times in and out of school. During school we were subject to pat downs by the police looking for drugs, putting our hands on our heads and being patted down thoroughly. Then we were tossed around by our necks like slaughter house meat on a hook.
The really funny part is all the kids who dealt drugs at the time were rich white kids, but they never touched them, so their searches never turned up anything. Another time was at the end of high school before graduating, it's a custom to do scavenger hunts and play pranks on everyone, it was the boys vs. the girls that day and my car along with many others was subject to a prank done by the girls where they covered the car in eggs. So we were getting the girls back.
As we were saran wrapping a car, a police officer in a truck pulls up into the parking lot, but we really weren't doing anything wrong so we stood there as he pulled up to us, rolled down his window and said " Hey Blackies , what are you up to hear? you're lucky you didn't run or my four legged friend hear would be chowing down on you" half the group was white but he proceed only to speak to the 4 black guys there including myself. As he continued to talk one of my black friends grimaced him, as if to let him know he was being ridiculous, and began to walk away, the officer didn't like that so he got out of the truck, told us all to get on the ground, which we all did except the one boy walking away, the officer than opened the rear side door to the truck and the German Shepherd launched out the truck towards him, by the time we yelled out his name to warn him the dog had already jumped up and gripped onto his shoulder and ripped him to the floor with the force and momentum he had build up sprinting towards him.
All I heard at that moment all you could hear were the screams and pleads for help from a 5'5ft , 100 lbs boy. As I scrambled to my feet in panic to help, the officers stomped me back to the ground grinding his boot into my back informing me if I tried that again I would regret it. The officer casually walked over to the dog that was brutally mauling my friend, as if it was crazed animal looking to kill and tear its prey apart, it thrashed its head around with a vice grip on him dragging him across the pavement more time than I could count.
When the officer stood above the dog savaging the boy, he yelled at the dog to stop but it continued biting into him violently, the officer then grabbed the dog by the collar as the dog dragged the boy in his jaws. Then officer began to strike his dog, after a couple hard punches to head it let go, but made a couple attempts to lunge at the boy for a second round. The officer walked by us to put the dog back in the truck. My focus was on my friend, whose moaning was only interrupted by his own attempts at catching his breath. I was too afraid to move to meet the same brutality as friend now lay on the concrete, bloodied and ravaged.
The officer then walked back towards him reminding the rest of us to stay put. He patted him down tried to stand him up but he could no longer stand on his own and cried in pain every time. By then, teachers and many student came out to investigate what had happened. Our friend was then take to the hospital and treated to puncture wounds that ran down his right collar bone all the way down to his right leg. The teachers and police made it out like it was our fault. The police even tried to pressure the owner of the car to press charges, but she was a family friend and her parents were aware of the end of the year pranks custom.
I never usually tell this story in its entirety because many people don't believe it until it happens in front of their eyes. The other reason is that I've never been so ashamed in my life to have been so cowardly to not have done anything.
A year later, that boy got into an altercation trying to stop a fight from happening. During that time a 5'10 180 lbs Caucasian boy made a derogatory about his mom trying to re-instigate the fights. My friend lost all self control and beat that boy pretty badly, making multiple fracture on the Caucasian boys face, along with a couple cracked ribs, sending him to the hospital. That same evening the police picked up my friend along with anyone else of color at the scene of the crime for, assault, battery, assault with a weapon, attempted murder and hate crimes.
A year after the incident and trial my friend did 5yrs prison. Got out at the age of 23yrs, couldn't get a job; no one would hire a convicted felon even if he were falsely convicted. During that time he was also finishing up his first year of university. But when he was looking to return, the university wouldn't allow him in. In everyone's eyes he was criminal with anger issues. The odd part was he had never gotten into any fights before the event that led all to this. This is how racism has made its way into the justice system, and how easily we are criminalized with no way to really protect ourselves from false accusations.

--
Related - Police have interrogated me 50 times because I'm black
Also by Alex Chilcott -Personal trainer blows whistle on steroids
----The Drug Epidemic No One Talks About
First Comment from TW:
I read the article with an open mind, but I'm honestly tired of all this victimhood talk from blacks. Really, if Canada (or the U.S.A.) is sincerely as bad as these people make it out to be, then why do they remain here?
Additionally, I got a wry chuckle out of the account of the boy who "lost all control" and committed aggravated assault on the "Caucasian boy". The author then goes on to blame the outcome of the assault (five years in prison) as somehow being the work of racism. If the one who committed the assault wanted to remain out of jail, he should have exercised some self-control, shouldn't he? Perhaps cuffing the guy across the yap would have sufficed. Acting like an animal and trying to kill him was the wrong route to take under the circumstances given.
I'm a white guy and have experienced, all too often, the attitude of entitlement that has been fed to the black population. The chip-on-shoulder attitude is omnipresent and they all seem to think whites are weak (I guess our leaders are, for sure). Many of them (not all), in my experience, act in a childish manner where reason doesn't prevail. I should also mention that I've been turned over for jobs because of stupid employment equity programs right here in my homeland where my family has resided and helped build the country for generations. I've seen all manner of programs and groups implemented and formed for the black man where, if the same were done for the settling and majority demographic, it would bafflingly be labeled "racist".
Sorry, Henry, but I cannot shed any tears over this one. I'm tired of being made out to be a guest in my own land and having to put my own interests aside while I hear endless tales of woe from minority sectors. I truly would never advocate violence, but I do think it's about time whites grew a collective backbone. All we know is self-flagellation and how to cuckold ourselves. Race is always at the forefront of blacks' and other minorities' minds. It's about time it was so with whites also. In case anyone wasn't aware, whites constitute a minority in the world.
I have nothing against a person due to their heritage (or skin colour), but their culture and attitudes are what tend to determine whether I like them or not. More importantly, I just want fairness for whites. Others are allowed their own homelands, so why aren't we? Having said that, I don't mind minorities living among us and would defend their legitimate human rights (as defined by God, not the leftist globalists). I'm not some KKK wannabe or neo-Nazi.