Rudolf Hess was Tortured "for Trying to End the War"
August 12, 2016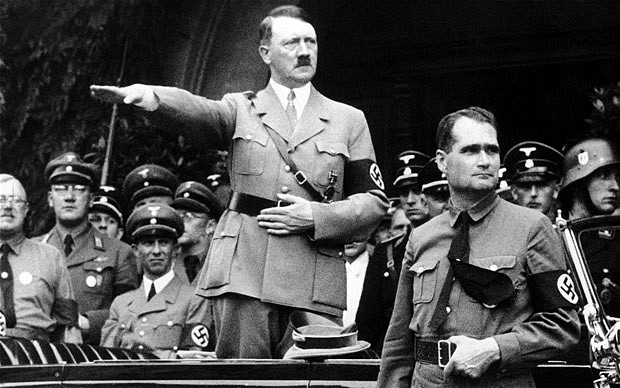 When the Deputy Fuhrer Rudolf Hess made his ill-fated peace flight May 10, 1941 he had no idea that his beloved Hitler was betraying him to lifetime imprisonment.
Instead of acknowledging that Hess was his peace emissary, and shaming Churchill into releasing him, Hitler disowned his old friend Hess as "insane."
For their part, the British did their best to drive Hess insane
using sleep deprivation and poisons as he describes in this memo composed for the Nuremberg Trial in 1945. I have transcribed these excerpts
from Bernard Hutton's
Hess: the Man and his Mission, 1970
(pp.160-165)
by Rudolf Hess
(henrymakow.com)
I had been imprisoned for four years now wth lunatics, and had been at the mercy of their torture without being able to inform anybody of this, and without being able to convince the Swiss Envoy that this was so, not to mention my being unable to enlighten the lunatics about their conditions. It was worse than being in the hands of criminals, for, with them, there is some little reason in some obscure corner of their brain -- some feeling in some obscure corner of their hearts, and a little bit of conscience in them.
With my lunatics, this was 100% out of the question. But the worst were the doctors, who employed their scientific knowledge for the most refined tortures. As a matter of fact, I was without a doctor these four years because those who so called themselves in my entourage had the task of creating suffering for me and if anything, to make it worse....
However, what worry was this to the Jews? They were as little worried about that as about the British King and the British people. For the Jews were behind all this -- if probability alone had not have argued for that, then the following would have....I was given reports by British Consulates about the treatment of Jews in Germany according to ... Jews. [I was told I was being treated] "like the Gestapo treats their political enemies."
...It was typical of the Jews to claim that their enemies did what they did themselves.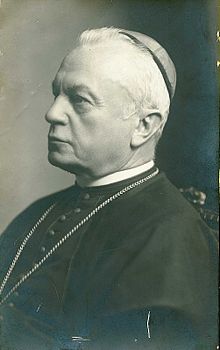 The
Hungarian Bishop Prohaska
, left, had found this already after the Bolshevik domination of Hungary in 1919. He reported that during that period whole truckloads of mutilated bodies were driven on to the bridges over the Danube in Budepest to be pushed over into the river; that priest had had their caps nailed to their heads, that their finger nails had been pulled out, and that their eyes had been gouged out, and the current joke was why should they go into the next world with their eyes open. All those responsible, with Bela Kun at the head, were Jews. The world press had been silenced. However, when, after the collapse of the Bolshevik government, some of the guilty were to be judged, the same world Press cried out about the white terror in Hungary. It has always been like this, Prohaska concluded, whenever a people had to fight against the Jews...
If I asked myself what the reasons were for the crimes perpetrated on me, I suspect the following: First, the British government had been hypnotized into endeavouring to change me into a lunatic so that I could be paraded as that if necessary, if they were to be reproached that they had not accepted my attempt at an understanding whereby England could have been spared many sacrifices.
Secondly, the general inclination of Jews or of non-Jews whom they whom they had gotten into their power to maltreat me and to revenge on me the fact that national Socialist Germany had defended itself from the Jews.
Thirdly, revenge on me because I had tried to end the war too early which Jews had started with so much trouble, whereby they would have been prevented from achieving their war aims...
Apart from the chemical that caused toothache, there was unmistakably a strong laxative and a poison that irritated the mucous membrane in the strongest possible manner. The last was responsible for my nose stopping itself up with congealed blood, that I had a hemorrhage in my mouth, and that my bowels burned like fire. The doctor could not hide his satisfaction when there were signs of a haemorrhage in my intestines.
They had been hypnotized to torture me until I became crazy and finally to kill me; to do everything in such a manner that nothing could possibly be proven and that my complaints could be explained by auto suggestion, at the same time expressing their regret about my suffering. Any pity was completely eliminated; while trying to achieve this aim my torture even gave them satisfaction....
---------------------------
Makow Comment - It is typical of Cabalists to attack you but convince you that you are imagining it, or that in fact you are attacking them. It's all a mind game. They are all about duplicity. The Devil is the "father of lies." These are the people who control our media and educational system, not to mention the government.