Obama Uses Transgenders to Undermine Society
September 9, 2016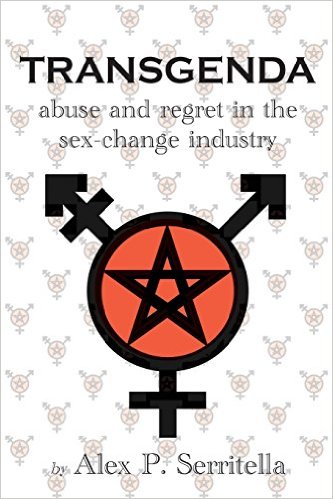 The US transgender population is estimated at 700,000 or .20% of the total. Why do their rights trump the other 99.8%?
In this excerpt from his book Transgenda, Alex Serritella lists Obama administration initiatives designed to mainstream transgenderism.
The object is to make masculinity and femininity fluid and optional rather than the biological and psychological determinant gender is.
Gender is a large part of our human identity. The Masonic Jewish (Satanist) bankers thus hope to destabilize and reshape society.
Alex P. Serritella: "
The main thing is that the public learns the truth about this corrupt industry. Transgenda is not a pretty book. It deals with rape, child abuse, suicide, shattered lives, bodily mutilation, political corruption, and Satanism. But if you're looking for the truth on this subject, I believe that you will find more of it here than anywhere else."
by Alex P. Serritella
(Excerpt by henrymakow.com, pp. 244ff)
President Barack Obama is definitely a favorite of the transgender community. He is the first president to openly speak the word "transgender." He is definitely out to appease the trans community. Here's some of what he's done:
ï'· In 2014, President Barack Obama signed an executive order banning discrimination against transgender employees of the federal government and its contractors. This gives them the same protection as racial minorities, which is not really justified. But more importantly, it gives transgenderism legitimacy in the public mind. This executive action leads the public to believe that transgenders are an oppressed minority, which is not true.
 So far, President Obama has appointed three transgenders to government positions. He appointed Shannon Price Minter to the President's Commission on White House Fellowships. He appointed Raffi Freedman‐Gurspan as a director of the White House Office of Presidential Personnel. And he appointed Amanda Simpson as Senior Technical Advisor to the Commerce Department.
 Obamacare and many other insurance providers must now cover the cost of gender‐reassignment surgery and hormone treatment. Even though these are purely cosmetic procedures, the public will be made to pick up the tab. No explanation was given why insurance should cover something that is not a medical necessity.
 Obama supports a ban on conversion therapy for transgenders. This therapy is simply counselling children to help them become more comfortable with their birth gender. Why would Obama want that to be illegal? There is no political pressure for this. Only a tiny percentage of a tiny percentage of the population has ever been affected by conversion therapy at all. This is not an epidemic that's plaguing our nation. Why an all‐out ban instead of just adjustments to the therapy? This ban only serves the transgender community and no one else.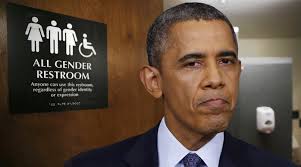 ï'· President Obama has reinterpreted Title IX to include gender identity, which is a misuse of its original purpose. This reinterpretation is now being used to force educators to allow transgender students to use the restroom and facilities of their choice. This same twisted interpretation is also being used to force Christian schools and churches to compromise their beliefs and to embrace transgenderism.
 President Obama has failed to order an investigation into the fraudulent and abusive practices of the APA and the AMA. The reclassification of gender identity disorder is a complete fraud, and patient screening is virtually non‐existent. This has led to untold suffering by many. A federal investigation should have been called for.
ï'· Obama must be aware of the fact that small children are being sterilized in the name of transgenderism. Anyone with marginal knowledge of the subject knows that. He has done nothing about it. He has therefore given tacit approval to this version of child abuse. Supporting the trans lobby is more important to him than protecting the children.
ï'· President Obama was the first president to invite transgender children to participate in the White House Easter egg hunt. It's a small but symbolic gesture. It is just one more way of trying to promote transgenderism by making it appear normal.
Why is President Obama doing so much to please the transgender community when there was no political pressure to do so? Caving in on gay marriage made some political sense, because more than 50% of the population supported it. But support for transgenders was minimal and there was little if any political gain to be made by catering to them. At this point he didn't have to worry about re‐election anyway, so what was his motive for supporting transgenderism? There is some unknown influence going on behind the scenes. Somehow, this 0.2% of the population bought themselves a president.
MILITARY
Stella Morabito writes for The Federalist website. She has some interesting thoughts on Obama's possible motives. She mentions the inclusion of transgenders in the National Security Strategy. According to the NSS document, the government is "advocating the rollback of laws and regulations that undermine citizens' rights." Most likely it does just the opposite. The trans movement is all about undermining citizens' rights. Among other things, this concerns trans people in the military.
We might also ask why pushing open transgenderism into the military is so important to the Obama administration. Throughout history, real cultural and societal changes come about gradually, inspired from society's grassroots. But the LGBT agenda has been orchestrated and pushed extremely hard by elites from the top down. Resistance seems based on an unarticulated gut understanding that transgender non- discrimination laws actually do something very different than promote equality: they redefine the humanity of us all. Read any one of these laws, including the Employment Non- Discrimination Act, and you will understand that the underlying presumption in all of them is that everybody's sex is arbitrarily "assigned" or arbitrarily "designated" at birth...
However, the American military is the perfect answer to force dramatic and rapid change in the one segment of the society that is admissibly "authoritarian." If military officers must salute and make the best of the situation whether they like it or not, the forced change is less likely to implode. Acceptance in the military, then, in turn helps push the agenda in the wider society, more gradually perhaps, but faster than would otherwise be the case.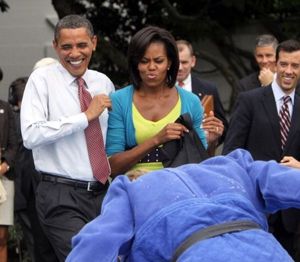 Steps have been taken to promote the trans agenda abroad. The NSS document opposes restrictions that deny foreign funding for the trans movement. That is a deliberate attempt to spread transgenderism around the globe. Obama considers this a vital national interest. Also, Secretary of State John Kerry threatened to cut off funding to countries that don't embrace transgenderism. Who is that serving? The State Department issued a statement recognizing the International Day Against Homophobia and Transphobia (May 17). That means they can penalize countries that don't recognize the day. Shockingly, the U.S. embassies have flown the gay pride rainbow flag under the American flag in other countries. I was so surprised by this that I had to find pictures to confirm that it's true. I did find pictures and, sadly, it is true. Again, who is this serving?
Making transgenderism part of the National Security Strategy is a significant move. It's the first time that transgenderism has ever been mentioned in such a context. But how is transgenderism part of national security? Will our country be safer if we have more transgenders? Does promoting transgenderism make the country better or happier? Obama is misleading the public into thinking that there is some vital national interest at stake here that benefits us all.
On July 1, 2016, the U.S. military officially lifted its ban on transgenders serving openly. They can no longer be discharged just for being transgender. The forced assimilation of transgenders into the military is a step towards assimilation into society as a whole. The 8,800 transgenders currently on active duty are mostly there secretly. Until now, revealing the truth about themselves would have gotten them discharged.
The new National Security Strategy pressured the military into lifting the ban on transgenders. Naturally, more transgenders will join the military now. Their acceptance by other soldiers will be forced. If transgenders are officers, they must be saluted and treated with respect, regardless of personal feelings towards them. Soldiers will be more likely to embrace transgender soldiers, knowing they may save their life someday. Everyone is equal in a foxhole. And when transgenders serve in the military, they are much more likely to be accepted by the general public. They will be viewed as heroes. They serve the country and they risk their lives to protect us. The public sees anyone in a uniform as a hero.
---