"Stop Sexualizing My Children" - Father Sues School Board
October 1, 2016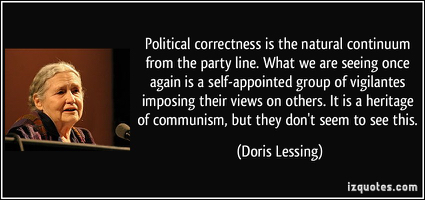 Society complacently allows its children to be inducted
into the Illuminati sex cult under the guise of "sex education."
In Ontario, the sex ed curriculum was designed by
But one father, Steven Tourloukis, is taking action.
Here is the speech he gave at a recent rally in Toronto.
By Lou Iacobelli
(henrymakow.com)
On September 21, another parent protest was held at Queen's Park against the sex curriculum released by the Liberal government in 2015.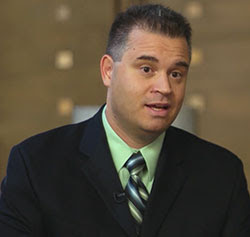 The event was organized by the Canadian Families Alliance (CFA) and Campaign Life Coalition (CLC). One of the speakers was Dr. Steve Tourloukis, left, a dentist. He is the father who has taken the Hamilton-Wentworth District School Board to court. Why? Because the board refused to grant his family accommodation so that he could withdraw his children from components of the sex curriculum that contradict his Greek-Orthodox faith. This is a clear case of Christian discrimination and a total violation of parental rights at the hands of the school board and backed by the province.
Readers may recall that when the controversial and inappropriate curriculum was released in 2015, both the Premier Kathleen Wynne and the Minister of Education at the time Liz Sandals reassured parents that they could remove their children from curriculum topics that opposed their faith or family values.
It turns out they both lied to Ontarians. We can say this because Tourloukis' long court case would have ended long ago had the government just instructed the school board to simply comply with his simple request. Instead, the board, teacher unions and the government have done the opposite: they are fighting in every way against parental rights and freedom of choice in education.
Everyday for Life Canada shares with its readers what Tourloukis told the parents protesting the radical sex curriculum. It's a plea from a father who loves his family but the message won't be published by the mainstream media. They have sadly taken the government side. Here's the speech in its entirety:
My name is Steve Tourloukis and I come to you from Hamilton. I have come here today to inform you, to warn you and to ask for your help four years ago, I took my local school board to court. I didn't want to, but I had no choice before taking the school Board to court. I started to hear very disturbing stories about what was happening in Hamilton schools.
In one school, there was an assembly where a lesbian speaker told a gymnasium full of kids that everything the Bible teaches about homosexuality is wrong. In another school, students were forced to participate in pretend gay weddings. This type of propaganda is almost mandatory in Hamilton schools because of Hamilton's homophobia policy as it relates to homosexuality.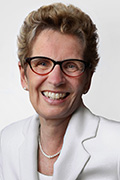 There are policies in Hamilton that require teachers to challenge and eliminate traditional beliefs from the minds of their students. That's right; teachers in Hamilton are required to replace what I teach my kids about homosexuality with what Kathleen Wynne (left) wants to teach my kids about homosexuality.
School trustees in Hamilton have referred to this type of instruction as 'the unlearning process.' As an Orthodox Christian, my faith requires me to protect my children from this type of propaganda. When I complained about this situation, one arrogant board official told me to leave the school system.
Hundreds of families have already done so in Hamilton; they have chosen to flee and seek refuge elsewhere in order to preserve their cultural and religious identities. Ethnic cleansing is happening in our school systems. Our government just doesn't care about diversity and inclusion.
The Hamilton Board has refused to allow me to withdraw my kids from lessons that conflict with their faith. The Hamilton Board wont even give me advance notice of when they will be indoctrinating my children. Instead of leaving the school system, I chose to fight the Board in court. My court case is a constitutional challenge involving parental rights and religious freedom.
I have asked the court to declare that as a parent, I have the right to know what my children are learning in school. I have also asked the court to declare that I have the right to pull my kids out of class when they are being exposed to materials that conflict with their faith.
The final thing I am seeking from the court is perhaps the most important: I have asked the court to declare that as a parent, it is I, and not some bureaucrat, who is the final authority over the education of my children. This fight for parental rights has been very difficult for my family.
I am no longer fighting just my school board. Unfortunately, the teacher's union and the government of Ontario have become involved in my case. The last time we were in court, the other side had such a large herd of lawyers that there were not enough tables and chairs in the court room for all of them. Can you imagine? Lawyers from the board, lawyers from Queen's Park and lawyers from the teacher's union all arguing that I don't have the right to even know when they will be indoctrinating my children.
The involvement of the teachers union and Queen's Park is proof that my case a threat to an indoctrination industry that pretends to be an education system. I cannot fight this unholy trinity by myself. How can I fight my school board, the powerful teacher's union and the government of Ontario all by myself? They have unlimited resources. We need your help.
The outcome of my case could have a huge impact on your children in a way, your children are in court with me. What if I lose? If I lose my case, all of your children could lose with me. What will Kathleen Wynne do if the court decides that parents cannot pull their kids out of classes that conflict with their faith? What will Kathleen Wynne do if the court decides that parents don't even have the right to know when their kids will be exposed to materials that conflict with their faith?
There is a way for you to help. An organization called The Parental Rights in Education Defense Fund was created to help families just like mine. They have set up a website at
www.defendingparents.com
. This website has a wealth of information about my case. While visiting the website, would you please consider making a donation to help with me with my legal fees.
If everyone at this protest were to make
a donation
, it could make a difference in this court case that affects all of us. We have to stop the intellectual and spiritual molestation of our children. Please pray for my family. Please pray for a victory. Thank you and God bless.
----
----
For the first time in history, students would be instructed as early as Grade 3 in such concepts as sexual identity and orientation. Most Grade 3 students are typically 8 years of age. Students in Grade 6 would be expected to learn about concepts such as "vaginal lubrication" and "anal intercourse". Most Grade 6 students are typically 11 years of age...
But what fundamentally did change in the education systems was the process of being taught how to think critically to the process of being taught what to think. Ask most students today and they'll tell you that "cars are bad", "we're mean to Indians" yet they fail to explain why cars are bad, et al.

This marks a shift to change the process of "discussion" to the process of "instructed" -- and thus the subsequently implied meaning. One concept implies open thought and discord, the other implies indoctrination -- it teaches students WHAT to think and no longer HOW to think critically.

When one considers that students as young as six years of age are learning about abstract concepts such as "consent" or when one considers that students as young as eleven years of age are learning about extreme sexual concepts such as anal penetration, one can begin to truly fathom the perspectives of groups like PAFE [Parents as First Educators]. And perhaps most important, when one considers that the "father" of this curriculum is a convicted pedophile the contrarians to this "agenda" may be onto exposing some very valid concerns!