Hillary Voter Calls for Mutual Respect & Calm
November 11, 2016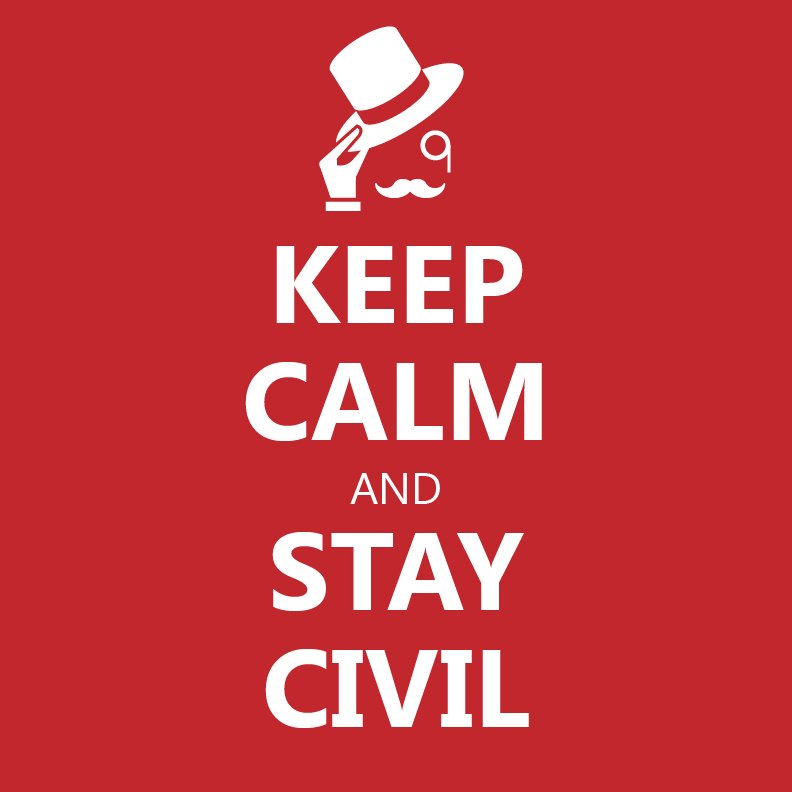 WHY CAN'T WELL-MEANING PEOPLE AGREE?
HOW SHOULD THEY ACT WHEN THEY CAN'T?
"
John" is concerned about the attitudes
coming out of the alternative media,
and "wants to put out
this call for restraint
and introspection to help temper the situation."
Disclaimer: "John" did not get the memo about the Soros-Clinton-NWO agenda. Nonetheless, he helps us to understand the Left. I endorse his core message. Keep calm and respect the rule of law.(More below.)

John: "If you're on the "left," it's time to face up to why half your country voted for Trump. Where are they coming from? What do they want? Where is the common ground? And if you're on the right, you need to do the same. Try to look at the world through the eyes of a minority in Trump's America - black, latino, disabled, gay, even "liberal." What can you do to make your neighbors, despite your political disagreements, feel listened to and welcome? How can you model charity, restraint and peace to those around you and online?"
by John
(henrymakow.com)
With the dust settling from the American presidential election, I would like to advance some perspectives that are rapidly disappearing from the alternative media, and extend a hand of solidarity, peace and cooperation with my fellow Americans, regardless of their vote in this election.
I and many others were at first intrigued by the Trump phenomenon and enjoyed watching him expose and beat up his establishment Republican rivals. I was enthused by his views on trade, desire for peace with Russia, the need for American industry, and other positive ideals that I assume were his keys to victory in this election.
Despite this, I voted for Bernie Sanders in the Democratic primary and Hillary in the general election. Sanders shared most of Trump's positive qualities, and made a number of economic demands Trump did not: taxation and regulation of Wall Street; more public control over health insurance and higher education; an ambitious plan for infrastructure and others.
Hillary was strong-armed into inserting these demands into her platform, though admittedly did a very poor job of representing them. I thought, despite her flaws, that her presidency would give America a chance to improve Obamacare (she was now demanding the "public option" which would have reduced costs by 1/3 to 1/2), the possibility that my kids could attend college (she was demanding tax reform to make community college and public Universities tuition or debt-free), some needed restraint on Wall Street and corporate America. I and most other voters had no illusions about Hillary. We want more public control over public life, and made our best guess that she was the best path.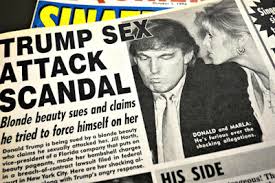 As I spent more time reading about Trump's background from the various biographies available, I became increasingly concerned. Trump was mentored by Roy Cohn; he does business with organized crime figures and drug traffickers; he is surrounded by advisors like Rudy Giuliani, he has an atrocious record of failure and abuse of workers and investors in his business schemes; to name a few. Many on the alt-right are making some pretty serious accusations about the Clintons and pedophilia, but have scrupulously ignored the child rape lawsuit against Trump (dropped after the witness folded to numerous alleged death threats) and the many eyewitness accounts of Trump partying with and trafficking in teenage "models". I don't think any president, including great ones like JFK, were free of vices and baggage, but we should at least be honest and cautious about sanctifying someone like Trump who is in his biography vice personified.
My greatest concern, especially as a husband, father and friend to many different kinds of people, is how Trump has galvanized - intentionally or not - the most destructive elements of American culture: nativist hate against minority groups, the degradation of women, the glorification of violence.
ABANDONED MIDDLE CLASS
Today the American middle class has absolutely been abused and abandoned by the "system" that once (through FDR's New Deal, I would argue) provided them with high-wage jobs, decent living standards, and a culture where they felt valued. But then came Vietnam, free trade, deregulation, globalization and the degradation of the culture. I fear that right now the veneer has crumbled from the "right" and we're seeing eruptions of lower values that will be difficult to contain or reverse.
When you look at leftists angered by Trump, like these kids protesting around the country, don't think of them as "other" or obsess on lady Gaga, Beyonce and other cultural artifacts these people had no part in creating. The left and the right have the same core values. We want good lives, we want to create and appreciate beauty, we want to enjoy our friends and family.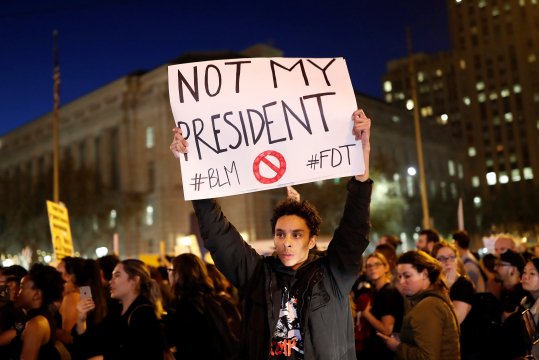 What you're seeing on the left is not yet rage but the thin veneer that refuses to confront its own dark shadow values and has lost contact with the difficult understanding, accommodation and community-building that is needed to heal the rifts in this country. Now go watch the post election monologues by honorable "left" talk show hosts like Stephen Colbert and Conan O'Brien, for example, and you'll see maturity, restraint and reflection we would all do well to model.
I can disagree completely with the conclusions of "MGTOW" advocates, but still understand and sympathize completely with the predicament of disenfranchised American males and the problems with extreme feminism. I can disagree completely with the race-separatism of David Duke and anti-Zionist critics, yet understand why they feel the way they do. What we need now is not division and "otherness" but truth and reconciliation.
INTOLERANCE OF TRUMP FOLLOWERS
What I feel right now coming from the likes of Alex Jones, the "alt-right" and the comments on websites and social media is not this spirit of reconciliation, but rabid self-esteem and the desire to humiliate and destroy their conquered foe. How can anyone take delight in seeing teenage girls cry over the loss of a role model (whether they were misguided or not)? How can anyone associate their middle class neighbors with the alleged crimes of Democratic political elites, yet lose all criticality about the crimes of Republican elites? How can anyone desire the destruction of "mainstream" journalists - many of whom perform very honest and dangerous work - yet join common cause with perverse alternative media figures who only traffic in opinion? Do you really want to destroy the system that produced Gary Webb, David Cay Johnston, William Greider and so many other honorable public servants, so you can get your "facts" only from Matt Drudge?
This is going to be a very difficult period in history, for good or bad. I call on all persons with intelligence, good will and charity in their hearts to "give peace a chance." Let's see what Trump can do. I hope I'm wrong and he produces some pleasant surprises. I don't like him, but if he's the vehicle for better foreign relations and cleaning up corruption, more power to him. But please, let's NOT demonize our fellow Americans. Let's not allow our political elites to scapegoat "others" in their inevitable failures.
We on the "left" are not the elites. Not the media or even most people on Wall Street and government are the elites. Certainly there are crimes that must be stopped (war, mass theft, exploitation, etc.), but one of the biggest crimes is our collective failure to develop ideas that bring us together and move us forward.
Young children don't have prejudice about their peers because their core human values have not yet been polluted by disappointment, heartache, pain and fear. We as adults have different perspectives and ideas about how to achieve the same goals, and we need to reach deeper if we want anything better than continual conflict. If we want a renaissance, it's going to be a lot of work, and the work starts within.
-----------
Makow comment:
Yes, Trump has a troubling dark side. We will
continue to expose it and hold him to account.
But how can John and his ilk gloss over the Clinton Foundation corruption and Clinton Satanism and pedophilia? How can they ignore the heinous destruction Clinton inflicted on
Libya and Syria? Her role in creating ISIS who are guilty of the worst conceivable depravity? The imminent danger of a nuclear war, which the Russians warned would ensue? The porous US border? If you want respect John, see things in proportion.
There are not equivalent.
By voting for Hillary, you're complicit in crimes that are
far more serious
than Donald's.
WHY CAN'T WELL-MEANING PEOPLE AGREE? This discussion suggests many factors which require another article. But I think it comes down to the fact that white Americans, a proud and hardworking people, are being dispossessed demographically, economically and culturally by the Masonic Jewish central banking cartel epitomized by George Soros. Soros has deceived many Americans, like John, into furthering the agenda which is to empower minorities as a way of dispossessing the majority. Americans who refused to be dispossessed, voted for Trump. For defending their rights, the left stigmatizes them as "bigots" and "haters" in order to dispossess them.
John replies:
Thanks Henry. To your questions, I do understand where you're coming from and appreciate that your site is willing to offer some balance. What I've seen of the alleged satanism and pedophilia claims coming out of these emails is indeed troubling, but not entirely convincing at this point. Is hanging out with a creepy modern artist worse than the Franklin scandal? Why is
Mark Foley
hanging out at Trump rallies? What kind of instruction did Trump get from Roy Cohn on running blackmail operations? I find it odd that the person who reported this alleged NYPD investigation into pedophilia in the DNC (on Breitbart News) was Erik Prince, the founder of Blackwater and a leading figure in the right-wing Council for National Policy. If these emails turn out to be what they're claimed to be, all perpetrators should be held to account. To play it safe I would not let Tony Podesta anywhere near my kids.
On foreign policy, I and other independent leftists who understood 9/11 worked very hard to prevent and expose US intervention in Libya, Syria and the Ukraine. There was vigorous left opposition to Obama for 6 years. It melted away as he de-escalated in the middle east and started cooperating with Russia. What was Clinton's role in all this? Well, does she own a majority stake in Chevron? No doubt as the sitting Secretary of State she bears responsibility, but to jump from there to "all powerful demonic witch" is lazy. I'd like to see "conspiracy theorists" go back to a more healthy position of examining geopolitical forces and pointing more fingers at transnational cartels and organized crime rather than the people they spent so many years calling powerless puppets. To be perfectly honest, I consider Trump himself to be an empty suit who has been preyed upon by organized crime for his daddy's money. By all credible accounts, this is not a person with ideals or convictions, but a lonely man with severe personality problems.
Lastly, on the subject of "white" dispossession, and more generally cultural warfare, this is a complicated issue. Here in the midwest, I have far more in common with a typical assimilated black, latino, Jewish, Asian or Indian person than I do with an intolerant white cracker. That said, I'm proud of my European heritage and my "white" family. There are complicated ethnic and cultural forces here. Has anyone heard of the 30 years war? That was not started by Jews or Mexicans. White people have a long history of slaughtering each other for pretty stupid reasons, and I don't expect my white skin to make it any more enjoyable to attend a Klan meeting.
Where I agree completely is that any regional culture (i.e. the rust belt of Pennsylvania) has every right to self-defense and a reason to stand together in solidarity, even if they're all from the same ethnic group. If Trump actually stands up for trade tariffs and helps rebuild the steel mills and associated manufacturing (China is the world's #1 producer thanks to free trade), I will be the first in line to shake his hand. My family was devastated when the small manufacturing business my dad built up over a long career was shuttered and sold to an Indian investment firm because they could no longer compete with cheap steel and other input costs. The Mexicans, "libtards," bathroom trannies, special snowflakes or whatever straw men are bearing the fury of disgruntled, self-identifying white people, did not remove tariffs. They did not take your jobs - international financiers did. This process has been going on since the 1950s (GATT agreement), along with the loss of our farms. If Trump voters don't like uneducated immigrants flooding in to use their social services, it's understandable - so let's work together for sensible immigration reform, high-skill, high-wage jobs for all communities, and encourage assimilation and economic development. If you just don't like non-white people, your powers of imagination are lacking, and it's time to dig a little deeper.