Ivanka - First Daughter
November 21, 2016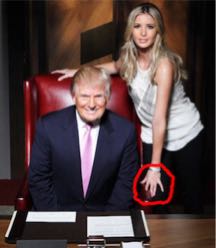 No doubt this will reveal
itself in the future.
In the meantime, we must be content
with information such as this gossipy
With Melania remaining in NYC to focus on
Barron, Ivanka may step into the role of
First Lady.
(It's a Masonic hand sign.)
by Lizzie Widdicombe
(Excerpt by henrymakow.com)
In "The Trump Card," a memoir-cum-marketing manual published in 2010, Ivanka writes that her father's divorce made her realize that "I could no longer take him for granted."
A Trump family friend told me, "It's a close family in many ways--except it's all about Donald all the time." He went on, "Donald only thinks of himself. When you say, 'Donald, it's raining today,' he says, 'It doesn't matter, I'm indoors.' "
To get on his parental radar, it appears, you had to go to him. When he moved into an apartment ten floors below Ivana and the children, Ivanka developed a new routine: "I now went down to see him every morning before school, and I also started dropping by his office on my way home in the afternoon."
In an interview with CNN, she told a story about hiding in a janitor's closet during recess at school, so that she could call her father.
"I was probably ten years old and I'd call collect to the Trump Organization," she said. According to a onetime associate of the Trump family, "If anyone else--even the boys--called, they wouldn't necessarily be put through." He added, "He never did not take a call from Ivanka. It was like a standing order."
The time with her father had an effect. The associate said, "I remember returning a call to Donald at home. Ivanka answers the phone." The man lived in New Jersey, and he told her about a flyer he'd received in the mail, advertising a suburban boutique called Ivanka's. Ivanka was exasperated. "She was, like, 'I told Dad we should copyright my name! I told him!' She was about fourteen at the time."
At the age of fifteen, Ivanka was sent to boarding school at Choate Rosemary Hall, and during her first year there she modelled a black leather catsuit by Thierry Mugler at the VH1 Fashion and Music Awards. She moved on to Versace, Tommy Hilfiger, and the cover of Seventeen. She describes her modelling career as an aberration--a way to get some spending money and independence while at boarding school.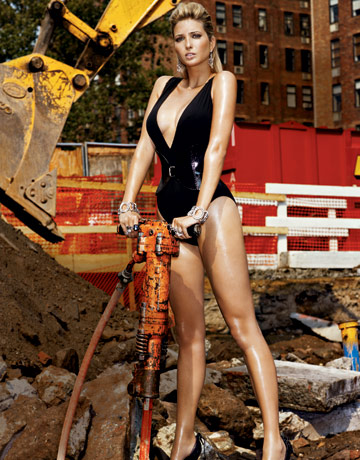 But, by all accounts, Donald was delighted. He loved when his children were in the press. In 2003, he told Howard Stern, "You know who's one of the great beauties of the world, according to everybody? And I helped create her? Ivanka. My daughter, Ivanka. She's six feet tall, she's got the best body. She made a lot of money as a model--a tremendous amount."
But the real way to connect was through Trump's deeper passion. In 2005, Ivanka joined the Trump Organization, and after five years she became the executive vice-president for acquisitions and development. Friends describe her adjustment to her new career as remarkably smooth. "I can remember being on a weekend with her," Maggie Cordish, a friend of Ivanka's, told me. "Everybody was sleeping in. She slipped out. She'd gone to meet her dad on a job site."
BUILDING THE BRAND
Though Trump describes himself as a builder, in recent years he hasn't been as active as he once was, owing to a string of bankruptcies and failed projects. Much of his income today comes from licensing deals, in which developers pay to put the Trump name on their buildings and have the Trump Organization manage their properties. Ivanka's task was to expand the franchise: flying to Dubai and Las Vegas to scout out partners, advising on construction, and assisting with marketing and promotion.
In this last category, the Trump Organization had a unique asset: "The Apprentice," a TV show that began airing in 2004, and featured a group of aspiring businesspeople, living communally in Trump Tower. Ivanka joined the show in 2006, and displayed a surprising talent for firing people. ("I don't see you fitting in with our company," she told one male contestant, firmly. "I don't see you working side by side with me and my father.")
"The Apprentice" was a feat of unparalleled brand-building--which, in Ivanka's telling, is the point of celebrity. In her book, she writes, "Why buy an ad in a magazine when we can grant an interview to that same publication and possibly land a cover story? That's the kind of exposure no amount of advertising dollars can buy."
To promote condo projects, Ivanka posed for sexy magazine spreads--Maxim, GQ, even Atlanta Peach--and fielded interview questions about her life. She was central in developing the company's "brand book," which is full of Ivanka's more positive takes on Trump slogans: "Subtlety is not our strength. Indulgence is"; "Never settle."
Over the years, Donald has attempted to leverage the Trump name to promote not just real estate but all manner of consumer products: steaks, wine, bottled water, cologne.
(In 2013, he tweeted, "Many people have commented that my fragrance, 'Success' is the best scent & lasts the longest.")
Ivanka has pursued this route more effectively. In 2007, she started Ivanka Trump Fine Jewelry, after Moshe Lax, a young diamond-district merchant, approached her about a real-estate deal. She ended up lending her name to his family's business. She has since become a life-style brand: Ivanka Trump clothing, shoes, and sunglasses sell briskly at department stores like Nordstrom and Dillard's.
In these licensing deals, Ivanka is entitled to only a fraction of the wholesale revenue, typically a little less than ten per cent. And she doesn't spend her days designing clothes. Instead, she's in charge of her "master brand," which is based on her image as a chic working woman.
When Ivanka's not on the twenty-fifth floor of Trump Tower, working alongside her brothers, she's on the twenty-second floor, with her all-female brand team, running ivankatrump.com, a site that offers advice on beauty and parenting, and a series of profiles called #womenwhowork. Her many social-media accounts provide a gauzy window into her world: handbags, babies, construction sites.
But politics are absent. In early August, when cable news channels were awash in coverage of Trump's suggestion that "Second Amendment people" could do "something" about Hillary Clinton were she to be elected, Ivanka's Instagram account was discussing work-to-evening wear ("From your desk to #datenight in a flash").
It's a balancing act that's getting harder to pull off. Michael Stone, the chairman of Beanstalk, a brand consultancy, told me, "She was taking advantage of a name that stood for wealth and luxury and a high style of living. . . . I think the brand, the name Trump, has changed."
----
First Comment from Menachem:
Dear Ivanka Trump Organization,
He claims that in the photo (also attached) she is making a satanic hand sign. I don't see it that way. Can Ivanka clarify?
Also, I saw that her dad, President Donald Trump, refers to her as the new Esther. Does this mean Esther is Ivanka's literal Hebrew name? I recall reading somewhere that her Hebrew name is Rachel. Can you clarify if this isn't too private?
Toda Rabba,
Donald Trump, king of metaphors, has a brainteaser for the Jewish people.
"Let me tell you," he
declared
during a speech in Milwaukee last March, "
Ivanka Trump is the new Esther.
"
The campaign stop coincided with the holiday of Purim, which his daughter, a Jewish convert, was apparently celebrating with her husband, Jared Kushner.
See also:
When she was 27, Ivanka, raised Presbyterian, converted to Judaism in an Orthodox rabbinical court in New York. She took on observance of Shabbat, holidays and kashrut, and adopted the Hebrew name Yael. Last winter Donald Trump said, "I have a Jewish daughter. This wasn't in the plan, but I'm very glad it happened."
And:
http://forward.com/opinion/341323/the-outrageous-jewish-hypocrisy-of-ivanka-trump-not-to-mention-donald-and-m/