December 25, 2016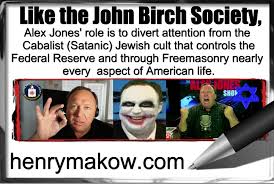 IS ALEX JONES FOR REAL? NO - ALEX JONES IS FOR IS-REAL by Ezra
Some of what Alex Jones says
in
the latest Israel video
is appalling and disgusting - repeating the zionist propaganda about Palestinians using suicide bomber kids etc; excusing the slaughter of civilians in Gaza etc by Israel as acts of "war"; or equating those deaths to (Israel & western-funded) jihadist death squads is beyond the pale.....not to mention failing to point out that jewish cabalists are the main promoters of weaponized immigration and jewish neo-cons (and shabbas goy) are behind the de-stabilization of the middle east that creates chaos etc (Yion Plan/Eretz Israel)
Claiming that jihadists and saudis have more influence on hollywood than jewish cabalists or that jihadists and islamists have more influence than zionists is pathetic.
JONES has to perform so many mental acrobatics to justify his support for zionist israel it's painful to watch.
Jones IS now confirmed as fake news. Jones is a psy-op - if most people fail to see this after this latest awful monologue, then the future is very bleak as infowars influences a huge amount of people especially in the so-called truth community.
Just a few thoughts - have a blesses day (as pockets of the future says!)
PS - Alex finishes his Zionist shilling by claiming that leftists and islamists hate Christmas as it symbolises Jesus Christ's "birthday" but of course he fails to mention that most leftist thinking is from the cabalist jewish cultural marxism and communist schools and that in the Talmud, the greatest hatred toward Jesus Christ anywhere is to be found (as Michael Hoffman and E Michael Jones etc all point out!).
Also - in Lebanon and Syria conflicts - Hezbollah and other Shi'ite forces have protected Christians as they view Jesus Christ as a prophet (as do all true Muslims - not wahaabists or crypto-jew salafists etc).
--
Related-
Alex Jones states: "I support the jewish state of israel - it is the UN that is persecuting israel"
Alex Jones supports Zionist israel


ergo - Infowars/Alex Jones/Paul Joseph Watson/PRIZION PLANET are almost certainly stratfor/mossad cognitive infiltration operation or at the very minimu are zionist shills
ALEX JONES SAYS HE IS JEWISH AND IS PRO ISRAEL
Paul Joseph Watson on Jews
Alex Jones Good for Jews uh-oh
As a regular listener of Alex Jones, I'm beginning to think that even he is getting tired of his own act. He desperately needs a replacement he can trust. The focus of Infowars now is to maintain funds to keep his overmanned ship afloat while he tries to cram more crew in. Sure, he needs the staff to cover several events at once and the requisite funds. This leads him to pimp out product after product. It's understandable. There's no free lunch and people don't work for free.
Regarding the comments on Israel, I think Mr. Jones is just getting lazy. It's a lot easier to parrot the official narrative than to challenge it. These days, he's even quick to echo the government/MSM version of many of the latest terror attacks. With such an approach, he'd never be able to produce an "Terrorstorm 2.0."
Israel? Alex Jones is quite aware of the history. But maybe since he's gone ALL IN for Drumpf, he's chosen to hop along and drink the Kool-Aid. I don't buy this nonsense about him being some kind of CIA or Zionist agent. He's not a Jew. Alex Jones is just getting long in the tooth and needs to bow out of the alternative media for a while. He's getting tired and delirious. Maybe a case of over working himself. It's no different than a music band that is exhausted from playing their own music year after year.
The unfortunate thing is, there's nothing quite like Alex Jones to replace him and even he knows it. Therefore, he has to keep burning the candle at both ends. The more the candle burns, the more rope he puts around his neck with ill-thought out statements. The very statements people misconstrue.
My advice is to focus on the big picture and not get tied up in the latest Tweet or self-made video. Learn to understand how that man communicates and you'll see where he's coming from. You'll also need to have been listening for a good ten years or more to really have a clue. Tuning in for the first time in the past few months is not going to help you.
No, I'm not an Alex Jones apologist. I'm getting worn out from his antics as well. However, if I see a criticism that's kind of off, I'd like to give my opinion and point a few things out.