Rudolph Giuliani Used in Fake News Scam
December 20, 2016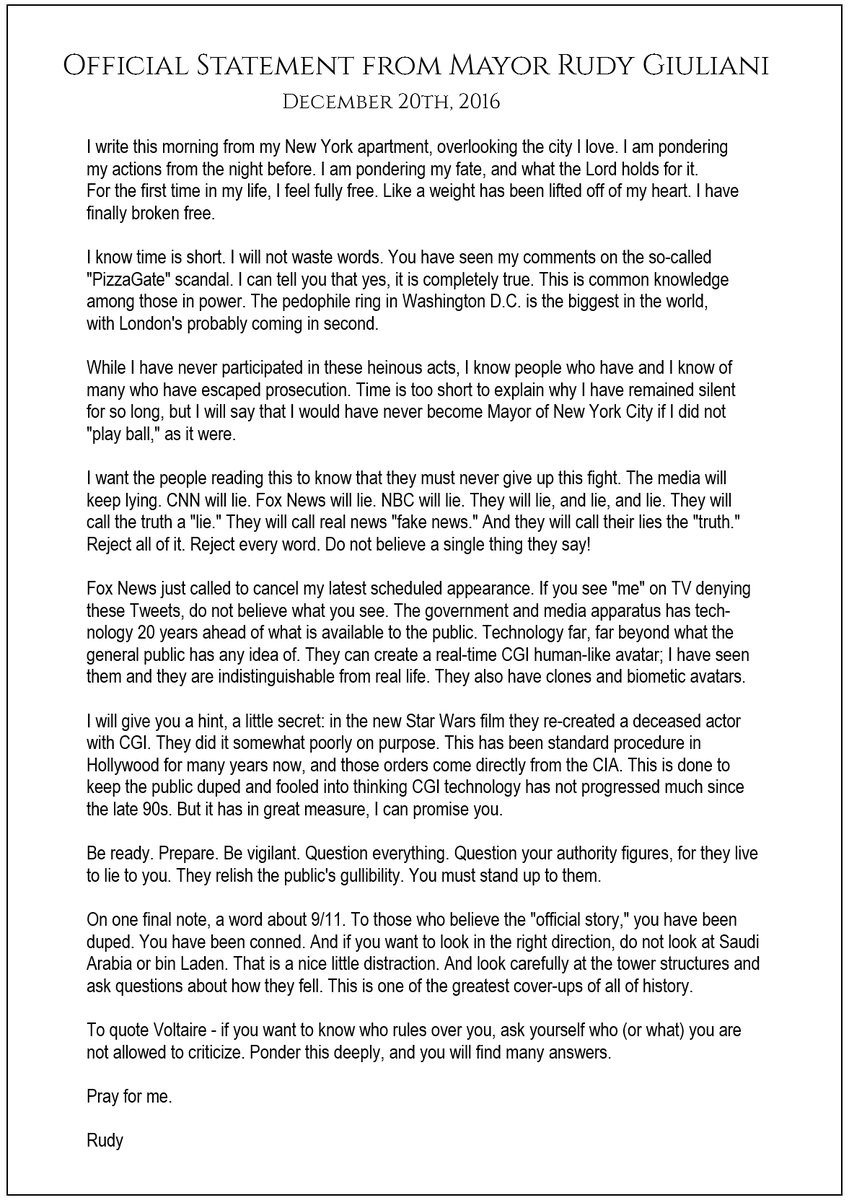 Latest
- Giuliani appeared on Fox this morning. He said Fox had cancelled. I don't believe this was CGI. Obviously the above statement was a scam to promote the fake news narrative. It's interesting the government is going to so much trouble to
discredit the truth and truth seekers.
But he didn't say, "I don't have a Twitter account."
But how does a "fake account" get 11,000 followers in nine months? Why would he tolerate it? What "Giuliani" says in his Statement is true. It's possible he was spurred by his rejection for Sec. of State.
It's also possible that this is a "fake news" psy op. i.e. A phoney RG reveals the truth and then the real RG denies he said it. Thus the real truth is discredited.
My view is that the truth is never a hoax. I am concerned however that this Statement wasn't on his official Twitter account, the one with 70K followers.
As Glen says (Comments), this does seem "too good to be true." But I'd rather be thought gullible than risk discounting a genuine whistle blower. I believe man's higher nature does shine through and will triumph.
The Official Twitter account of Rudy Giuliani - lawyer, businessman, former politician, and public speaker from New York.
Official Statement - please read & share:

An old friend just called and asked, "Are you finally spilling the beans?" And I told him, "Yes, down to my last heartbeat."

Fox News just cancelled my scheduled appearance next week.

They can create any reality they want on TV. If you see "me" on TV denying these Tweets then you will know:

James Alefantis is a child rapist & child killer. They have murdered children. He is protected by W.H., CIA, DHS & media.

Foxes guard the hen-house at Amber Alert, DHS & child-trafficking units in government. They rape, sodomize, murder & cannibalize children.

Twitter just sent me this email asking me to delete my

#PizzaGate

posts. I will not be censored.

If you have any information on

#PizzaGate

, please send it to RudySpeaks@gmx.com - we are privately investigating because FBI refuses to.

Our entire government is filled with criminals, child rapists & child killers. I am speaking out now. I may not be long for this world.

This Tweet is unavailable.

This Tweet is unavailable.

I have been getting threats recently, and now that I am speaking out I just received two disturbing phone calls. I need your prayers.

We need to protect children. Anyone who calls

#PizzaGate

a "fake" story is likely a pedophile themselves, trying to deflect and cover it up.

CNN is nothing but pure propaganda & lies, and they have disrespected the victims of this terror event. The FCC needs to shut them down.

#PizzaGate

is real. Washington D.C. is the center of world's biggest pedophile ring. Those trying to deflect and deny this story are pedos.

The N.Y. Times, WaPo & ABC News all just deleted the story about the Norwegian pedophile ring bust. WHY?

#PizzaGate