9-11 Truthers Part of the Cover Up?
January 16, 2017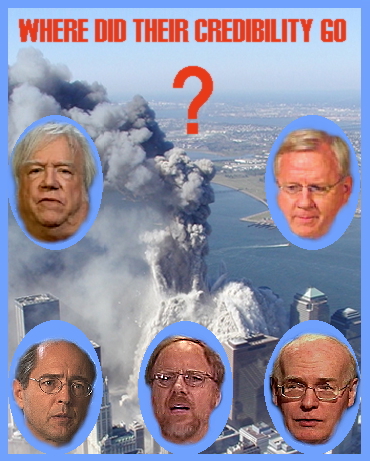 Top to bottom counterclockwise: Dr. Steven Jones (top left); Dr. David Ray Griffin, Mr. Kevin Barrett, Mr. Richard Gage, Dr. James Fetzer
Why have most of the 9-11 Truthers ignored the obvious?
No mere "terrorists" would have access to
glass and concrete into dust in mere seconds.
by Thomas Potter

(henrymakow.com)
Here are ways to cover up Dr. Wood's research:
1.) Create and promote unscientific alternate forms of destruction.
2.) Promote Dr. Wood's research and then find fault with it.
3.) Make personal attacks against Dr. Wood's character.
4.) Marginalize Dr. Wood's research and call it "voodoo science".
5.) Promote Dr. Wood's research but misquote her and run it into the ditch.
6.) Ignore Dr. Wood's research and evidence then call it a "theory".
7.) Say that you have read Dr. Wood's book and find fault with it when you did not read her book.
8.) Create other faux groups like the "Sandy Hook Hoaxers" to keep people from asking the right questions and looking at the evidence Dr. Wood presents. This also creates distrust in our government and people that ask questions. If our government was responsible for 9/11, our government is the only way to reverse the damage it has caused. This is why Dr. Wood filed her
Federal Qui-Tam lawsuit.
Too bad the Truthers didn't support it. The phrase, "use it or or lose it" comes to mind. If the system is broken, then fix it. Otherwise, you are condoning the broken state that it's in. (The "we are change" characters, the "loose change" characters, and Richard Gage & Co. going to the AIA office with ambush video interview attempts are good examples.) Ambush journalism does not solve problems; it covers them up.
If the "thousands of engineers" that Mr. Gage brags about had stood behind Dr. Wood's Federal Qui-Tam lawsuit, it would have been a lot harder for them to dismiss it... especially if they stood in and outside of the courtroom during the 8-minute "hearing" by the Court of Appeals.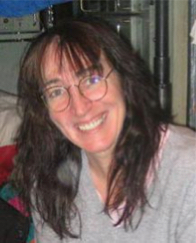 (left, Dr. Judy Wood)
After all, the written decision from that hearing did not refute Dr. Wood's collection of evidence and her conclusions from that evidence. The court actually acknowledged the law applied to Dr. Wood's case but admitted they were ignoring the law to dismiss the case! Why were the Truthers satisfied with that outcome? Anarchy is not the answer and fixes nothing.
POPULAR THEORIES
Popular theories about what destroyed the World Trade Center towers on September 11, 2001 are:
1 Fires from jet fuel and office materials weakened steel in the upper floors and the buildings collapsed
2 Conventional controlled demolition blew out supports at the base and the buildings collapsed
3 Thermite cut steel columns on virtually every floor and the buildings collapsed
4 Conventional explosives blew the buildings up
5 Mini-nukes blew the buildings up
Theories 1, 2 and 3 rely on gravity to bring the buildings down while the last two blow them up. Popular theories, yes, and dead wrong. Five facts scientifically documented in Ph.D. engineer Judy Wood's comprehensive textbook (
Where Did The Towers Go?
) prove the popular theories false beyond any doubt whatsoever. Yes, I know it's amazing. Who'd a thunk it'd be this easy?
THE FACTS:
DEBRIS: What debris? There was so little debris from each 110-story building that there was no "pile" or "stack." Rubble totalled less than a story. It was a football field as a survivor who emerged from Stairwell B, North Tower, exclaimed. No computers, toilets, and only one small piece from one Steelcase file cabinet were found. Some steel and mostly dust remained. Lack of debris on the ground from quarter-mile-high twin towers whispers "no collapse." See Chapter 9.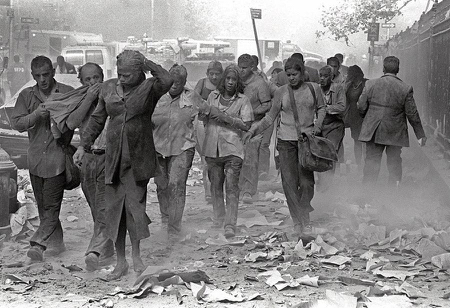 DUST: Photos, videos and witness testimony show the towers turned to powder in mid-air. Tim McGinn, NYPD, said, "I was standing there for a couple of seconds thinking where the f**k is the tower? I simply couldn't comprehend it." The dust rollout was so enormous and thick it blocked out sunlight and left an inch or more of dust covering downtown. Much of it wafted into the upper atmosphere. The volume was incredible. Particles from dust samples were smaller than red blood cells and about the size of DNA. As for toxicity, researchers said the dust "recorded the highest levels we have ever seen in over 7,000 measurements we have made of very fine air pollution throughout the world, including Kuwait and China." See Chapters 8, 9, 14-16.
BATHTUB
: A bathtub or slurry wall surrounded 70 feet of WTC subbasements to prevent the Hudson River from flooding the WTC and downtown. If each 500,000-ton tower had slammed into the bathtub in 10 seconds or less, the protective wall would collapse. Did not happen. Upshot? Collapses did not happen. See Chapter 5.
SEISMIC IMPACT: "Had the towers collapsed, foundation bedrock would have experienced tremendous force hammering on it throughout the 'collapse,'" writes Dr. Wood. Seismic instruments registered disturbances far too short in duration and far too small to record tower collapses. This was true of both the twin towers and 47-story WTC7. Again, no evidence of collapses. See Chapter 6.
SOUND: There were no loud explosions, as established by videos, witnesses, and the official report of NIST. Nor were there loud screeches and screams from massive metal falling, colliding, scraping and collapsing on metal. See Chapter 6.
--
First Comment by Ken Adachi:
Although I admire the quality of Chris Bollyn's writing and research, I don't think it's fair to label Judy Woods a shill. I've long felt that the 5 individuals discussed in the article are more on the gatekeeper side and were inserted as "truthers" to take the focus off the government's secret, high tech weaponry utilized AND to keep the focus off of Zionist Israel who, I hope we all know by now, is the true "architect" of 911 (as all Dancing Israelis will acknowledge).
I posted an article in May of 2011 in which I criticized the attacks on Judy Wood by Jonathan Cole, Richard Gage, and Gregg Roberts soon after her book came out, but I also criticized Judy Wood for leaving the impression that she was the first to get out the Directed Energy Weapon story when the story was actually broken 6 years earlier in 2005 by a man named Artie Wheeler (working with Roger Mufaeh) who produced a spiral bound book and a DVD showing incredibly revealing video and photographic evidence that proves beyond all doubt that some sort of "molecular disintegration machine" was applied to the towers causing the both steel AND the cement cladding to literally pulverize into extremely fine dust There's no doubt in my mind that set demolition charges were also used as was thermite to cut the big steel columns on a diagonal angle; as we've all seen from photos right after the buildings fell. Artie shows a segment on his DVD where you can see a very tall solid steel corner frame of maybe 20 stories in height (called the "spire") that literally crumbled into dust from what was -seconds earlier- a solid, rigid steel structure weighing many tons. I have the photos from his DVD embedded in my article and you can see the steel go from solid to dust in a matter of seconds.
Jim Fetzer writes:
A few comments in response to the story and other posts about it:
(1) Far from ignoring Judy Wood's work, I promoted it by featuring her on my radio shows fifteen times. I gave her an unprecedented 3 hours to speak at the Madison 9/11 Truth Conference in 2007 and invited her to speak again at The Vancouver Hearings in 2012. She did not even bother to respond.
(2) Scientific reasoning requires taking into account new evidence and alternative hypotheses, but Judy Wood has ignored the findings of the US Geological Survey, which disclosed the presence of elements that, in quantity and correlation, are indicative of the use of nuclear devices.
(3) Those that appear to have been used were mini or micro nukes, which have a dialable radius and can be directed (in this case, upward). I am unaware of any aspect of the evidence that DEWs can explain that mini nukes cannot. Interestingly, by her definition, mini and micro nukes are DEWs.
(4) Neither Judy Wood and DEWs nor A&E911 are willing to talk about who was responsible and why. That is a telling sign. Check out AMERICA NUKED ON 9/11: Compliments of the CIA, the Neocons in the DOD and the Mossad (2016), moonrockbooks.com. For limited hangouts, the situation is clear cut.
James H. Fetzer, Ph.D.
McKnight Professor Emeritus
University of Minnesota Duluth
http://www.d.umn.edu/~jfetzer/